1 days
Family Friendly
With wide, smooth flat trails where you're never too far from an ice cream or hot chocolate, the Otago region is one of the best places to go for a family bike ride. Here's a short collection of our favourite rides.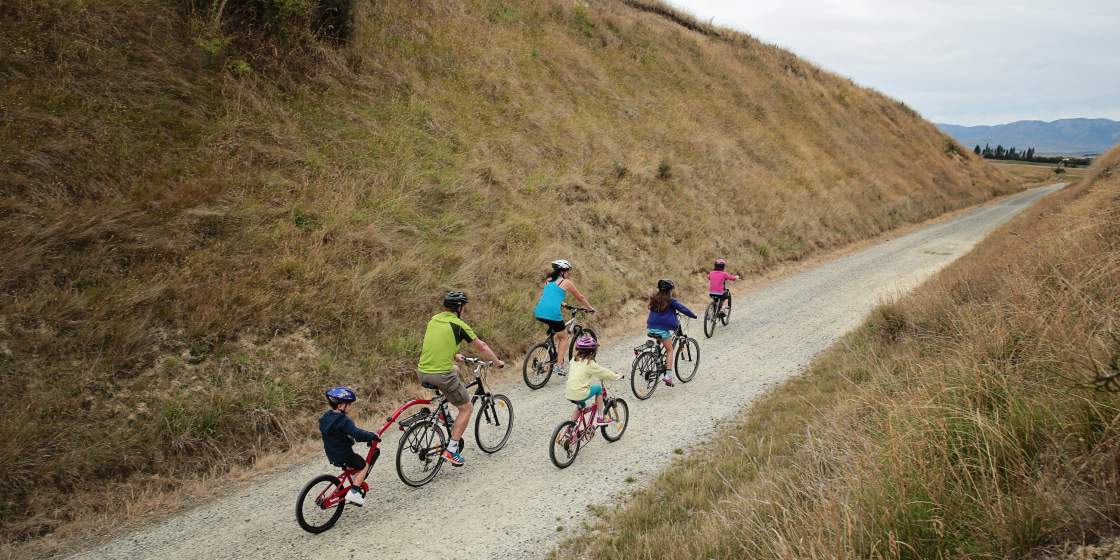 Otago Central Rail Trail
Whilst covering a total of 152km between Clyde and Middlemarch, New Zealand's original Great Ride has some short, fun sections which provide a great taste of the trail for young families. The trail is wide, well maintained and generally flat so it's an ideal place for families and beginners to experience their first trail ride.
Bike hire and transfers to / from your chosen section of trail can be provided by most trail operators.
Half Day (11.5km one way)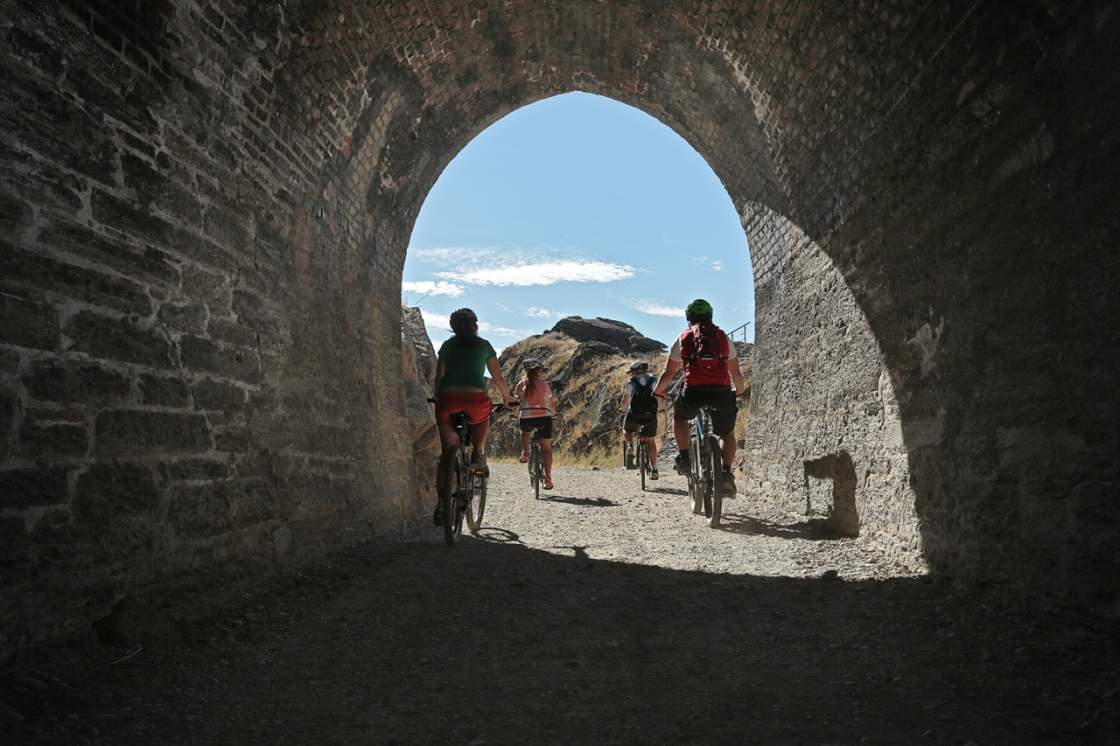 Rail Trail: Daisybank to Hyde
11.5 km one way
This section of the trail follows the Taieri River through the spectacular Upper Taieri Gorge and includes a series of tunnels and bridges which the kids will love. Remember to bring a torch for the tunnels! A picnic by the river is perfect in summer.
Half Day (10.5km one way)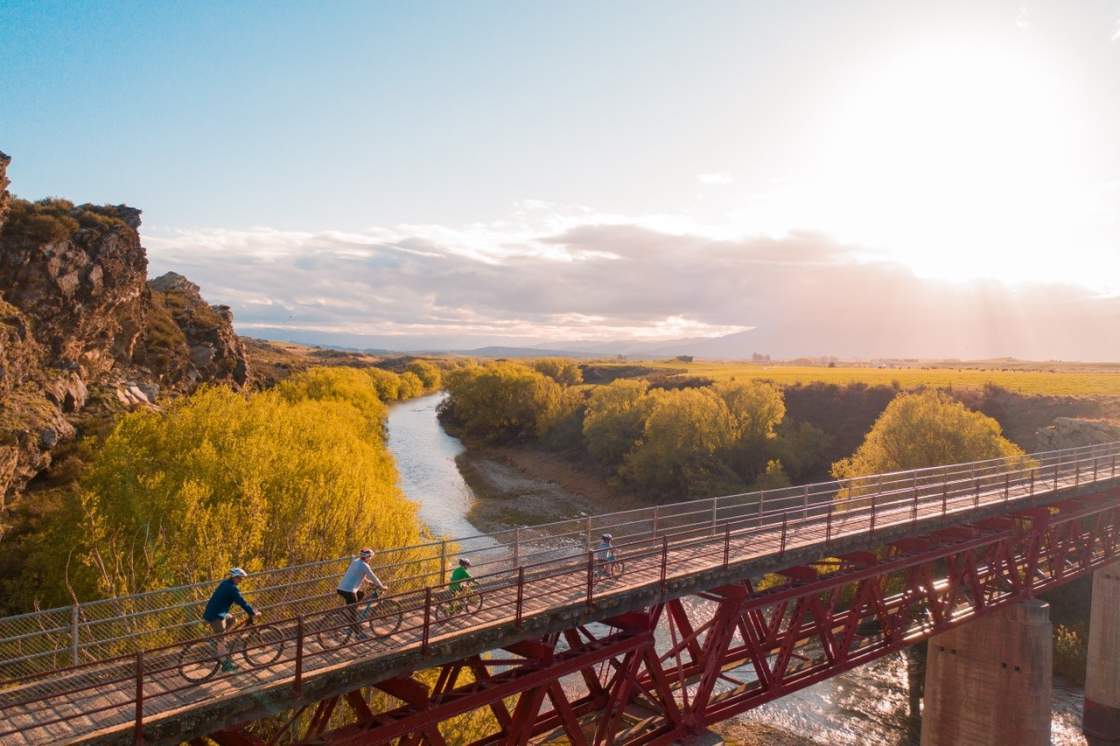 Rail Trail: Auripo to Lauder
10.5 km One Way
The short section through the Poolburn Gorge is one of the Rail Trial's special highlights. The Trail is mostly flat, or a gentle downhill so makes for easy riding. The ride includes the Poolburn Viaduct, two tunnels, and a picturesque gorge which is an ideal place for a picnic lunch. In the summer, the kids can cool off with a swim at the Manuherikia Bridge near Lauder.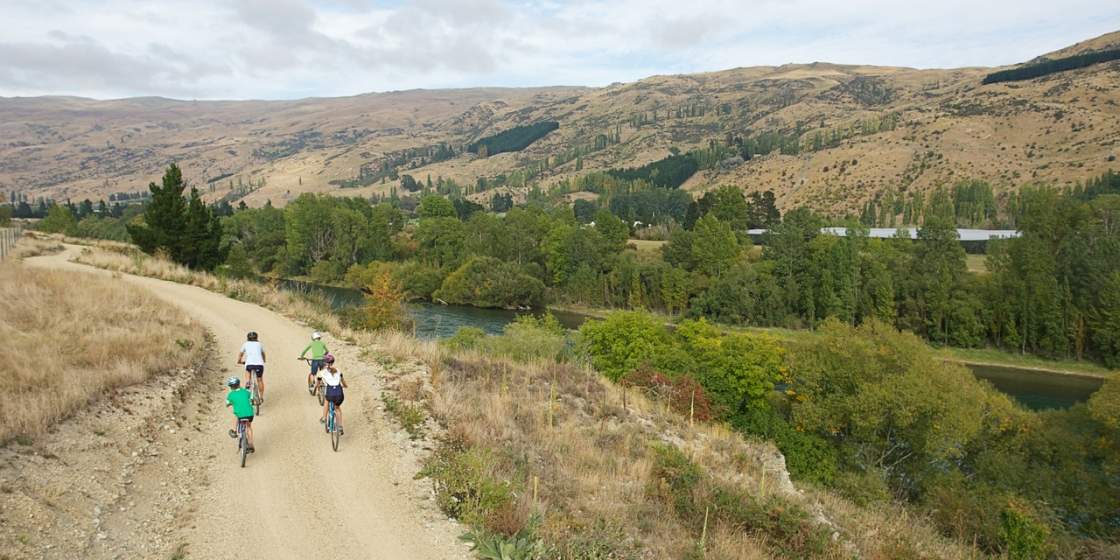 Clutha Gold Trail: Pinders Pond
10km Return
It's an easy 5km ride along the Mata Au | Clutha River from Roxburgh to Pinders Pond. This is a perfect, and safe swimming spot in the summer and an idyllic place for a picnic. Roxburgh itself also has some great cafes, and a visit to the famous Jimmy's Pies is an absolute must do!
(Note: do not swim in the Clutha River due to swift, dangerous currents).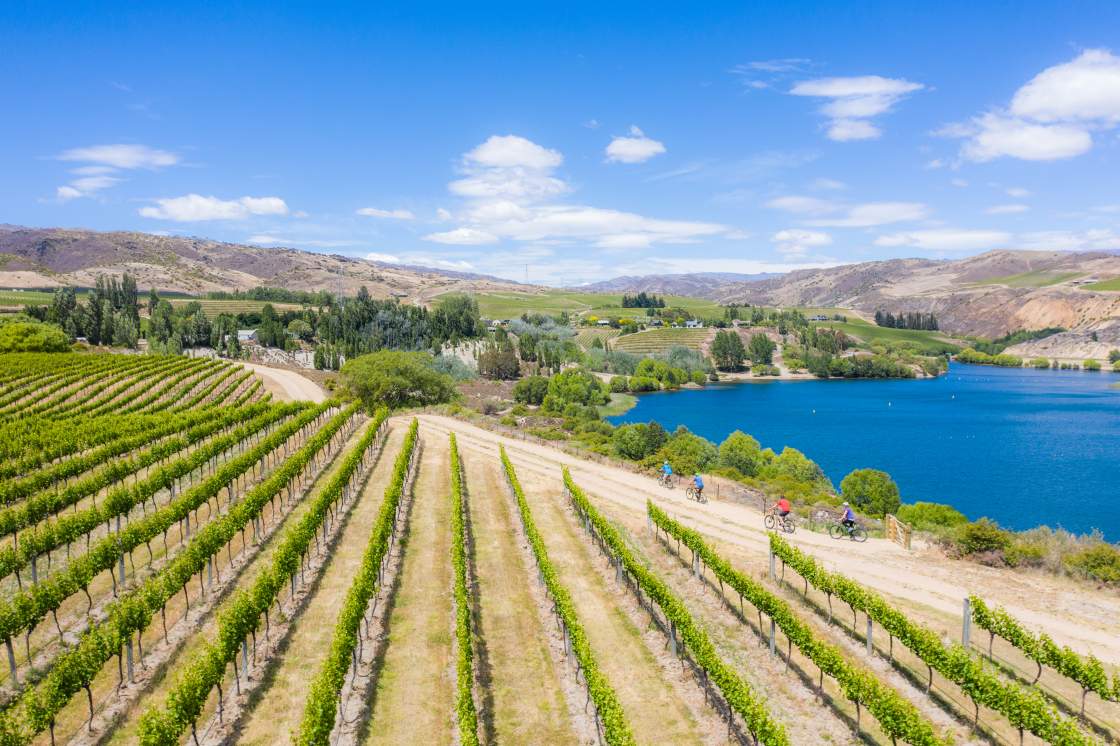 Lake Dunstan Trail: Cromwell Heritage Precinct to Bannockburn Inlet
7km one way
From Cromwell Heritage Precinct follow the trail to Bannockburn Bridge. Turn left to Bannockburn Inlet for a picnic & swim. Further along the trail Carrick Winery's Pizza Trailer on the lawn is ideal for kids! Or at the bridge head up the road & turn right to Felton Road to explore Bannockburn Sluicing's – historic remnants of the Otago Goldrush. For mum & dad, Felton Road is also home to fantastic wineries. Stay for lunch at a cafe or restaurant or return to Cromwell via a more direct trail alongside Bannockburn Road.
2-3hours - 13.7km one way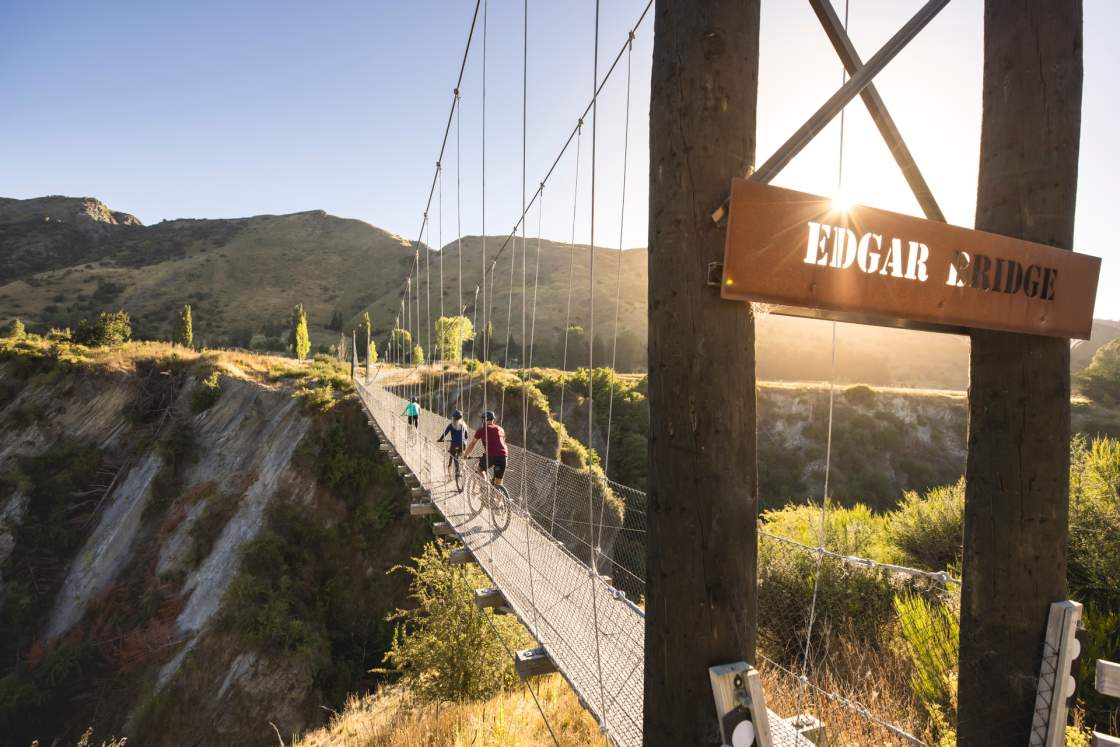 THE QUEENSTOWN TRAIL: ARROW RIVER BRIDGES TRAIL
13.7km one way
The trail starts in historic Arrowtown and crosses five bridges on its way to Gibbston. The trail is very scenic and great for families with kids, beginners as well as wine enthusiasts with a variety of wineries located in the Gibbston Valley.
The trail can be ridden one-way with shuttle transfers available between Queenstown and Arrowtown or it makes a great return trip for a fun day trip.
On a hot summer's day, the Arrow River offers opportunities for swimming and to cool off – as well as panning for gold!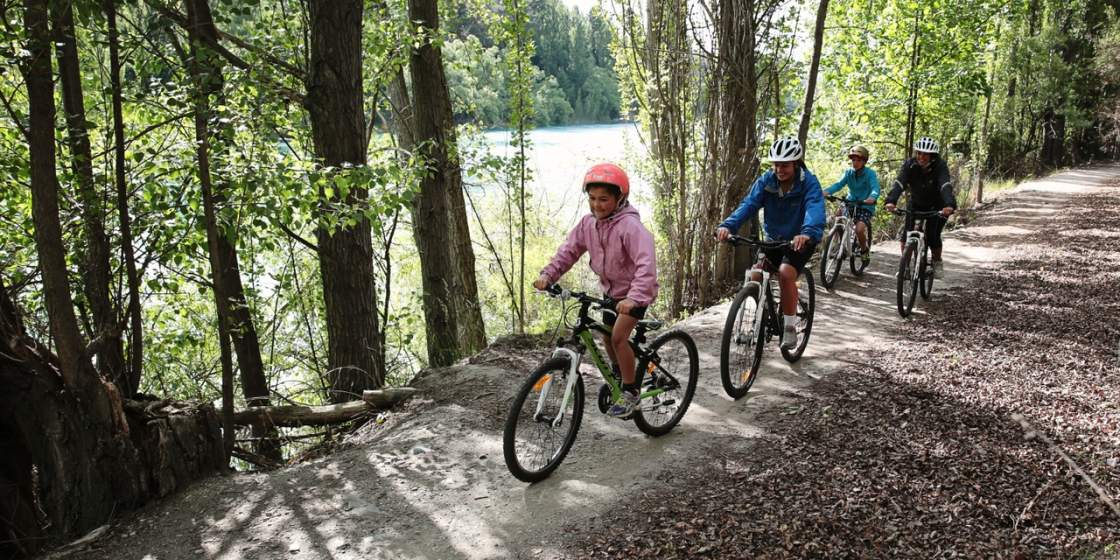 Alexandra to Clyde River Track
12km one way
This is a lovely easy track that follows the Clutha Mata-Au River from Alexandra to Clyde and passes some interesting historic gold mining sites and super picnic spots along the way. Connect to the Otago Central Rail Trail to make a 21km loop ride.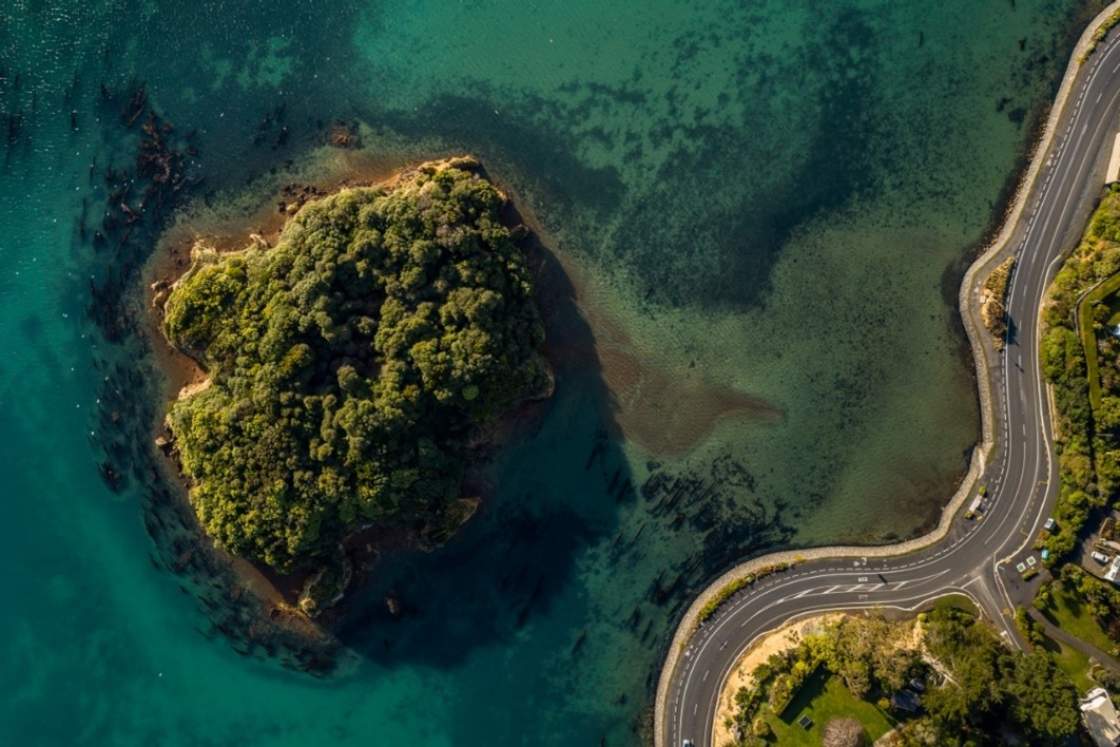 Otago Harbour Cycleway
The Cycleway stretches from the peninsula to Port Chalmers, winding in and out of bays. Cycle either side or do the 54km loop with a short boat ride across on the Port to Port. Take your own bike or hire a trike or e-bike Dunedin e-bike Hire and get pedalling. There are all sorts of things to see and do along the way including cafes, wildlife, and swimming spots. Whether you attempt it on two wheels or three, cycling the harbour is a great way to spend the day, especially with ice cream stops on either side.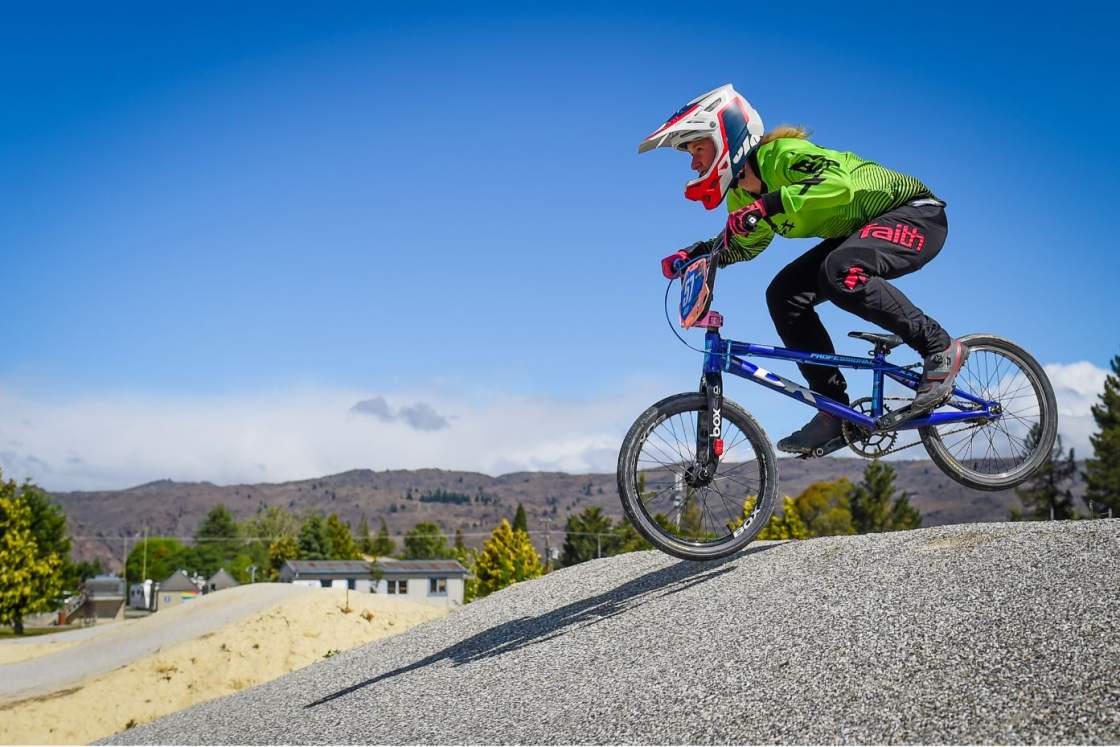 Cromwell and Alexandra Bike & BMX Parks
The Cromwell BMX jump park and circuit is brilliant for kids and adults alike. The tracks are of varying difficulty, from a paved learn-to-ride area with street signs and intersections up to a jump loop. Access is free. Cromwell Bike Park, Achil Street Park.
In Alexandra, the Fulton Hogan Community Cycle Park is free and open 7-days and includes a cycle training track and a BMX track. The park is located on Boundary Road.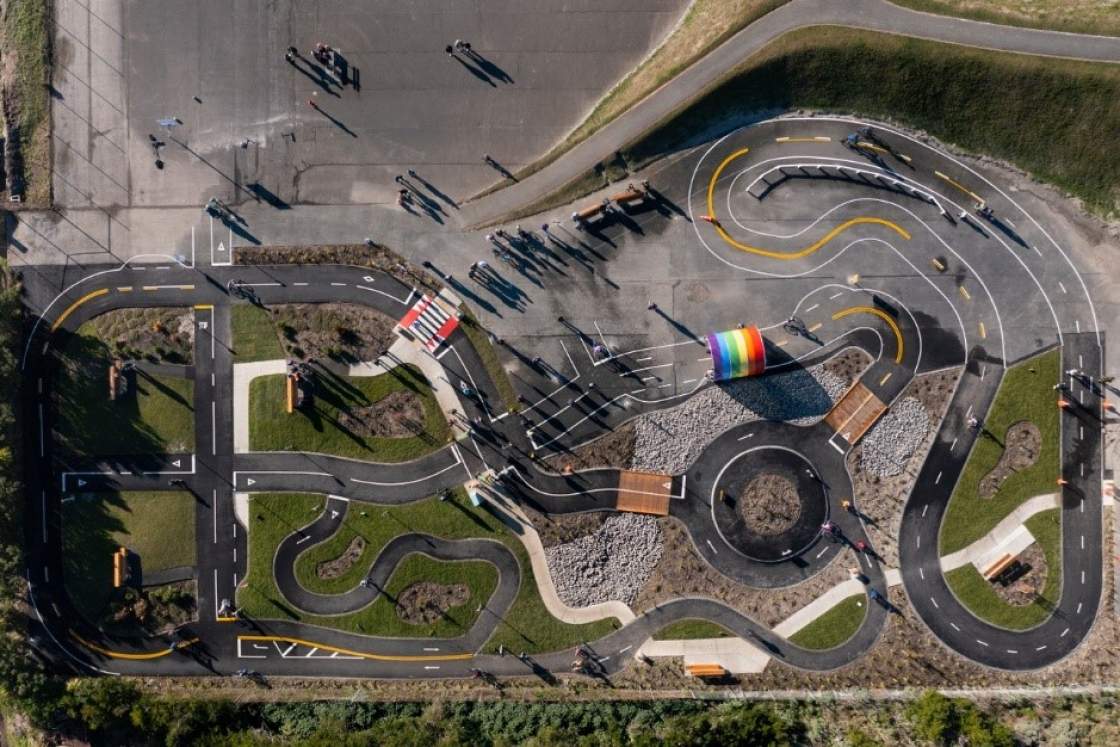 Dunedin's Pump Tracks
Marlow and Walton Parks' new modular pump tracks are fun for the whole family. They can be used by all ages and abilities whether you are going for speed, style or fun.
Marlow Park's neighbouring 'mini city' is a hot spot for kids with a working mini traffic light system, round-abouts and rainbow tunnel. You can cruise along John Wilson Drive to take in the ocean view. Stop off at St Clair on your way home for a delicious pizza and ice creams for the whole family.