 The Clutha Gold Trail Expansion

BRIDGING THE GAP FROM CENTRAL OTAGO TO THE EAST COAST...
A remarkable 62km extension to the renowned Clutha Gold Trail is nearing completion and is scheduled to open in August 2023.
This ambitious project will connect the existing network of trails in Central Otago and Clutha, establishing a continuous cycle path all the way to the East Coast.
Photography - Geoff Marks and Will Nelson
UPDATE: Since this article was published, the new 62km section of the Clutha Gold Trail between Lawrence and Waihola was officially opened on Friday 25th August 2023. However, please note that several bridges north of Milton are not yet complete and this section of trail is temporarily closed. Visit the Clutha Gold Trail website for the latest information.
Trail Hub recently had the opportunity to interview Murray Paterson, a board member from Central Otago Clutha Trails Limited (COCTL), the organisation responsible for planning and developing this thrilling new trail, and a figure who has been instrumental in the new trail's development. Our conversation with Murray Paterson shed light on the details of this significant project, and most importantly when we'll be able to ride it!
How long is the new Clutha Gold Trail extension? Where does it start / finish?
The new trail is 62km long and extends from Lawrence to Waihola (approx. 30km south of Mosgiel). Once officially open, the full length of the Clutha Gold Trail between Lake Roxburgh Village and Waihola will be 135km.
Is it a completely new trail, or have you integrated existing tracks or trails?
It's an entirely new trail. There are still some short on-road sections around Lawrence, Waitahuna and Milton, but we currently have contractors working to finish the trail in these areas.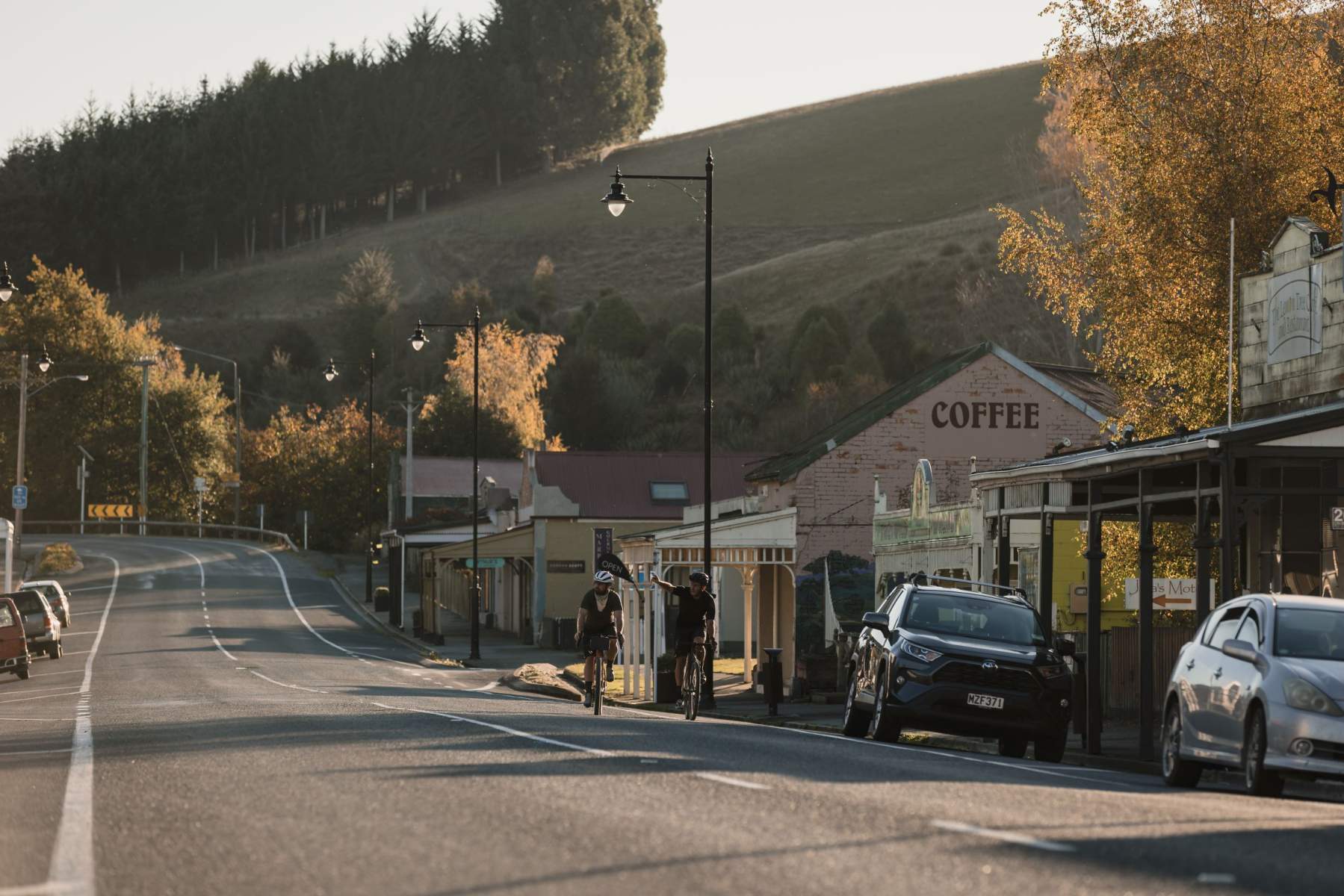 Beginning in Lawrence the trail expansion covers 62km to Waihola, with a new off-road section nearing completion in Lawrence.
Describe the landscape, scenery and features of the new trail and what do you think are the highlights?
The section between Lawrence and Waitahuna traverses rolling farmland which is quite different to the rock and tussock landscape experienced in the Roxburgh Gorge. From Waitahuna to Mt Stuart the trail generally follows the old railway corridor through rail cuttings and includes two tunnels and viaduct. This section of trail also passes through some picturesque woodland glades.
It then follows the Tokomairiro River and onto the Tokomairiro plains with the last 3kms at Lake Waihola passing through wetlands, beside and even across the lake. This section has been developed with extensive boardwalk sections, which I think will be one of the trail highlights for many people.
Lake Waihola is a 9km² freshwater lake and surrounded by wetlands which are recognised as a critical refuge for many threatened and endangered species of plant, fish and bird. An exciting project called Te Nukuroa o Matamata has the vision of restoring flourishing and connected ecosystems in the Waihora/Waihola and Waipōuri wetlands that supports healthy native biodiversity. The project is being led by Te Rūnaka o Ōtākou, and as you ride on the boardwalk surrounding Lake Waihola the huge number of native trees and shrubs planted by Te Nukuroa o Matamata is evident. It's definitely one of the unique highlights of the new trail.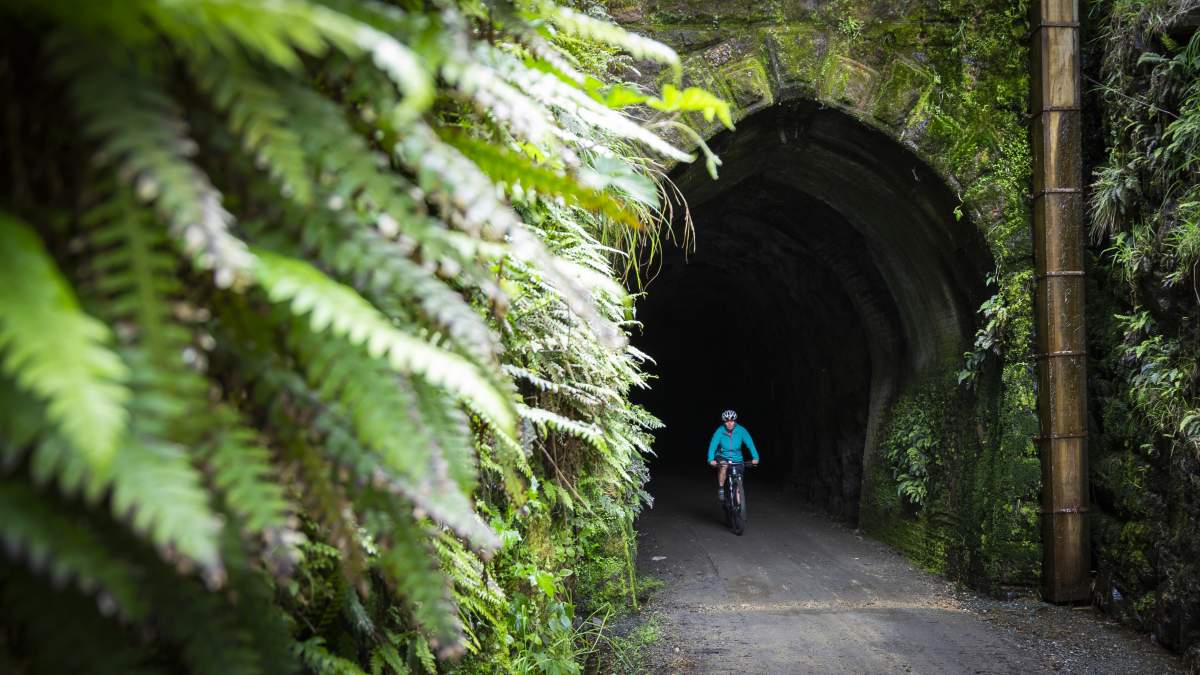 The new trail includes two tunnels as it follows the route of the old railway.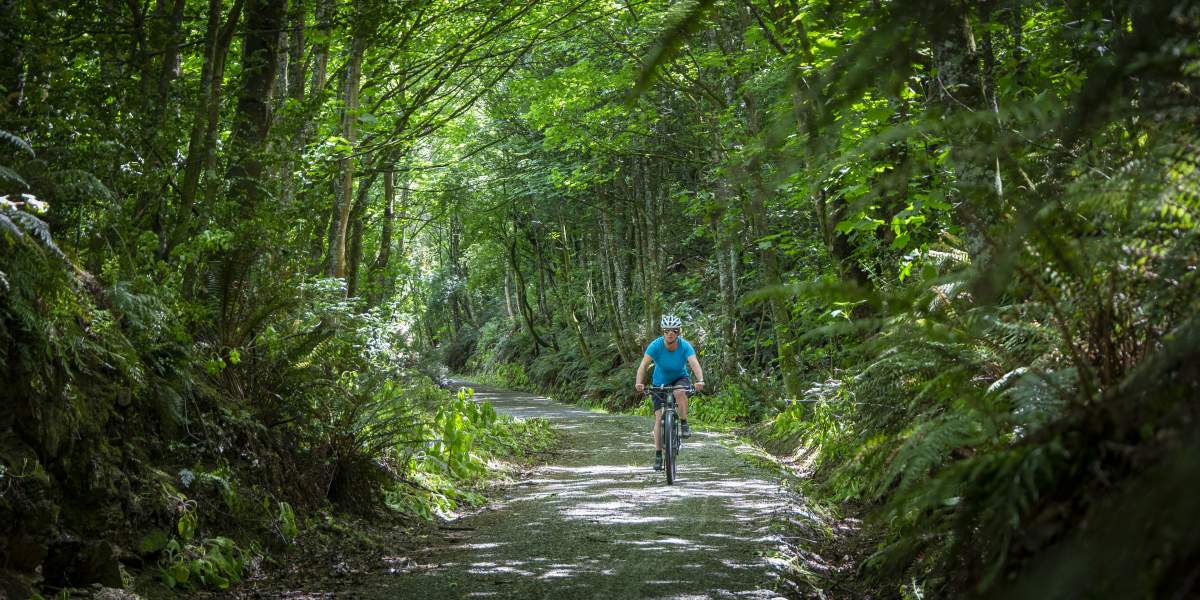 Riding through woodland glades on the new Clutha Gold Trail.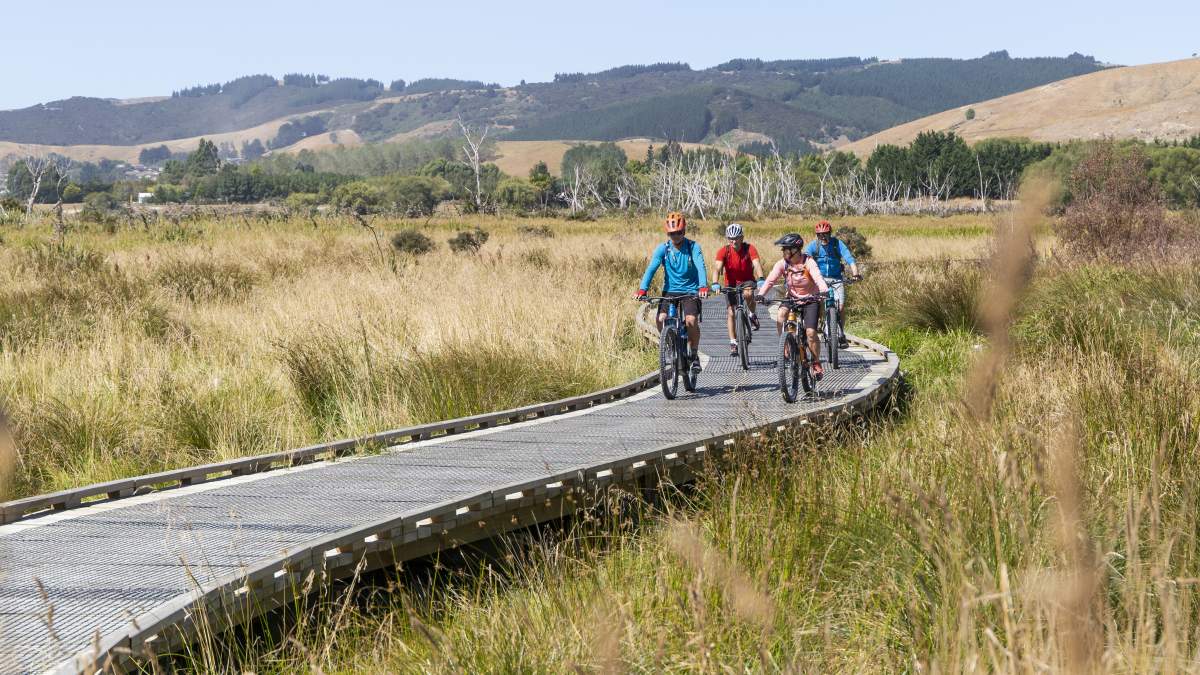 The boardwalk around Lake Waihola and the protected wetlands.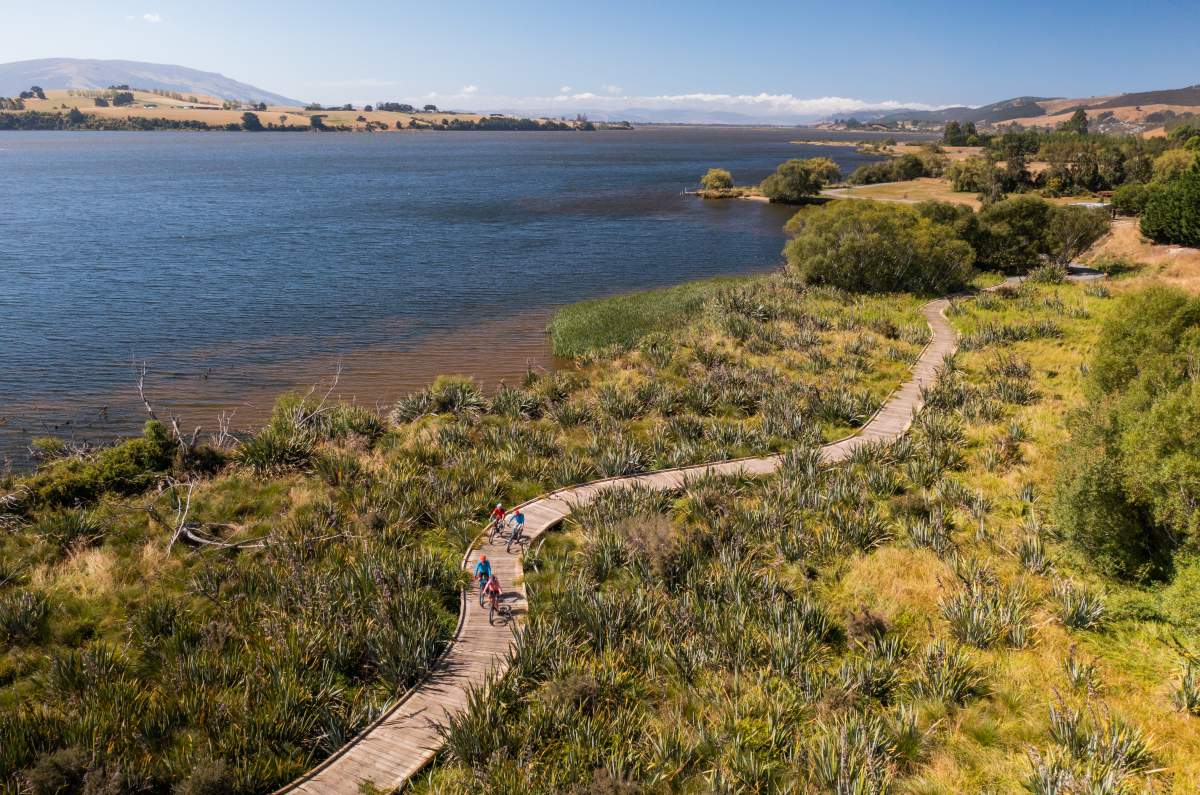 Riparian planting around the wetlands is helping with habitat restoration and conservation.
What grade is the new trail / who is it suitable for?
This has been designed as a Grade 2 Trail which is suitable for most riders including beginners, occasional cyclists and families with limited cycling experience. However, there are some longer sections between towns and settlements on the new section, so riders need to plan ahead and be self sufficient with snacks and water.
Have you seen any new infrastructure developed and / or planned to be developed to support the new trail (e.g. cafes, accommodation etc.)?
The Waitahuna Railway Station rebuild is an exciting new development. Currently there's a coffee cart onsite at Waitahuna Station with a new restaurant under construction. Accommodation options are also growing in Lawrence to meet the increased demand from trail users.
How do you think the trail will benefit the local communities (e.g. recreational or economic opportunities, wellbeing etc)?
The trail is already encouraging a lot of locals back into biking, whilst others are out walking and running along the trail, so we'd like to think that the trail brings wellbeing benefits to the local communities. We also hope that the trail will bring new business opportunities and economic benefits to these communities.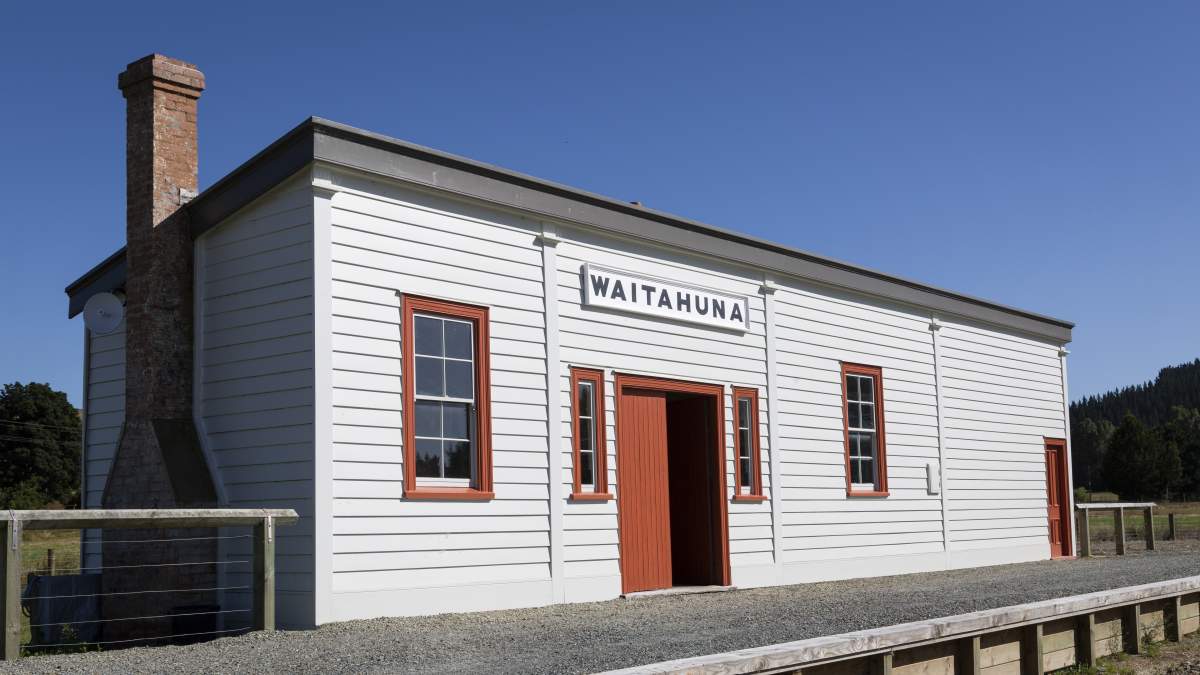 The old Waitahuna Railway Station is being refurbished and will soon be a new cafe.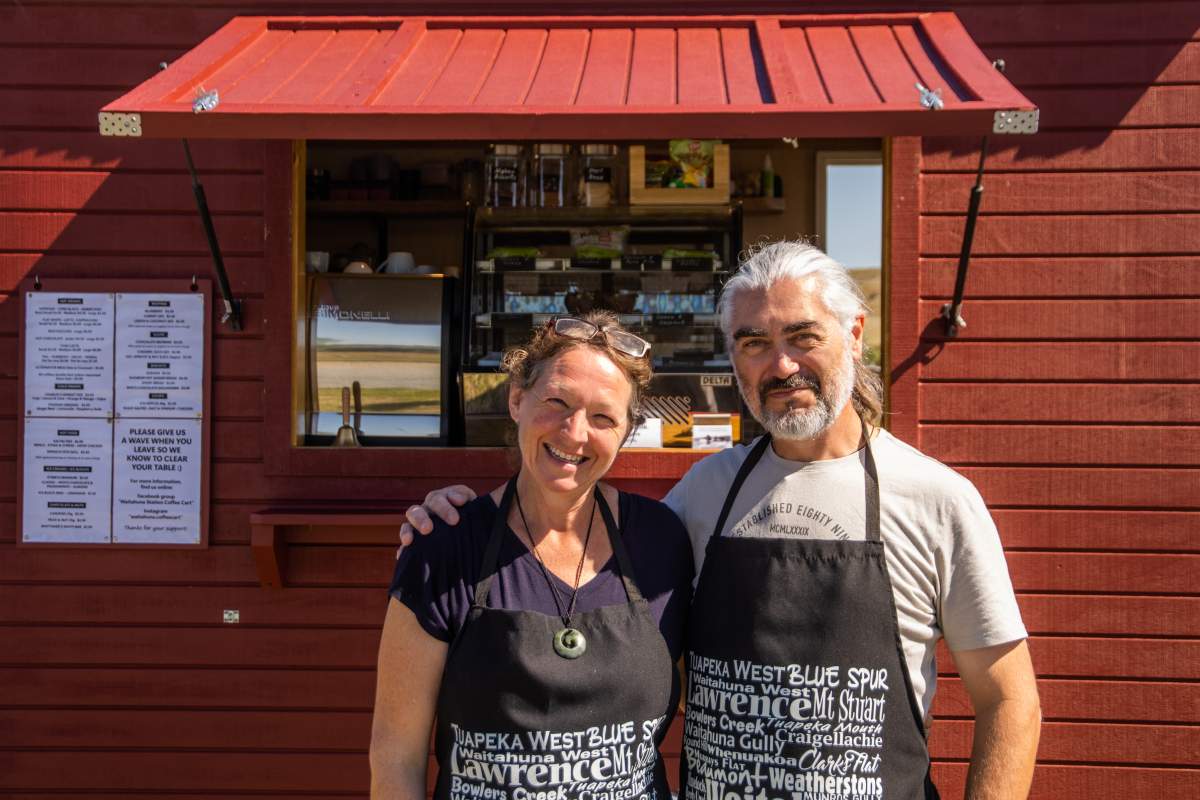 In the meantime, a coffee cart provides cyclists with an essential caffeine hit and other refreshments.
Who has built the trail i.e. specialist contractors?
We had two main contractors which have done a fantastic job - M3 Contracting and WKC Construction – both of which specialise in cycle trail building. They were supported by some additional specialists for some technical components of construction:
Recreation Construction - boardwalks and timber structures
Abseil Access - bridges
Cliffcare - tunnel works
Calder Stewart - trail construction, bridge building and landscaping
South Otago Fencing
R & R Fencing
The project was managed by Tim Dennis of Southern Land who specialises in cycle trail construction and who project managed the building of the Lake Dunstan Trail, amongst others.
How has the trail extension been funded?
We've been extremely fortunate to have received funding support from a number of organisations and we'd like to thank all of the below for their contribution!
Provincial Growth Fund
NZ Cycle Trails - Extension and enhancement fund
Clutha District Council
Otago Community Trust
Clutha Development
Private Donations
Local service clubs - Lions and Rotary
It's also important to recognise and acknowledge the support of all the landowners along the trail which have generously allowed access to their properties. Without their consent, there simply would be no trail.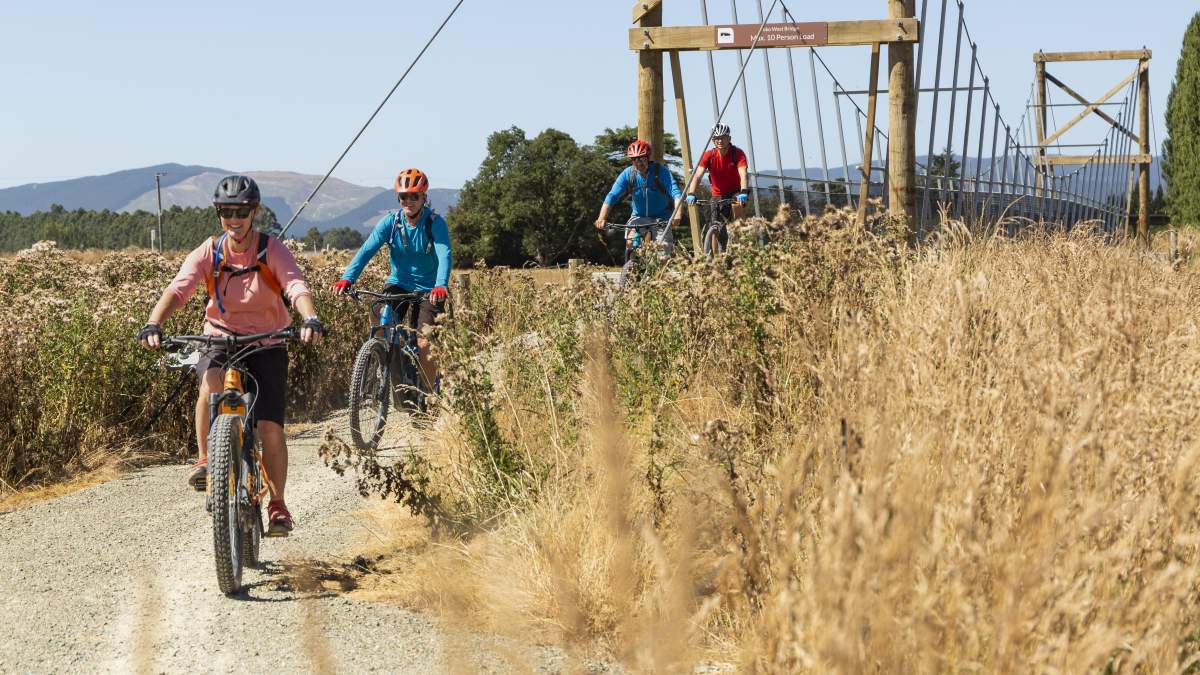 Spcialist contractors were required for the construction of bridges and to secure old railway tunnels.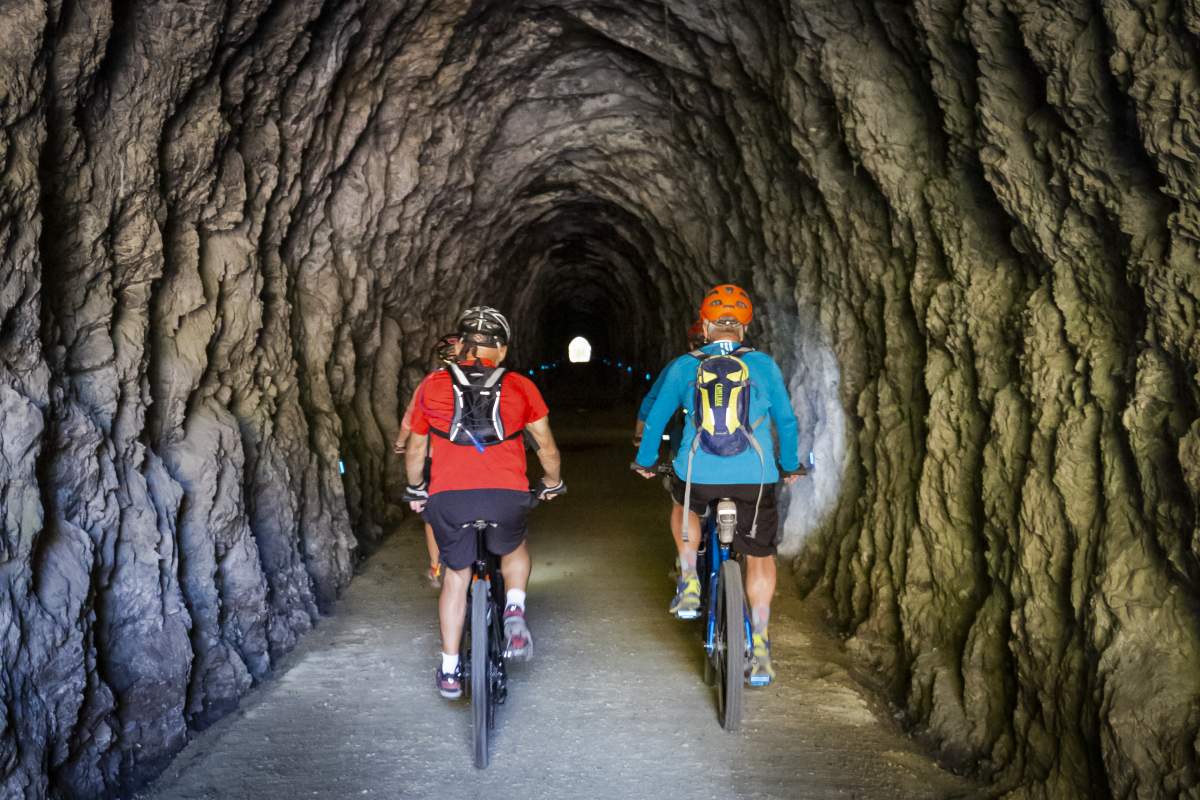 How do you fund ongoing maintenance and repairs?
Good question! The funding outlined above is only for the construction of the trail, and once built we rely heavily on donations to help with ongoing maintenance costs. COCTL is a charitable organisation, so if you have enjoyed riding the trail and you'd like to donate to the trail's upkeep or buy a trail pass, it would be hugely appreciated. Thanks!
We also receive some support for trail maintenance from the below as well as support from a number of very generous volunteers who donate their time to looking after the trail.
NZ Cycle Trails
Local authorities Clutha District Council and Central Otago District Council.
And the million-dollar question…. When will the new trail be open?!
Most of the new trail is rideable now and the last remaining handful of short sections should be finished in June/July - all going according to plan! We're then planning an official opening in August.
To find out more about the Clutha Gold Trail click the button below, and for more information to help you plan a trip to the Clutha region you can visit the Clutha Development website here.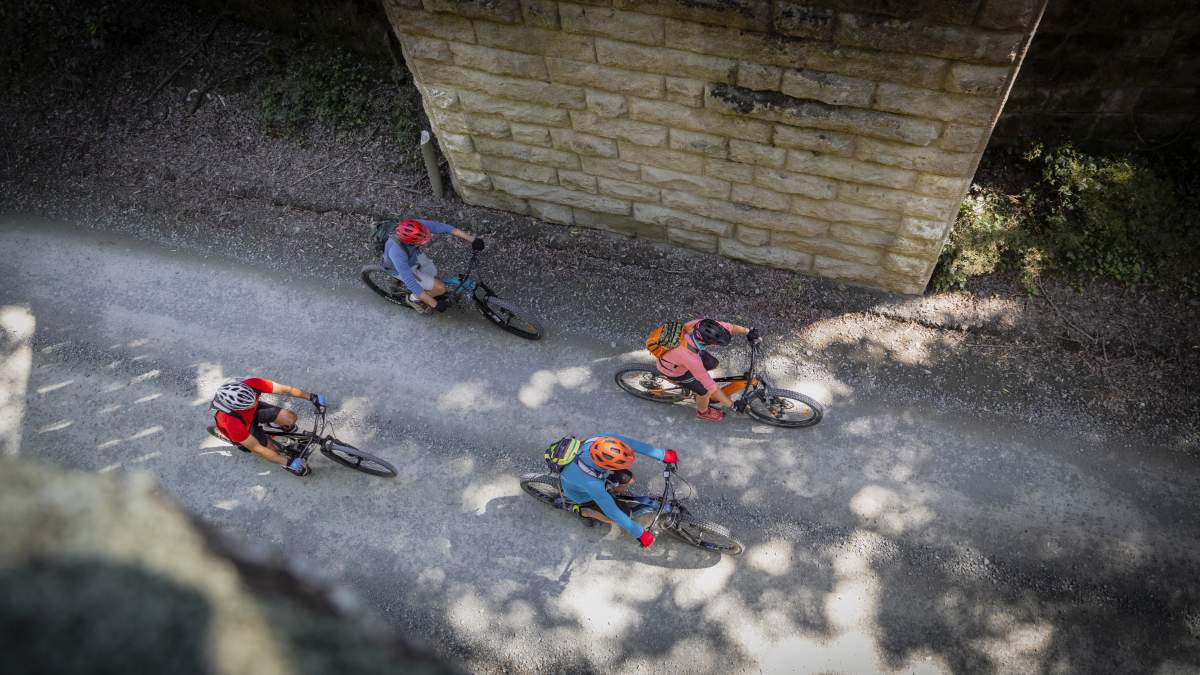 Looking down on riders from the Mt Stuart Viaduct.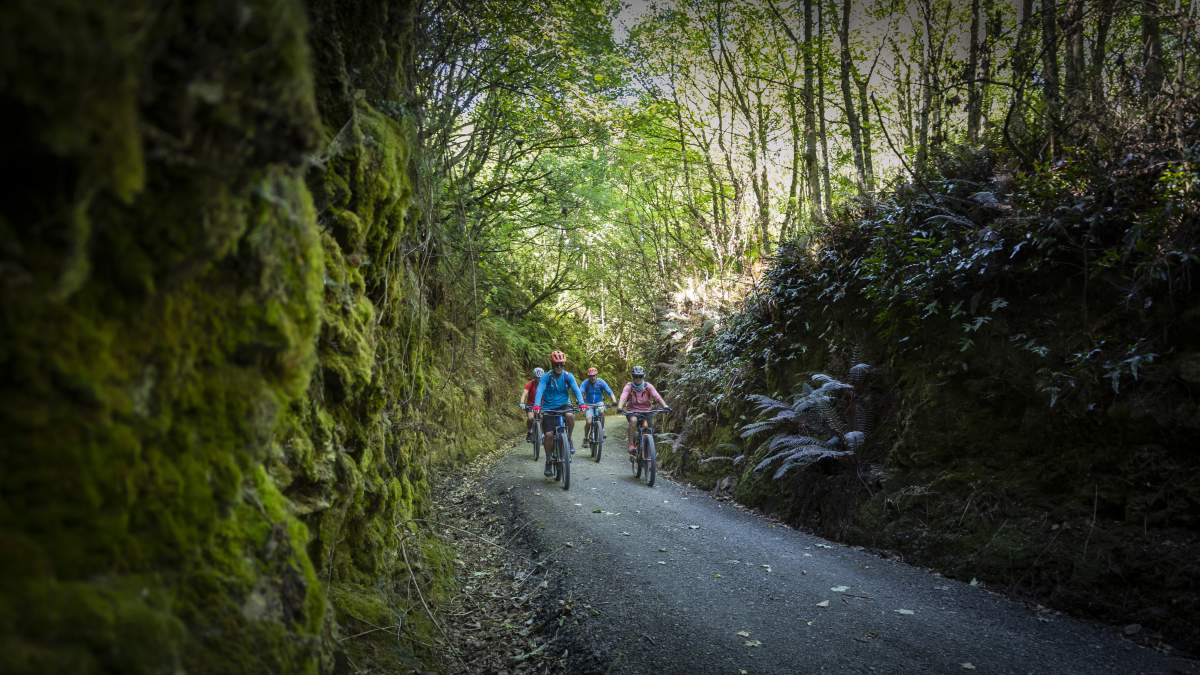 Following the old railway line makes for gentle gradients.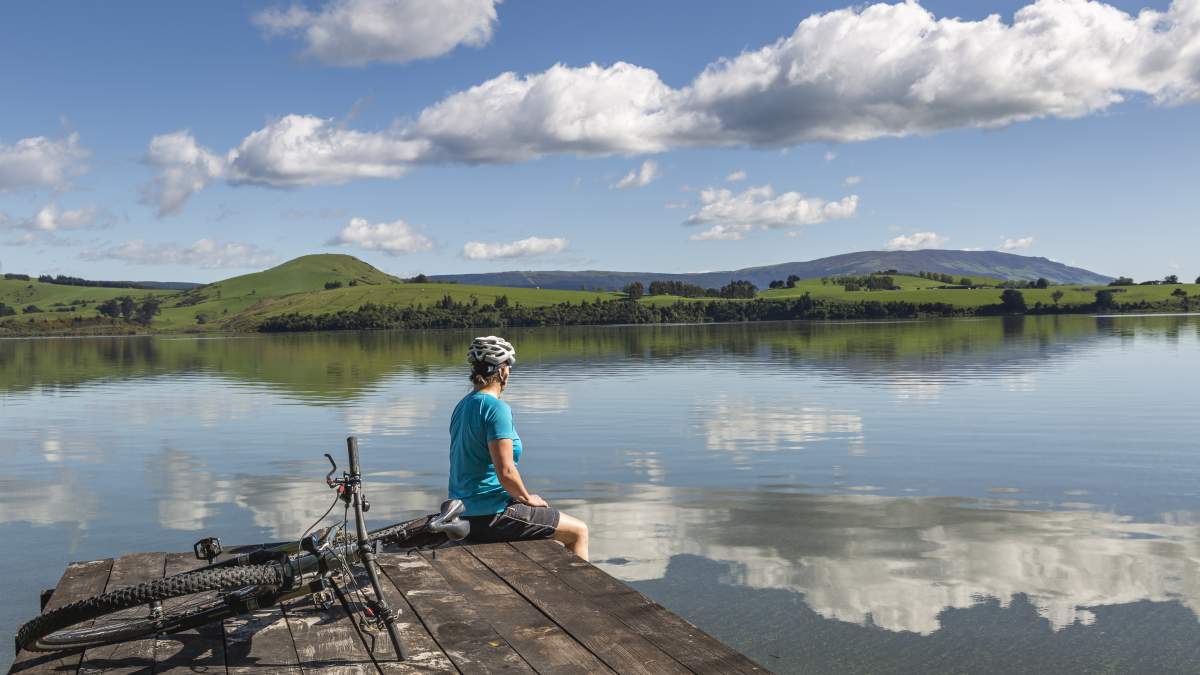 The new trail includes beautiful views across Lake Waihola.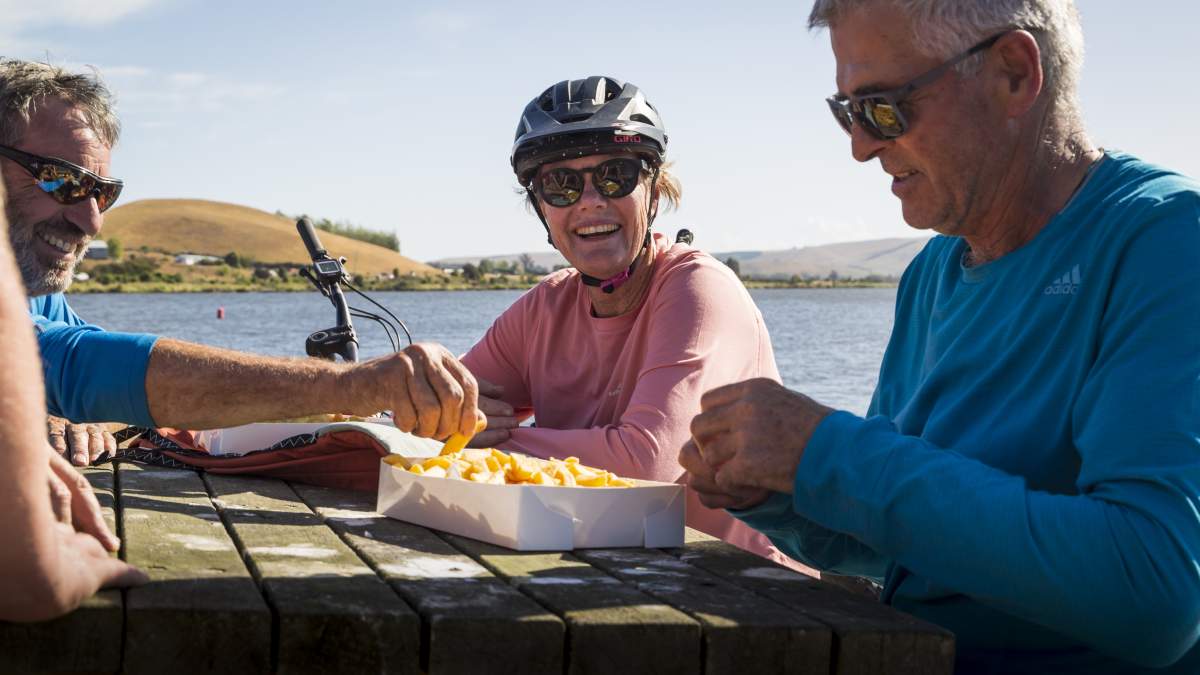 Finishing your ride with fish and chips at Lake Waihola is a must do!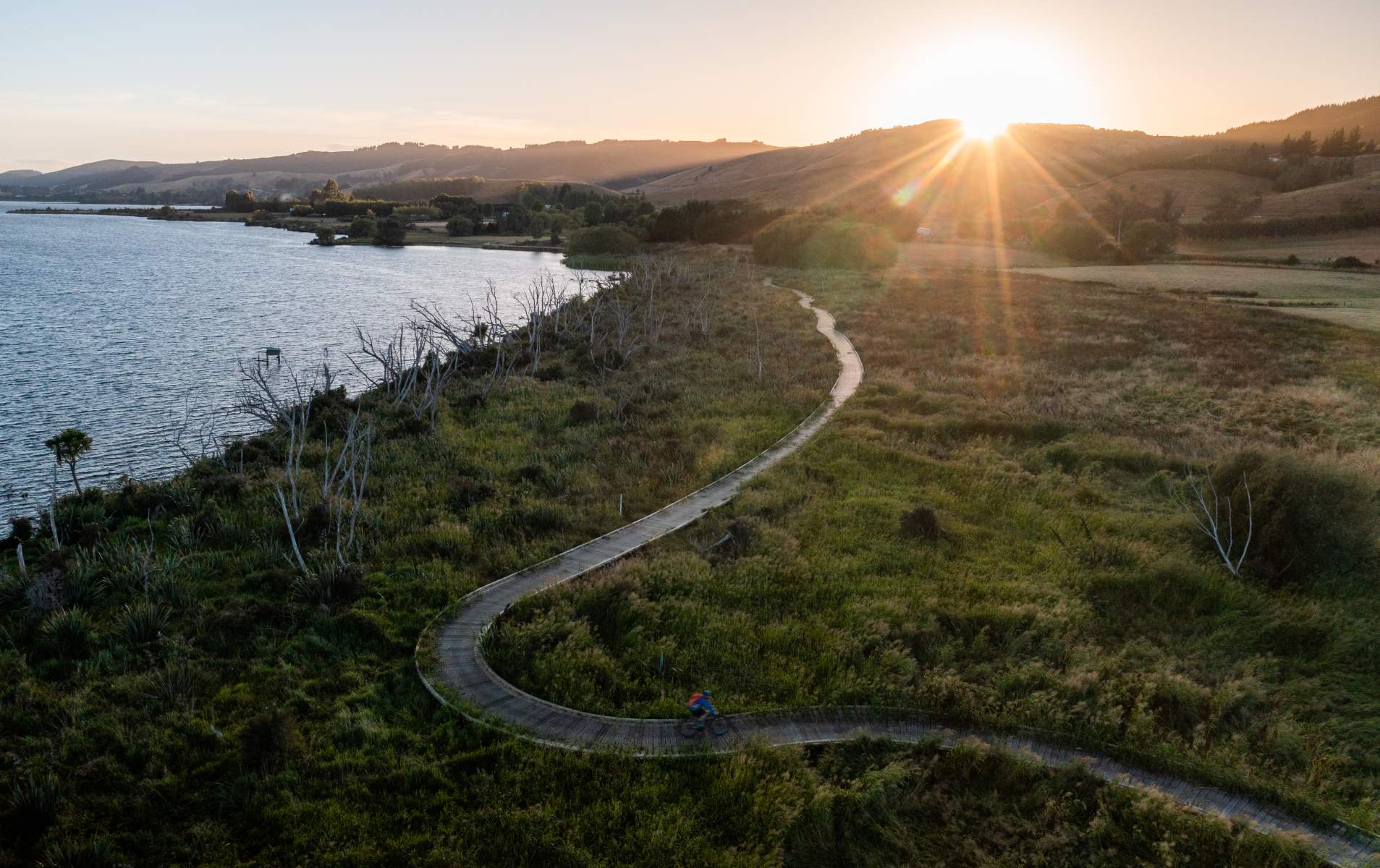 Riding the Lake Waihola boardwalk at sunrise.