 Trail Rescue

Barrie Wills has been a volunteer with Coastguard Clyde for more than 15-years, and during that time he's been involved with the rescue of dozens of cyclists form the Central Otago trails.
What? Wait, hang on a minute…
… the Coastguard rescues cyclists from inland cycle trails?
"Yes, absolutely!", responds Barrie. "The fact is that many of our trails follow waterways and often traverse remote areas where access is only possible by boat. So, the Coastguard is a crucial resource for rescuing injured walkers or cyclists across the trail network".
Barrie and his fellow volunteers from Coastguard Clyde along with teams from NZ Police, St John Ambulance, Fire & Emergency (FENZ), and Land Search and Rescue (LandSAR) recently completed a joint training exercise on the Lake Dunstan Trail.
Trail Hub had an opportunity to chat with Barrie and find out more about what it takes to coordinate a rescue from some of our more remote and challenging trails, and more importantly how cyclists and walkers can take steps to avoid accidents or incidents.
How did you first get involved with Coastguard Clyde?
I started my apprenticeship with Coastguard Clyde in 2008. A small group had been formed a few years earlier after inheriting the old Sumner Coastguard Rescue Vessel (CRV) from Christchurch. At that time, I was a life-member of the Central Otago Underwater Club and because I had a PADI Divemaster certificate and a commercial diving ticket I was able to help train members. However, once the Clyde Dam had been built and workers drifted away from the area the club closed, so the Coastguard seemed to be a good opportunity to maintain and develop my boating and water-skills.
Today, I'm Senior Operative Crew and Secretary for CGC, with 15 years of Coastguard Clyde under my belt.
You were recently involved in a "SAREX" on the Lake Dunstan Trail, can you explain what this is and why it's important?
As Coastguard volunteer crew, we're constantly training to improve our skills in first aid, radio comms, navigation, and boat skills etc.
In addition, we carry out annual exercises with Coastguard crews from neighbouring regions which usually involve other organisations like NZ Police, FENZ, LandSAR etc. These training events are called a SAREX (Search and Rescue Exercise). The last big local SAREX was held in February 2021 on the Lake Dunstan Trail involving teams from multiple emergency services This was partly prompted by the opening of the Lake Dunstan Trail which quickly became hugely popular with over 80,000 cyclists in its first year!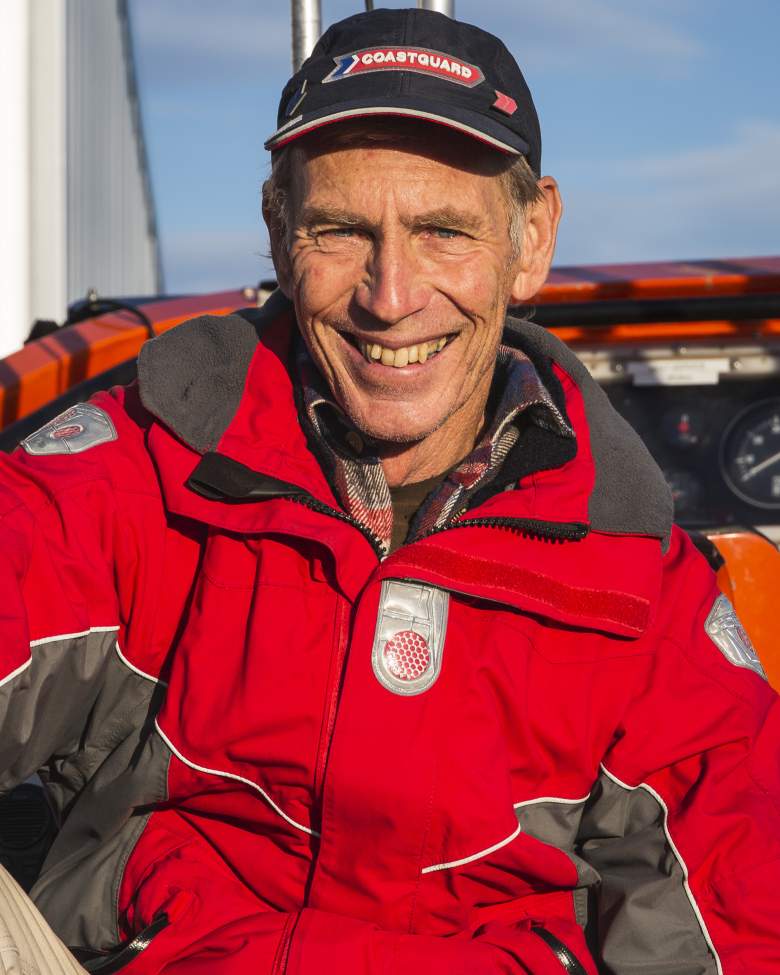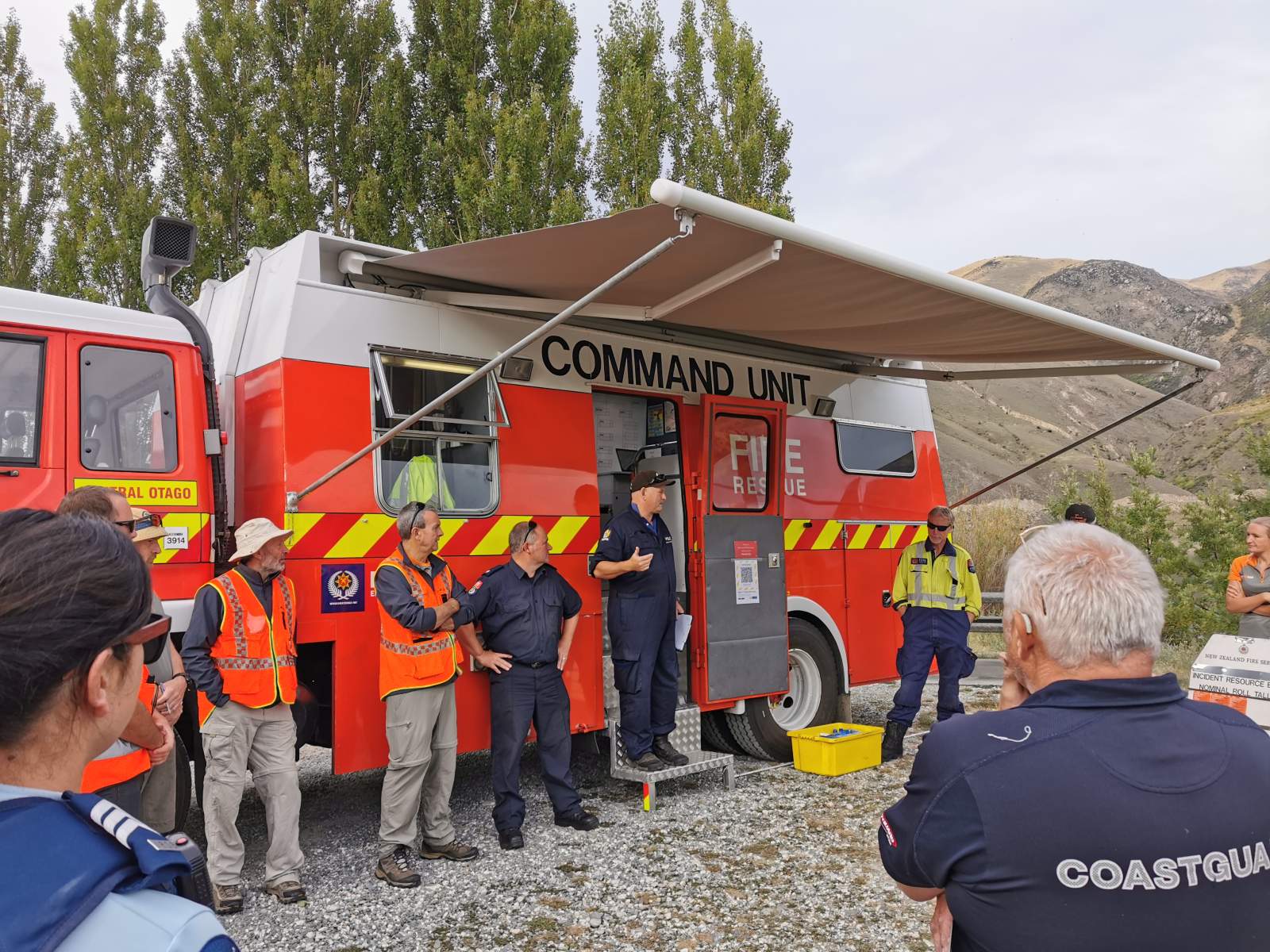 Volunteers and members of the emergency services are briefed ahead of a SAREX training operation.
St John's staff missed that event, so we held another SAREX in April 2023 specifically for the ambulance crews to familiarise themselves with the Coastguard Clyde CRV and operations.
The scenario involved the rescue of two injured cyclists in an e-bike incident on the Lake Dunstan Trail. The exercise involved their discovery; a call to emergency services and activation of our Coastguard crew and vessel; locating the victims and a suitable launch site; meeting and transporting St John staff to the site; appraising the patient's condition; carrying out on-the-scene medical assistance; and then transporting them back to the main road (SH8) where ambulances were waiting.
The importance of these SAREX's is to ensure inter-organisation operability between the several emergency services that are frequently called on during such events. Communication is always an issue in our region where radio signals can be disrupted by the hills and valleys so we need to practice means of communication with other groups. Likewise, our partner services must understand how to work within the (current) limitations of our rescue vessel, specifically the lack of space onboard.
However, the arrival of our new CRV next year should alleviate many of those problems!
(Coastguard Clyde currently has the oldest vessel in the fleet and is due for replacement in early 2024 with a new $600k Kwik Craft).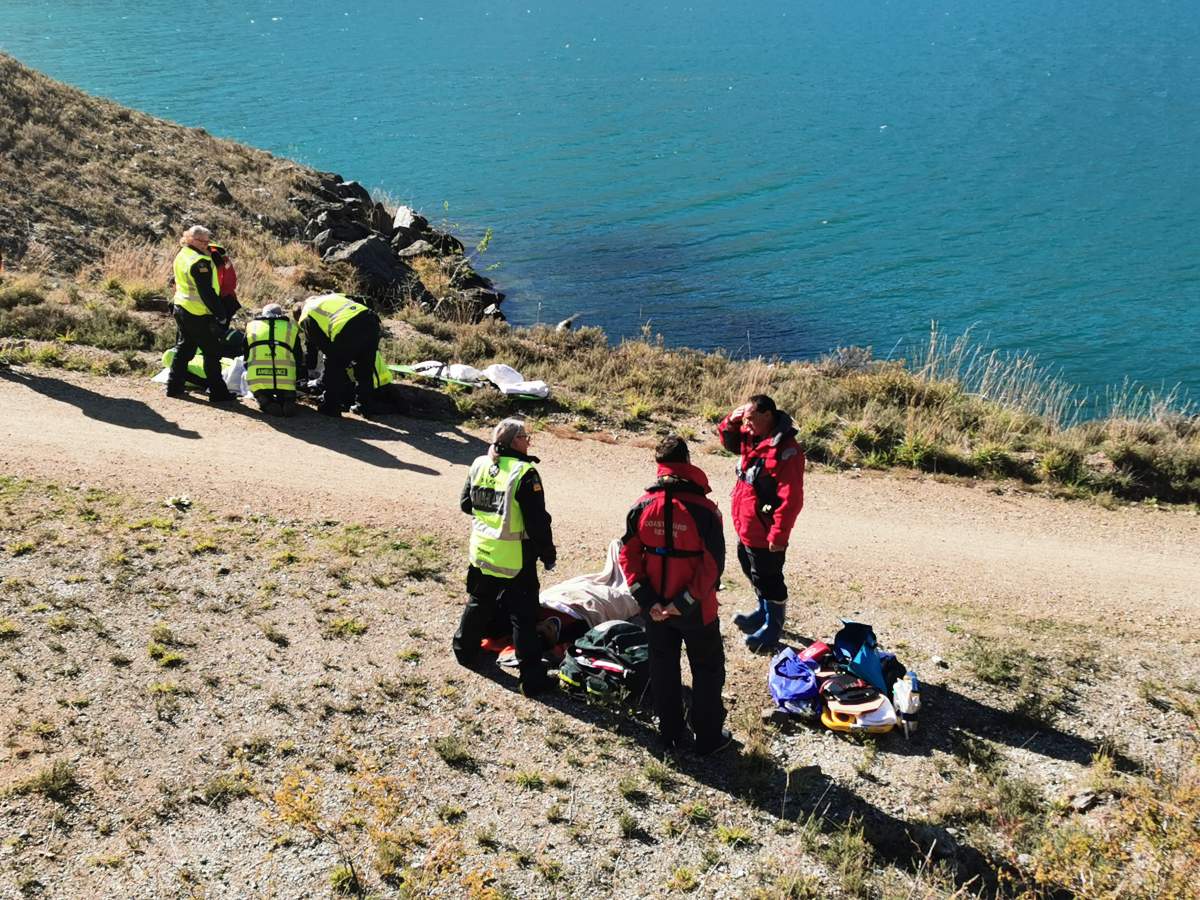 St John Ambulance and Coastguard crews prepare to extract injured cyclists from the Lake Dunstan Trail during a training exercise.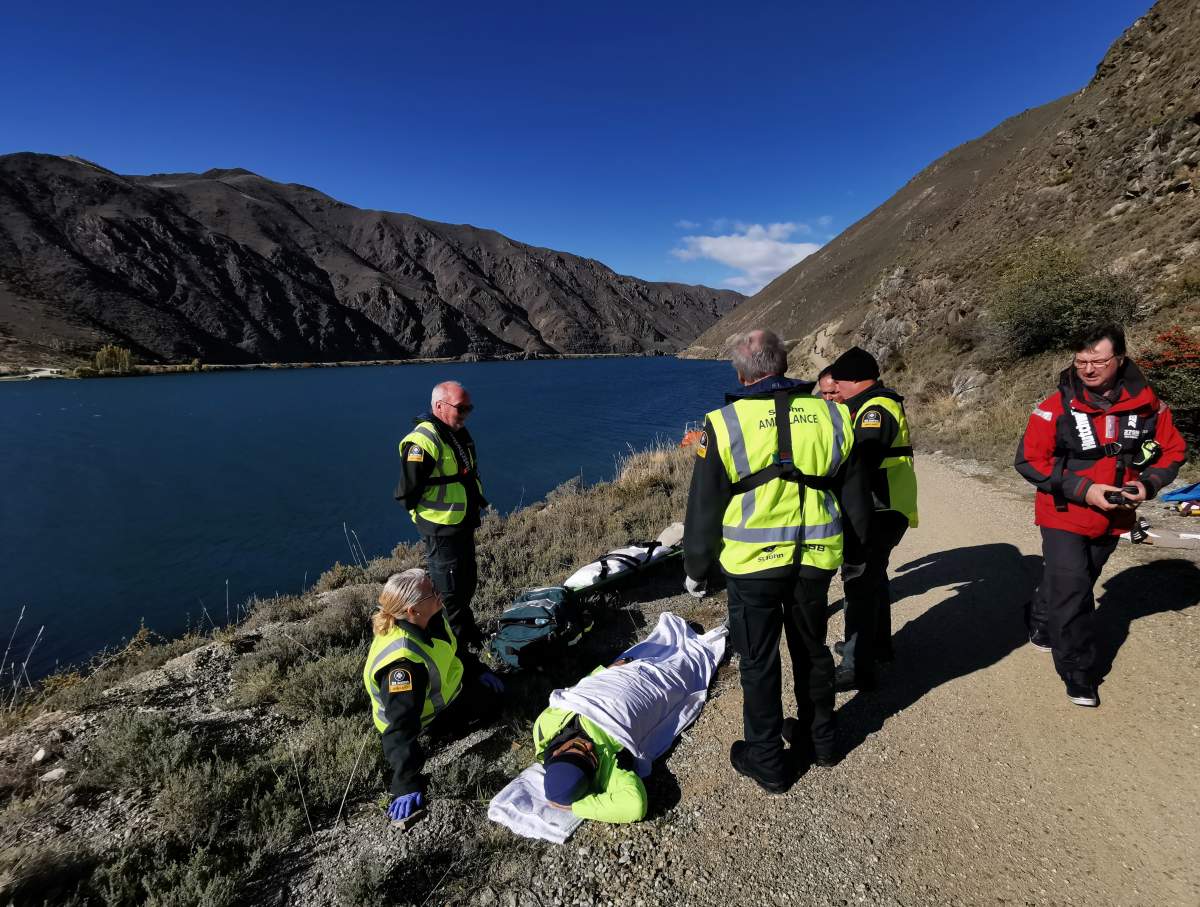 The Lake Dunstan Trail has some remote and inaccessible sections through the Cromwell Gorge, what are some of the challenges in rescuing people from this trail?
That is in fact true of all our trails. Roxburgh Gorge is even more remote with very limited mobile and radio coverage, restricted access for vehicles and a very challenging landscape. The Clutha Gold Trail (and parts of Roxburgh Gorge and the Clutha River trail to Clyde) have similar challenges including a fast flowing, high volume river with many rocks, gravel bars, rapids and large "widow-maker" willow trees to deal with. The Kawarau Gorge Trail which is due to start construction soon will be even more inaccessible, even to our CRV.
Our V8 powered Hamilton jet unit CRV (jet-boat) usually provides the quickest and most accessible form of emergency rescue for many of our Central Otago waterways where even helicopters may struggle to find safe landing sites and where 4WD vehicles simply cannot reach, especially during adverse weather events.
That said, whilst our CRV can put us ashore in most places, getting access onto the trails can be quite arduous. It often requires steep climbs off rocky shorelines or significant detours from accident sites involving long walks just to enable emergency service staff ease of access to transfer stretcher patients to the boat. Our cycle trails do not necessarily just follow the shoreline contours, often climbing across slopes 1-2km inland from the shore, and Murphy's Law dictates that accidents will usually happen in the most inaccessible places!
To help locate patients along the trails, there are marker posts every kilometre, and I recently created a map of the main geographic features on our local trails, including accessible CRV landing and emergency services drop-off/pickup sites, that can be viewed on Google Earth and/or printed as maps.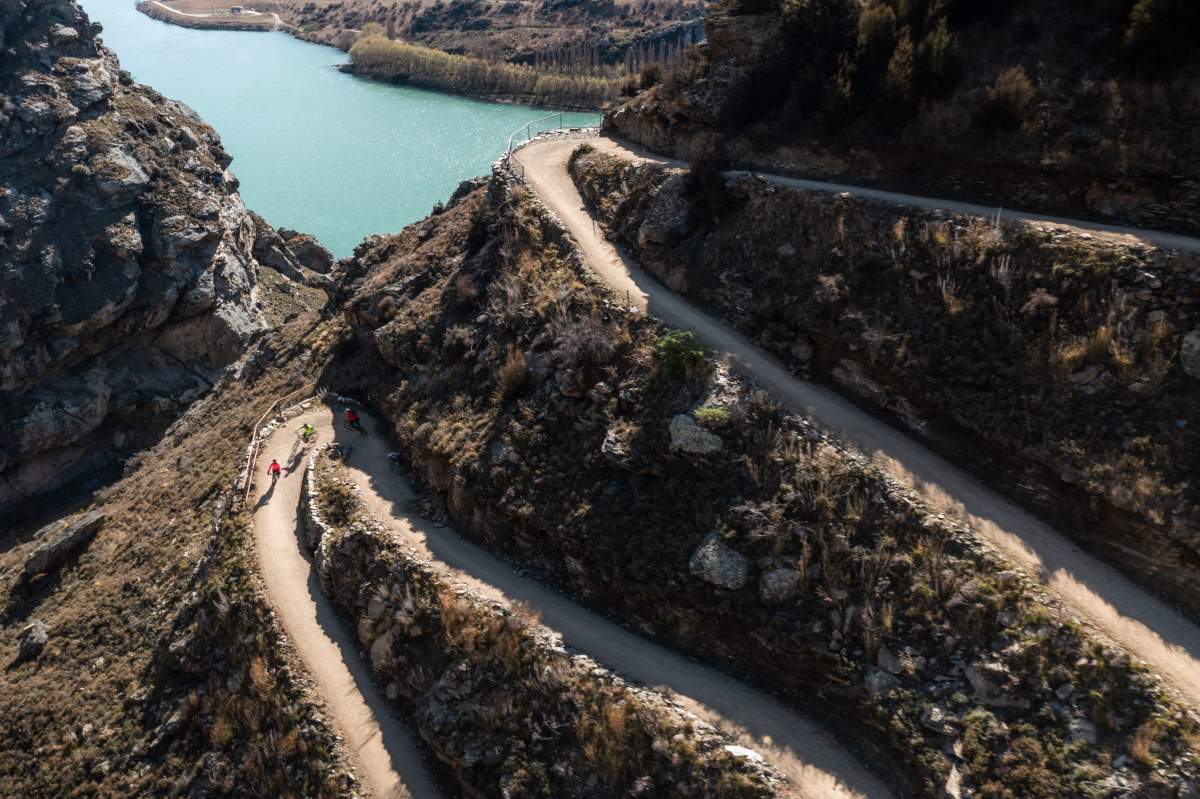 The Lake Dunstan Trail includes some remote and challenging sections through the Cromwell Gorge.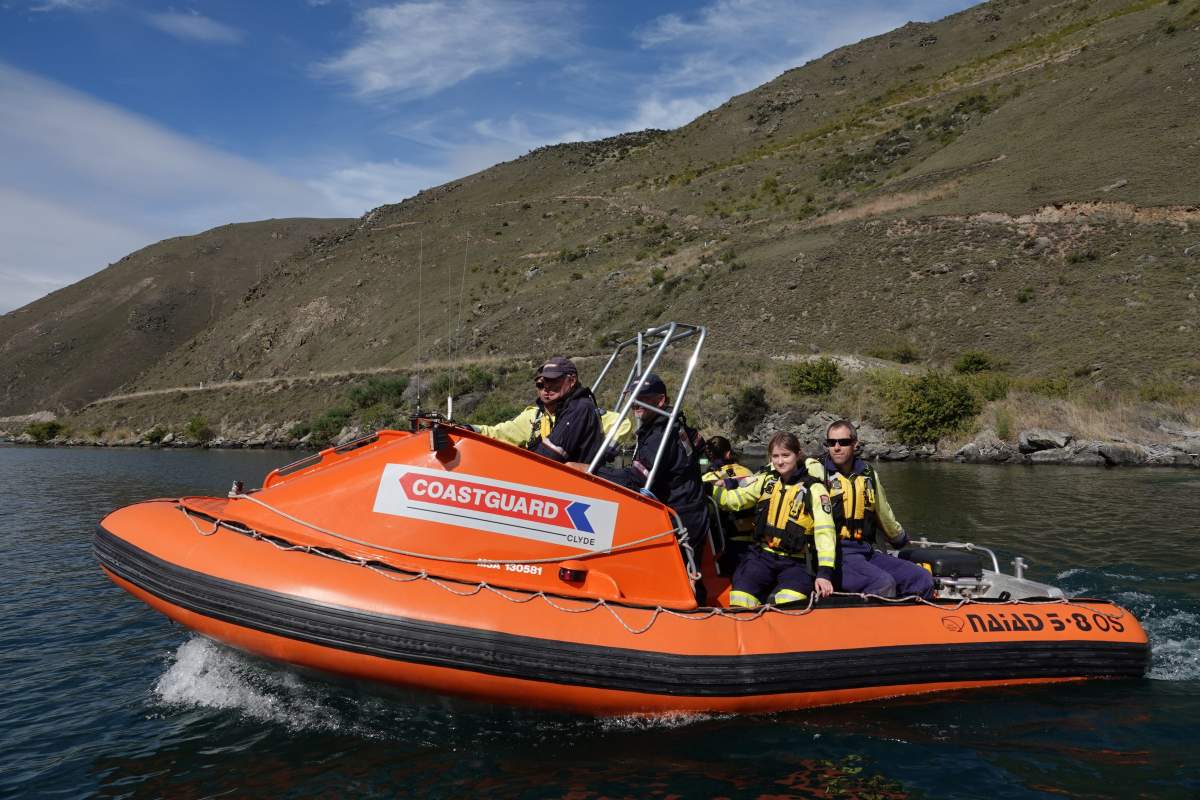 Boat access is the only option to a large part of the trail in the Cromwell Gorge.
What are the most common incidents or accidents which you have responded to and what advice can you give for avoiding such incidents?
We generally respond to incidents which fall into two broad categories:
Riders which have underestimated the conditions of Central Otago's terrain and climatic extremes, and
Riders which have over-estimated their skills, especially handling the additional power and weight of e-bikes.
We recently picked up some very tired and thirsty riders on Lake Dunstan Trail who had departed Cromwell in early morning but didn't even make it as far as the Hugo Bridge (which is less than halfway along the trail). We only received the call to pick them late in the afternoon and by that time light was fading, temperatures had dropped, and we had difficulty locating them (due to a language barrier). When we reached them, they were exhausted.
Our trail network is an amazing asset for the region and its brilliant to see so many people out riding bikes, but I think it's important for people to understand the challenges of riding on some sections of these trails, especially the remote grade 3 parts, and the need to be properly prepared. Here are some examples of other recent incidents which have been reported to us from across the trails, and you'll see there are some consistent themes:
E-bike / injury. One member of a party misjudged a switchback and suffered a severely bruised leg. Female 60-69 years.
E-bike / injury. Equipment failure, needed to be rescued/evacuated. Had a fall in loose gravel on hair-pin bend. Male 70+ years.
E-bike / injury. Fell on a sharp corner. Male 70+ years.
E-bike / injury. Came off bike on switch backs which were too challenging for their ability. Female 50-59years
E-bikes

/ multiple injuries.

5 people came off e-bikes with cuts & bruises. 40-49years.
Poor weather conditions. Exhaustion, lack of food.
Child fell off bike on loose gravel.
Injured runner. Badly sprained ankle, late evening when we arrived on the scene and hypothermia was setting in.
Non-injury. Individual caught by rapidly rising flood water level on Clyde River Trail.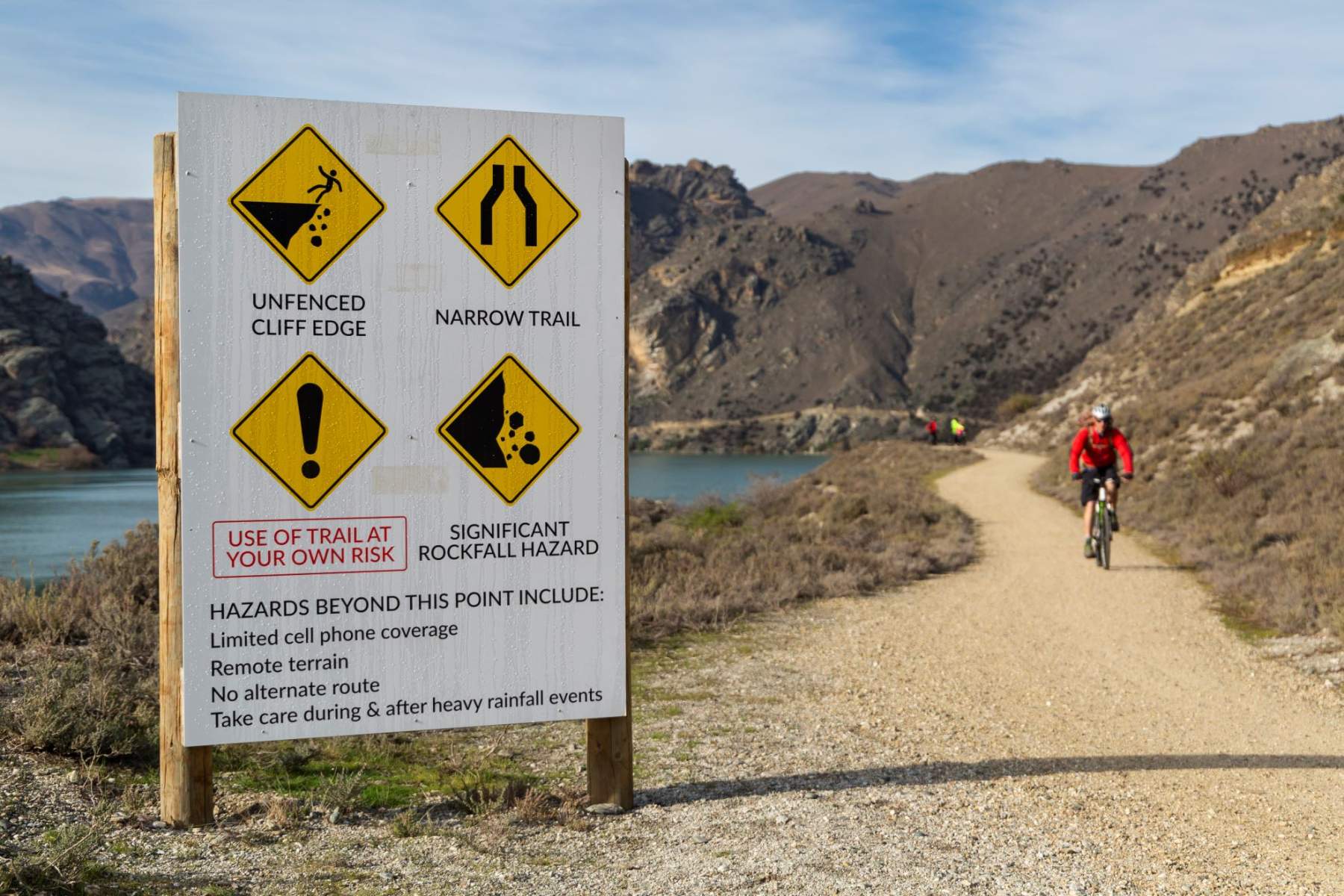 Barrie recommends that you carefully research and plan your ride and observe all safety information and signage.
For people planning to ride or walk trails which have remote or more technically challenging (grade 3) sections, what advice would you give them to make sure they have a safe experience?
Research and plan your ride – understand your ability and limitations.
It's all about preparation. Being as familiar as you can regarding trail safety, weather, and riding conditions, and making sure you your riding skills and experience are suitable for the trail, especially if riding an e-bike. Check the trail websites for more information and talk to bike shop staff or local riders on safety issues before you head out.
One of our biggest challenges is locating people on the trails, especially visitors who may not be familiar with the region, so it helps immensely if riders/walkers have some idea of the local geography and can communicate that to rescue services. Keeping a mental note of the trail markers and other signage can really help us pinpoint your location. We can't always physically see the trail from water level and may have to turn the CRV motor off so we can hear a whistle, bell or shout from an injured person.
Always check the weather forecast and carry the appropriate gear. Reschedule your ride if bad weather is forecast (including strong winds).
Take sufficient food & water.
Some trails have limited cell coverage so think about carrying a personal locator beacon and let somebody know your intentions.
Carry a first aid kit and basic bike tools (and know how to use them)!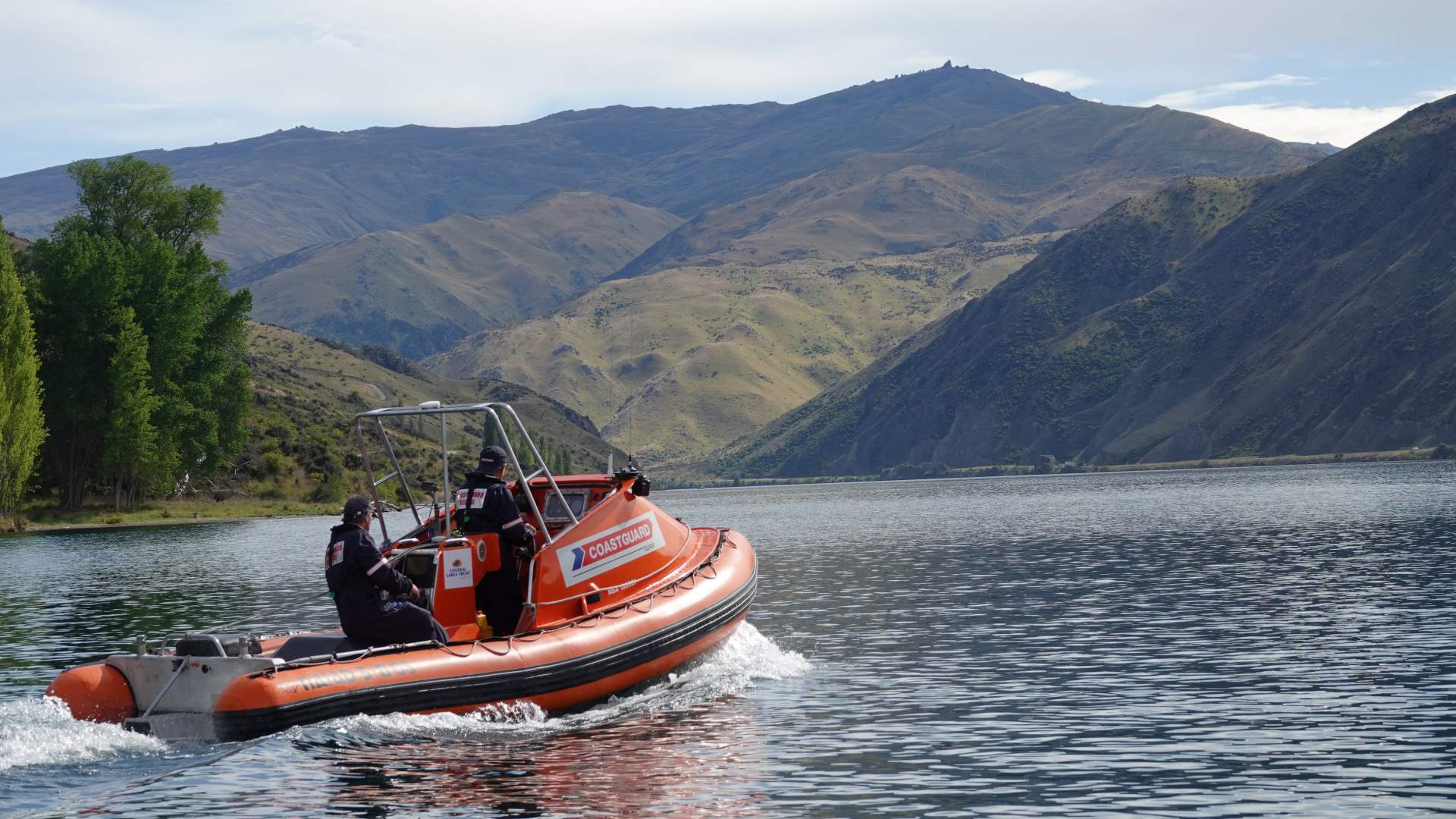 Locating injured walkers or cyclists from the water is one of the Coastguard's biggest challanges.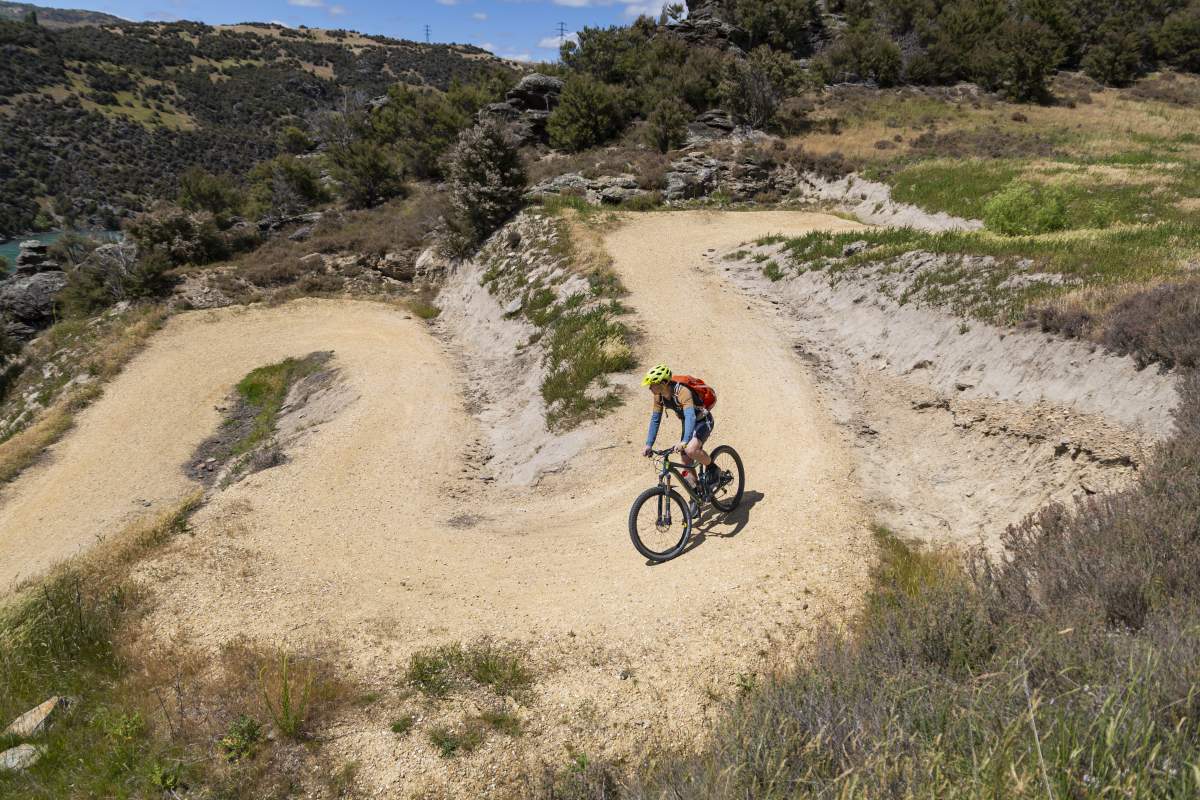 The Roxburgh Gorge Trail includes some tight switchback corners and much of the trail is inaccessible from the road.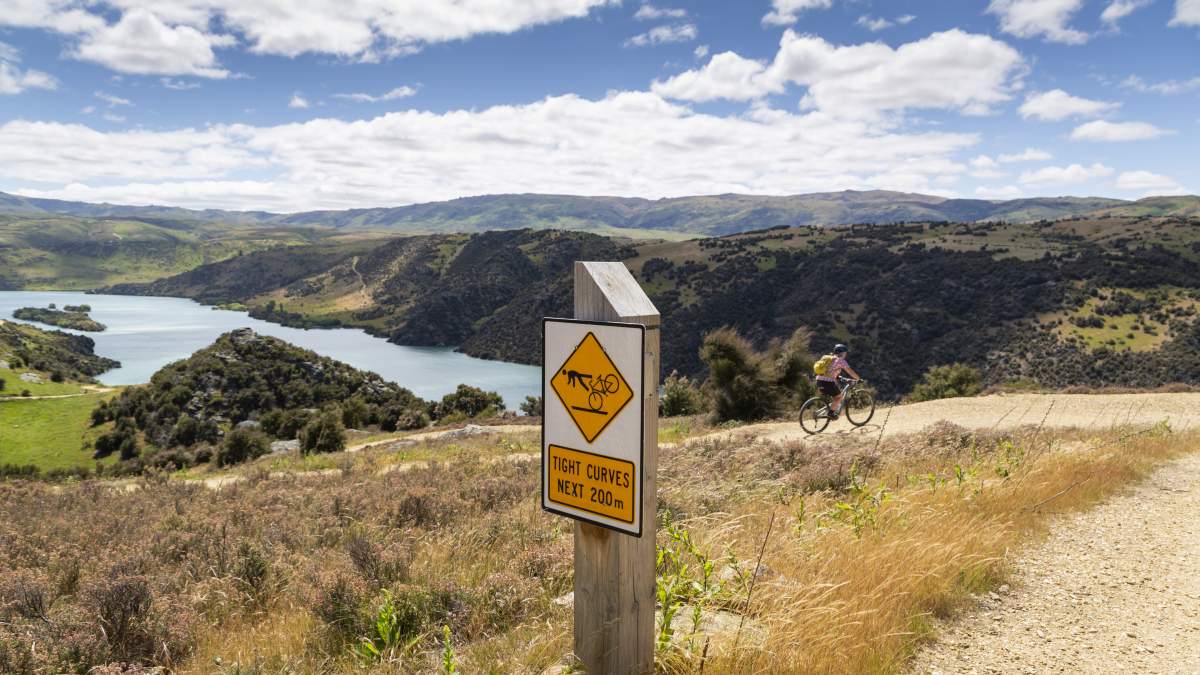 If you're not confident to ride the more technical sections, dismounting and walking is a sensible option to avoid injury.
Coastguard, LandSAR and St John are all charities and rely on volunteers, how can people donate or support your work?
There are numerous ways of supporting the National Coastguard organisation, which are outlined at the Coastguard website. The website covers many forms of donation. There are also twice-yearly lottery draws, and for boaties there are courses (day skipper, boatmaster, VHF radio) or you can become a Coastguard member for $130 annually which provides free non-urgent assistance.
Note: If you're not a member, that same non-urgent assistance will cost you $350 per hour!!
The local Coastguard Clyde team is also grateful to receive donations from people post-rescue as that will benefit our local volunteers directly. We're also looking for new volunteers to join our team! (Register your interest at the link above).
Don't forget that the trails themselves also rely on volunteers and are managed by charitable trusts. So, if you've enjoyed your ride then please donate towards trail maintenance or complete a trail survey and let us know what you think! More information here.
It sounds like you're also involved in the trails – what's your connection?
In 2008 I was a Vincent Community Board member and at about the same time the Walking Access Commission was set up and John Key was promoting a nation-wide network of cycleways/walkways. Alongside the Teviot Community Board, we started to explore local interest in developing a Roxburgh Gorge Trail and I was appointed as one of the council reps to a working group to develop the opportunity. These discussions eventually morphed into the Roxburgh Gorge Trail Charitable Trust which I was also involved with until ultimately the Roxburgh Gorge Trail was opened by PM John Key in late 2013 (along with the Clutha Gold Trail). I now sit as a Director on the Central Otago Clutha Trails Company which oversees funding, operations and maintenance of the Lake Dunstan, Roxburgh Gorge and Clutha Gold Trails, plus the new extension to of the Clutha Gold Trail to Lake Waihola (opening soon)!
Prior to all that I was a plant & soil conservation scientist and moved to Alexandra late 1978. I run my own consultancy business working with high country landowners, mining companies, Otago Regional Council etc., mainly doing resource consent & ecological survey work, which is useful skill to have when you're designing and building new trails!
I'm actively involved with the Jolendale Park Trust Board, the CO Astronomical Group, Keep Alex Clyde Beautiful Society, the Manorburn Curling Club and Combined Curling Clubs, the NZ Association of Resource Management & NZ Plant Conservation Network, the Manorburn Recreation Reserve Committee and the Queenstown Lakes District Council Climate Reference Group (as biodiversity rep)… and of course Coastguard Clyde.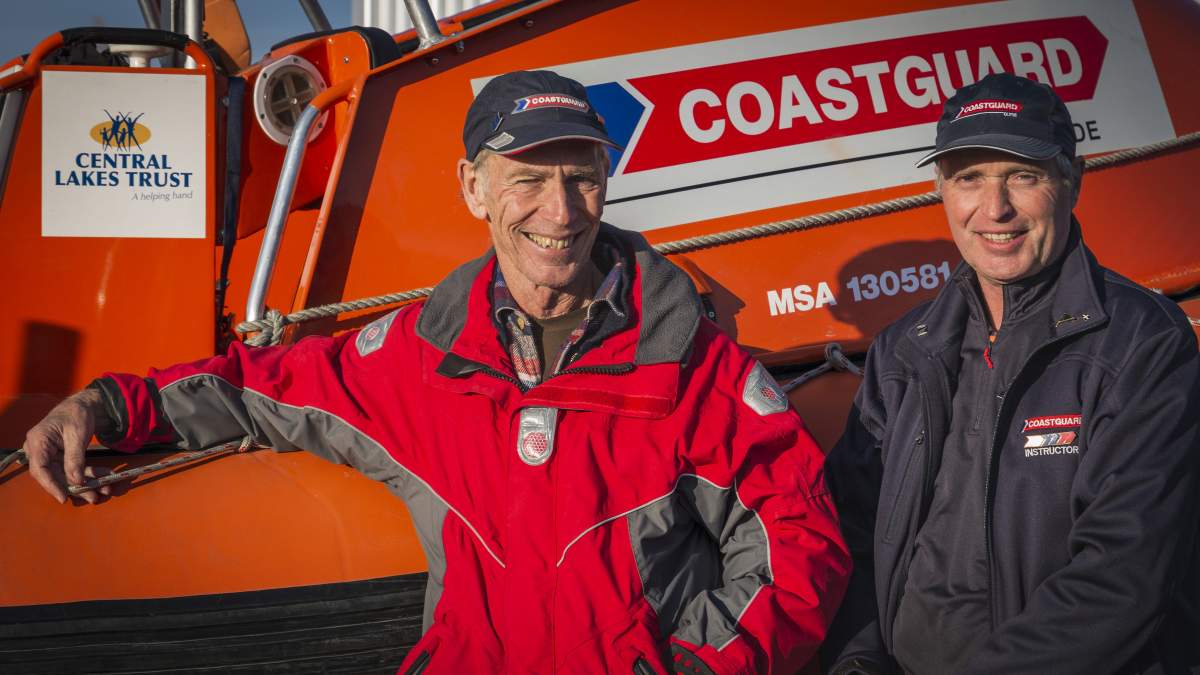 Barrie with Coastguard Clyde skipper, James Robinson.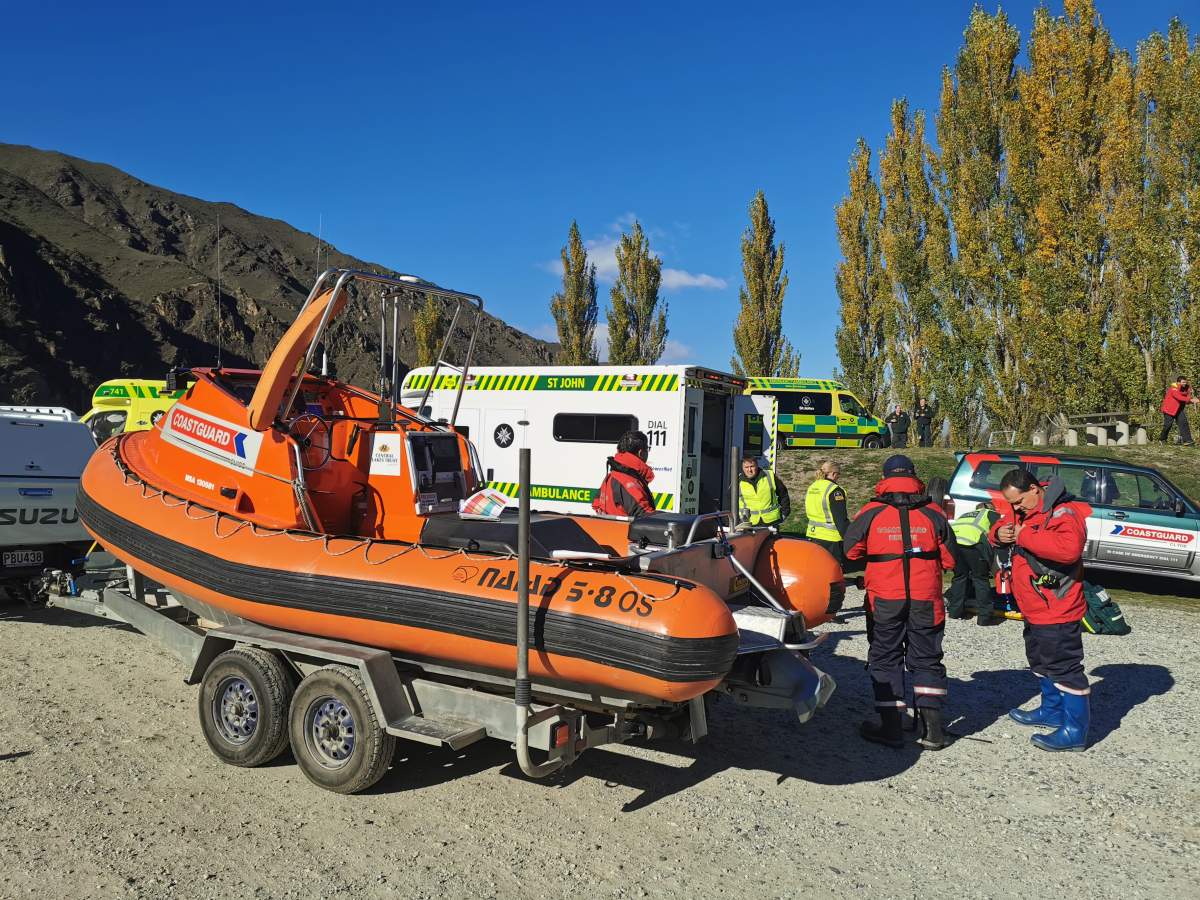 SAREX is a highly collaborative training exercise involving all the emergency services.
Huge thanks to Barrie for taking time to talk to Trail Hub, but more importantly for the hours and hours of his own time (and that of his fellow crew members) which he commits to Coastguard Clyde, the trails network and all his other clubs and committees.