 TRAIL TOWNS | LAUDER

words and images by Geoff Marks
"95% of people that visit Lauder are cyclists on the Rail Trail".
"4.9% are here for an event, like a wedding".
"And 0.1% are completely and utterly lost"! …
That's according to enthusiastic Lauder resident, Bruce Macdonald.
But not all who wander are lost, and Bruce & Esme who run the Lauder School B&B help their lost visitors find something quite remarkable in Lauder and its surrounds.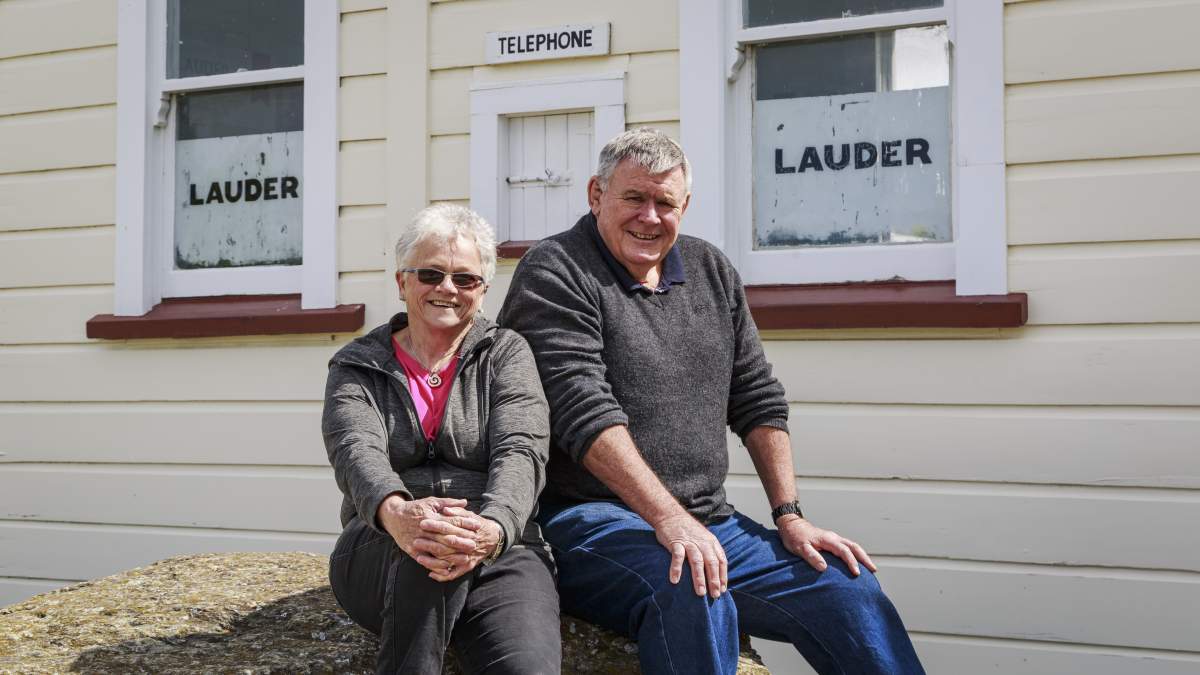 Bruce & Esme Macdonald, are well used to helping lost visitors find their way!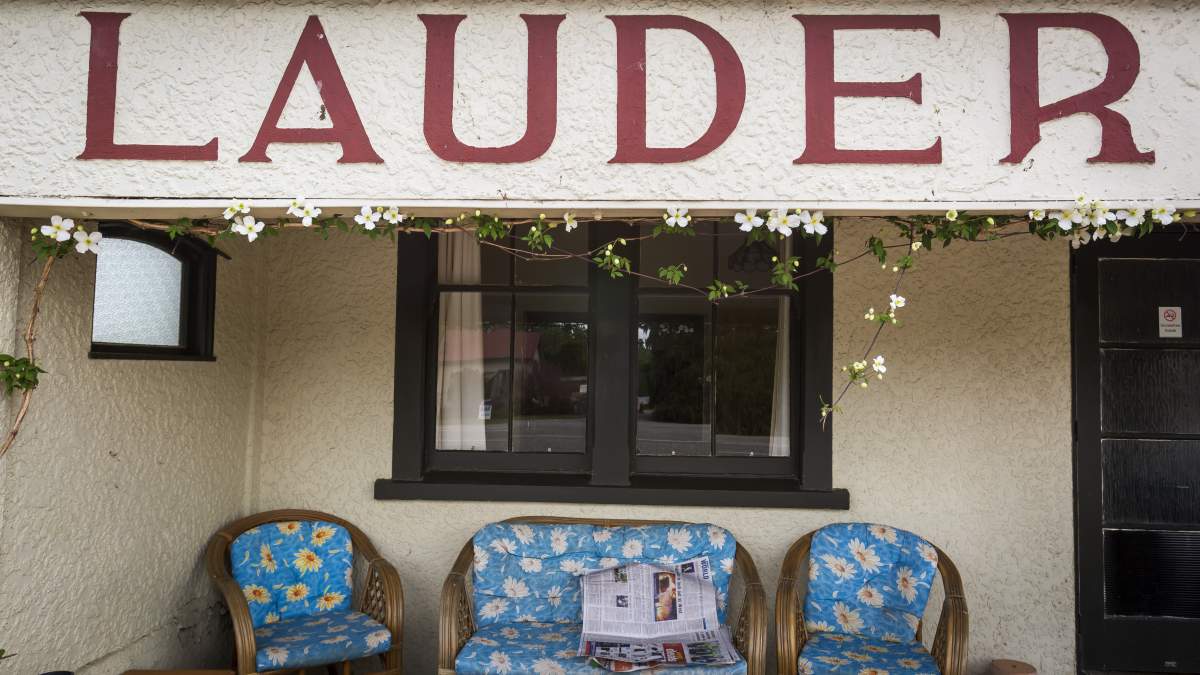 The Lauder Hotel has been serving travellers since 1904.
Lauder is located 44km from Clyde and the start of the Otago Central Rail Trail and it's often the first overnight stop for cyclists on their 152km journey. It was named in 1873 after the Scottish town of the same name by John Turnbull Thomson, the Chief Surveyor of the Otago Province, and who later went on to become Surveyor General of New Zealand. Many locations across Otago are named by, or after, Thomson.
The settlement began as a railway service town in the early 1900s but began to suffer economic decline during the 1960s when the Otago Central Railway services dwindled, with passenger services finally terminated in 1985. However, the development of the Otago Central Rail Trail breathed new life into Lauder and its now one of the most popular stops along the cycle trail.
"Lauder is a great place to stop and rest your butt", says Esme with a wry smile. But this isn't the only reason the town is so fondly regarded by visitors.
Bruce and Esme have run the Lauder School B&B for over 10 years. When they purchased the property, Bruce recalls that they inherited a very interesting shed in the backyard, in the form of the old Lauder Railway Station building.
In support of the Lauder Beautification Society, the Macdonald's sold the dilapidated old building to the Society for the princely sum of $1, "a dollar which I have long since spent", laughs Bruce.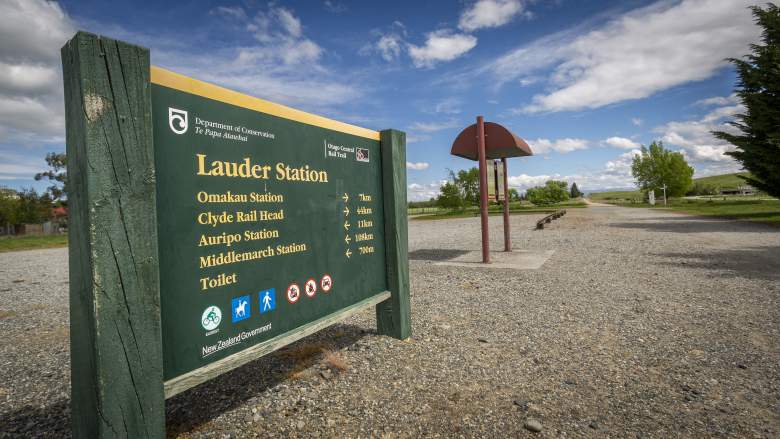 Esme explains that back in 1986 it cost $120 for the Lauder Railway School teacher and the Lauder Store owner to buy and shift the station building to behind the school where it served as a boat shed. 30 years later it then cost a further $120,000 to relocate back to its original site. After an extensive project and 8 years of dedicated work by the community, and in collaboration with the Otago Central Rail Trail Trust and Department of Conservation, the station is now fully refurbished to its former glory.
"I reckon the station now smiles at cyclists as they pass by", muses Bruce. "It's happy to be back home".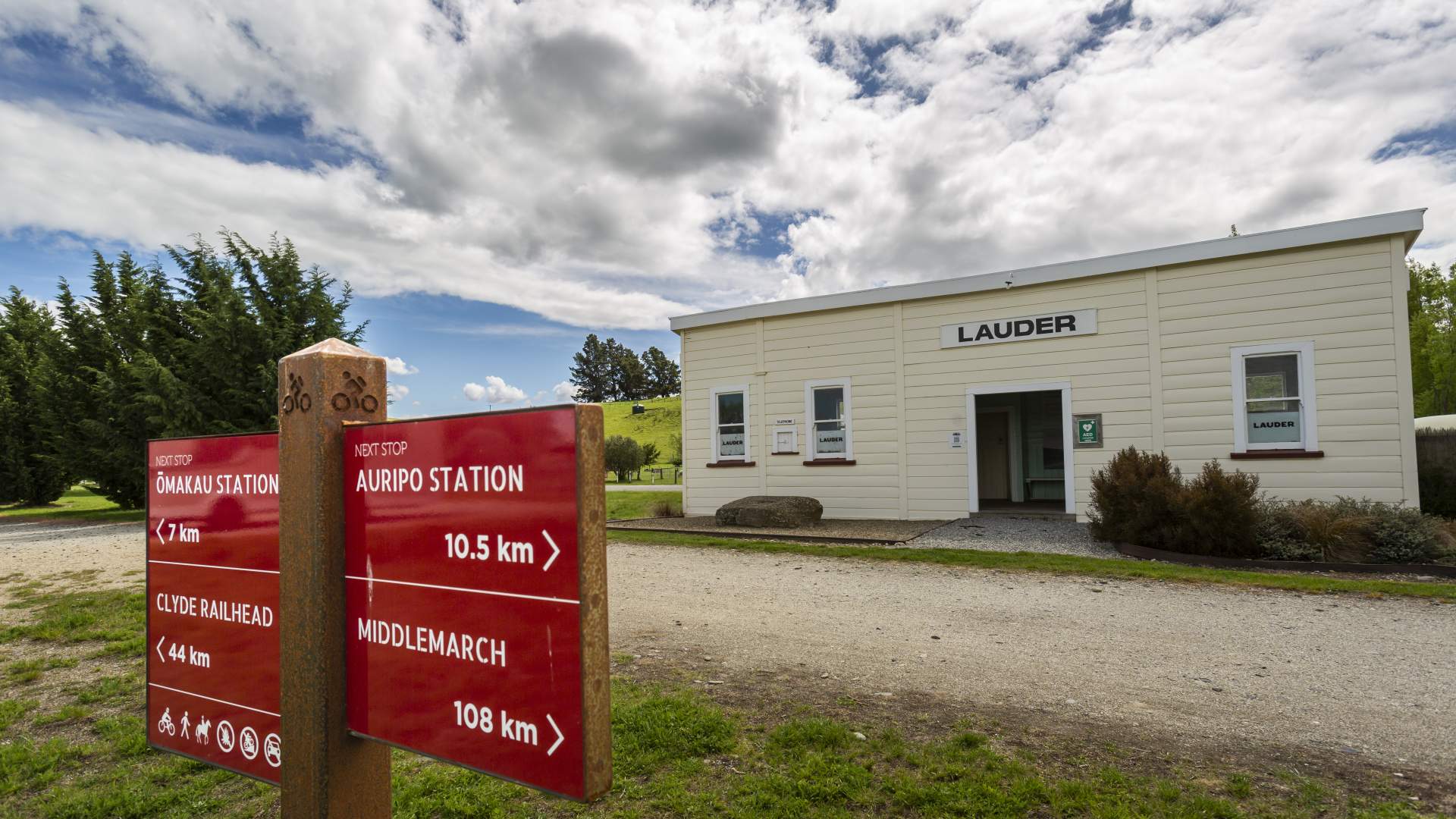 The renovated Lauder Station smiles at passing cyclists…
The station building is now part of the Otago Central Rail Trail Trust's Rail Tales initiative and acts as a small museum with fascinating interpretation panels relating to the region's rich history, heritage, geography, and landscape.
Lauder is close to the spectacular Poolburn Gorge section of the Rail Trail with its series of impressive viaducts and tunnels, and cyclists frequently comment on the magnificent landscape and scenery of this region.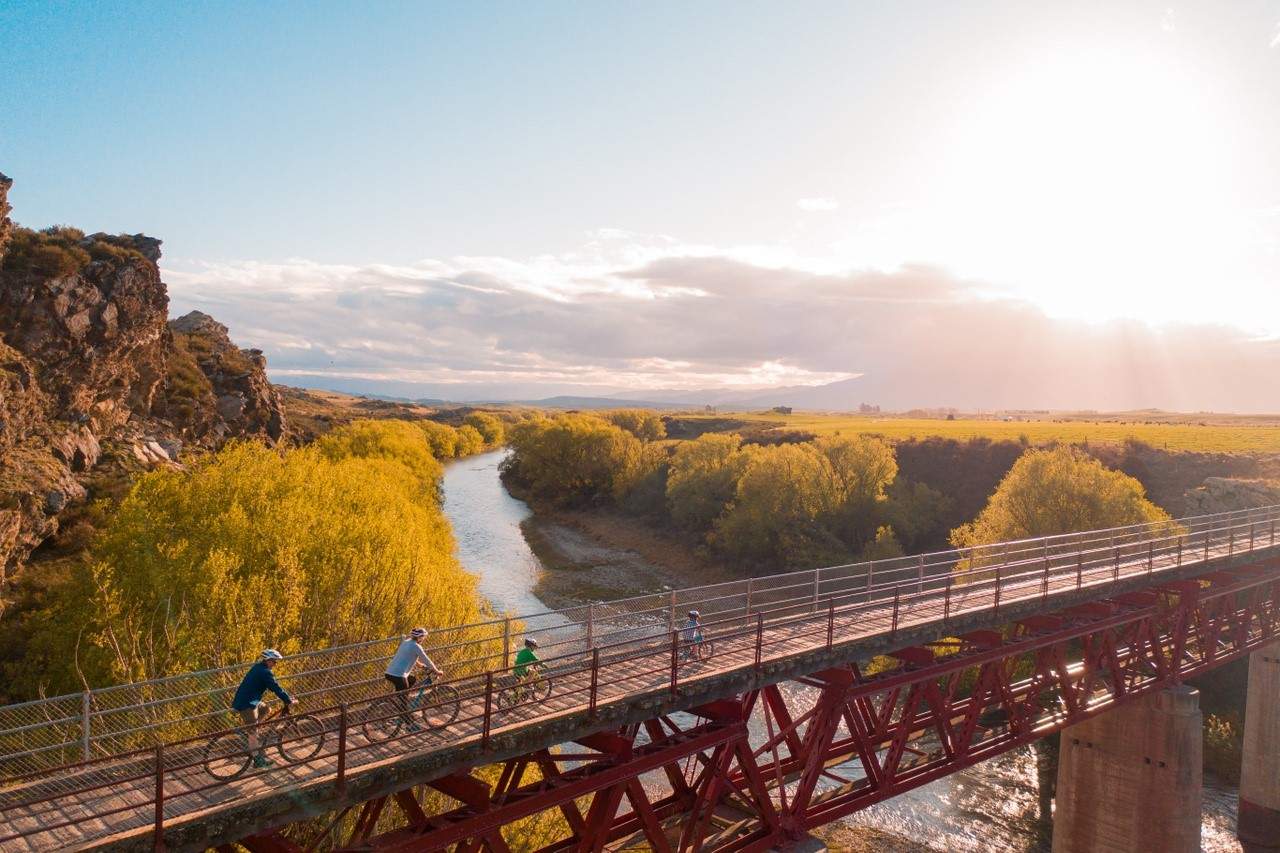 The Manuherikia Bridge near Lauder is one of the trail's highlights and a popular photo spot.
Reading the panels in the Station you'll learn that the landscape was formed by the prehistoric Lake Manuherikia which once stretched for 5,600 square kilometres over 16-18 million years ago. Back then, the climate was close to tropical and fossils of ancient crocodiles have been found in the surrounding rocks as well as huge fossilised penguins and evidence of a St Bathans Giant Parrot, plus other giant birds.
Whilst the crocodiles are no more, the nearby and aptly named Tiger Hill, still has a fearsome bite for some cyclists!
Lakes, rivers and a number of large reservoirs remain a prominent feature of the Lauder landscape, and Bruce is keen to point out the great fishing available, especially trout and salmon plus freshwater crayfish (kōura), if you know where to look…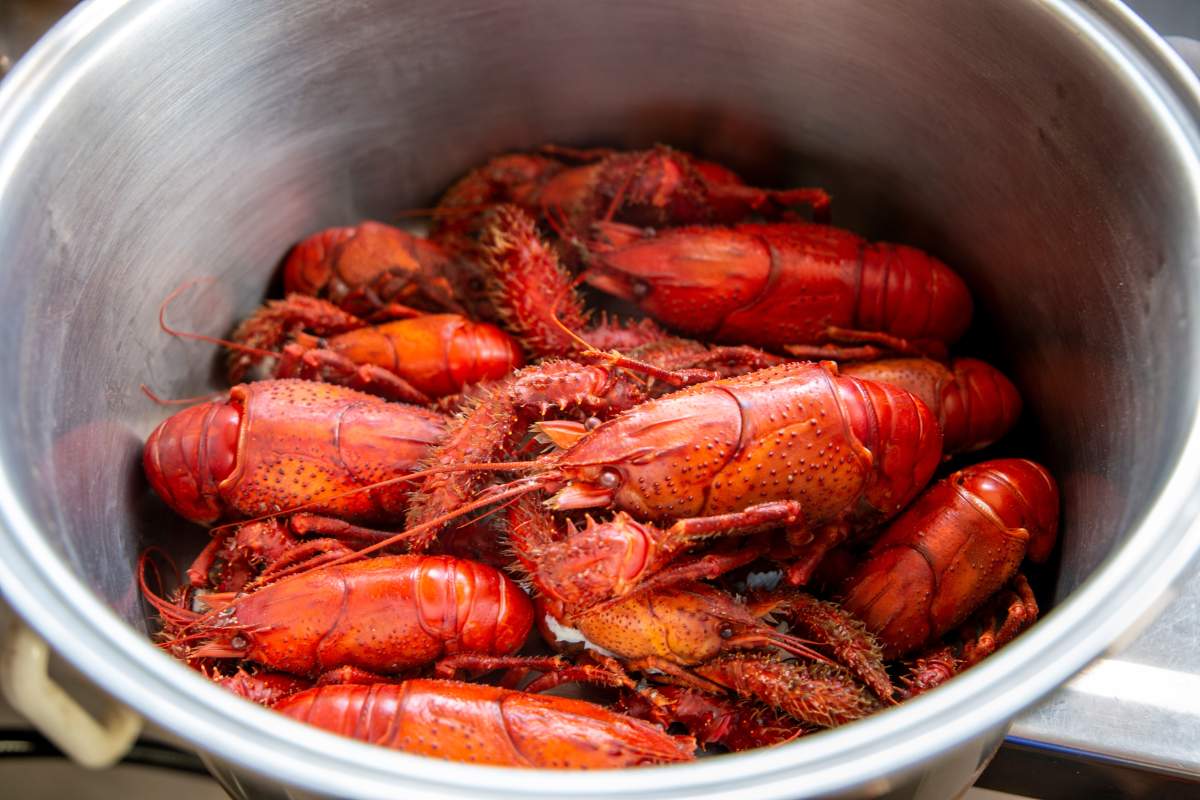 Koura, or freshwater crayfish, are a local delicacy and abundant in the waterways around Lauder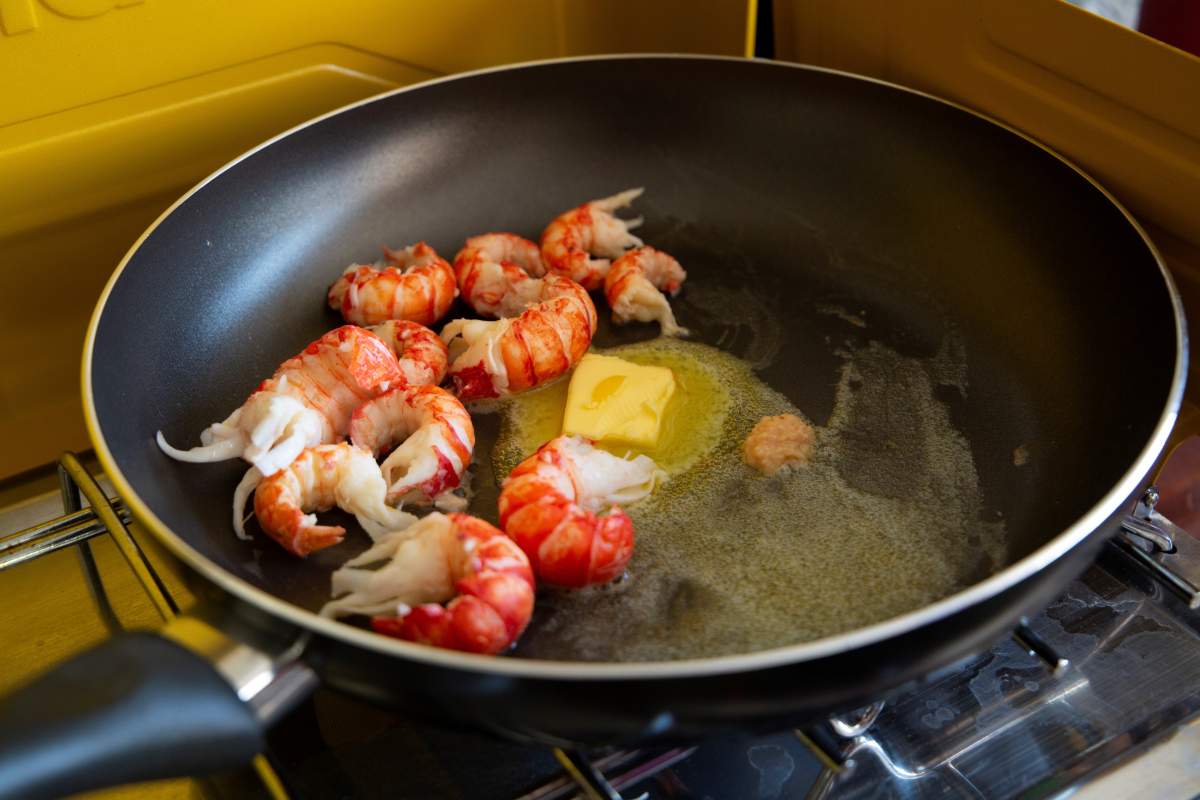 But it's not just the landscape that inspires.
Lauder's clear skies, low horizons, dry atmosphere, and southern latitude location make it an ideal site for star gazing or astrophotography and the area is popular with both amateur and professional astronomers.
In fact, the clear skies and geographical isolation makes it perfect for observing atmospheric chemistry and radiation which is why NIWA (the National Institute of Water and Atmospheric Research), has located its Atmospheric Research Station in Lauder. The station specialises in measuring CFCs, Ozone, UV light levels and greenhouse gases and has a wide range of world class instruments.
NIWA has a fascinating video about their Lauder operation here.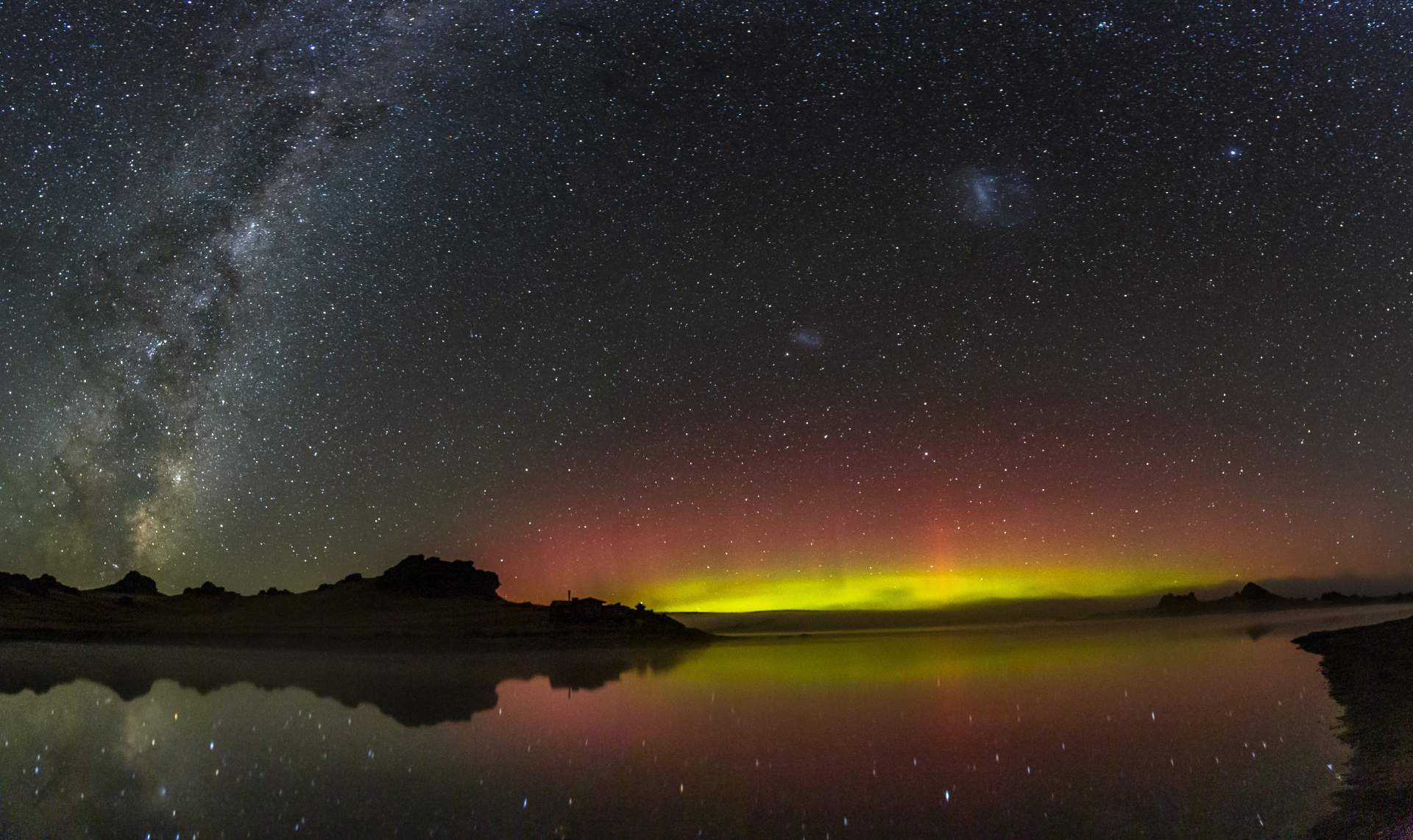 The Aurora Australis, or Southern Lights, can often be seen through the lens of a camera in the clear Otago night sky.
The man-made landscapes here are also impressive. The rich goldmining heritage of Central Otago has played a significant role in morphing the landscape we see today. At St Bathans, about 20mins drive from Lauder, the impressive Blue Lake is one such man-made marvel and was formed in the 1860's as a result of gold mining activity.
A 2km loop track encircles the lake and this short walk is a great opportunity to view the old sluicings and the remnants of goldmining equipment. A visit to the historic, and reportedly haunted, Vulcan Hotel in St Bathans for lunch is highly recommended.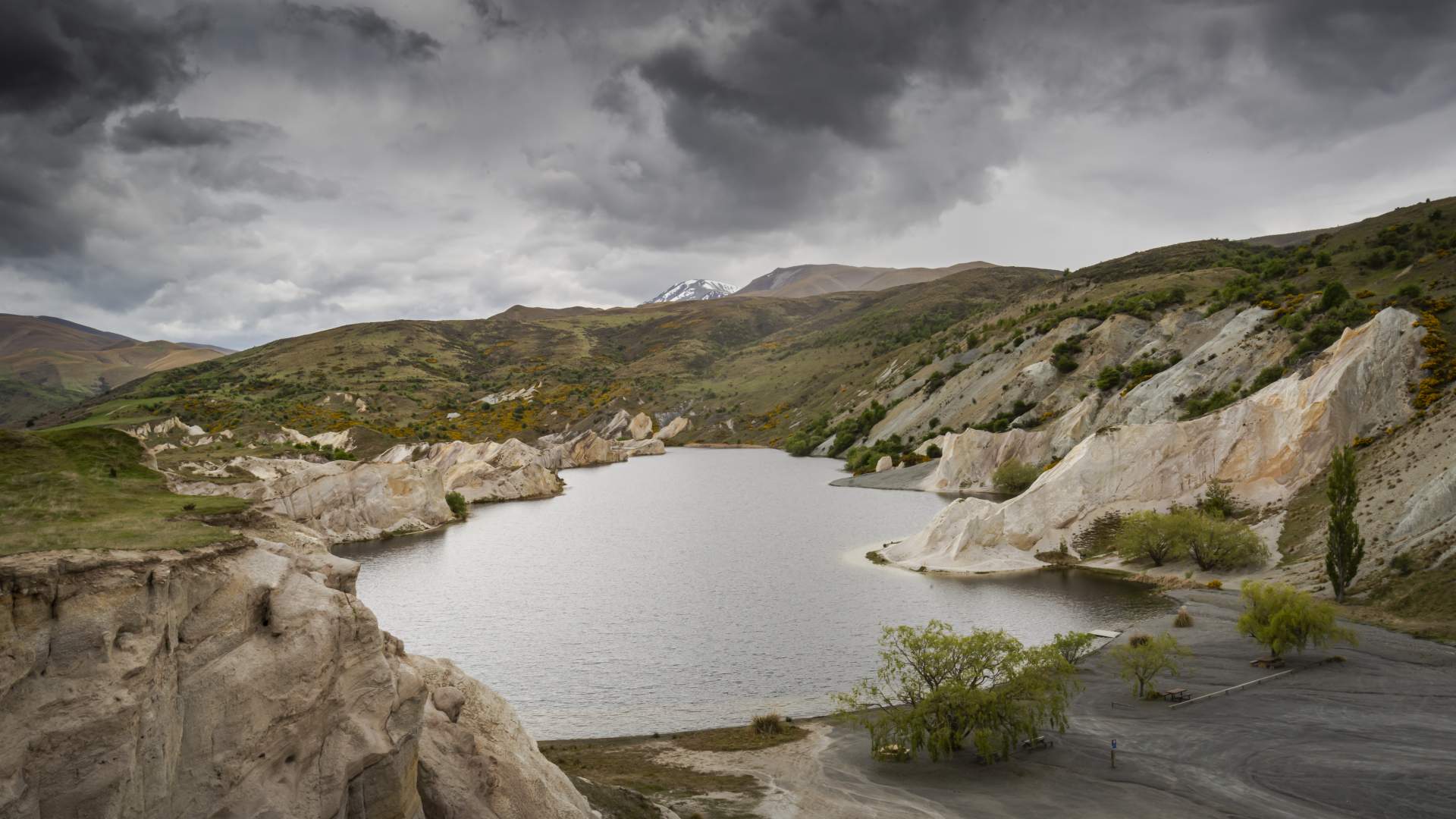 The Blue Lake, St Bathans on an unusually grey Central Otago day…
Not far from St Bathans, at the end of valley and down an inconspicuous gravel road lives Bob L de Berry and another man-made marvel, his "Common Forest".
Bob has dedicated 42 years to meticulously planting a 32-acre forest as a legacy for future generations. He was also one of Central Otago's first advocates of a self-sufficient lifestyle – or sustainable - as we might now call it.
"These plants and trees will still be here in 500 years", explains Bob over a cuppa. "I've looked after my kids and now it's the right time to do something for the planet".
20-years ago, Bob kept livestock and had beehives for honey but these days he sticks to his tree planting, "gardening is a better use for being down on your knees than going to church", he reckons.
Originally with the help of Woofers (Willing Workers on Organic Farms), but more recently under his own steam since COVID, Bob has created an idyllic English-like woodland which is awash with snowdrops and bluebells in the spring.
And like many an English woodland, Bob's forest includes elderberry trees from which he brews his infamous elderflower champagne - wherein lies the origins his self-titled surname… L de Berry…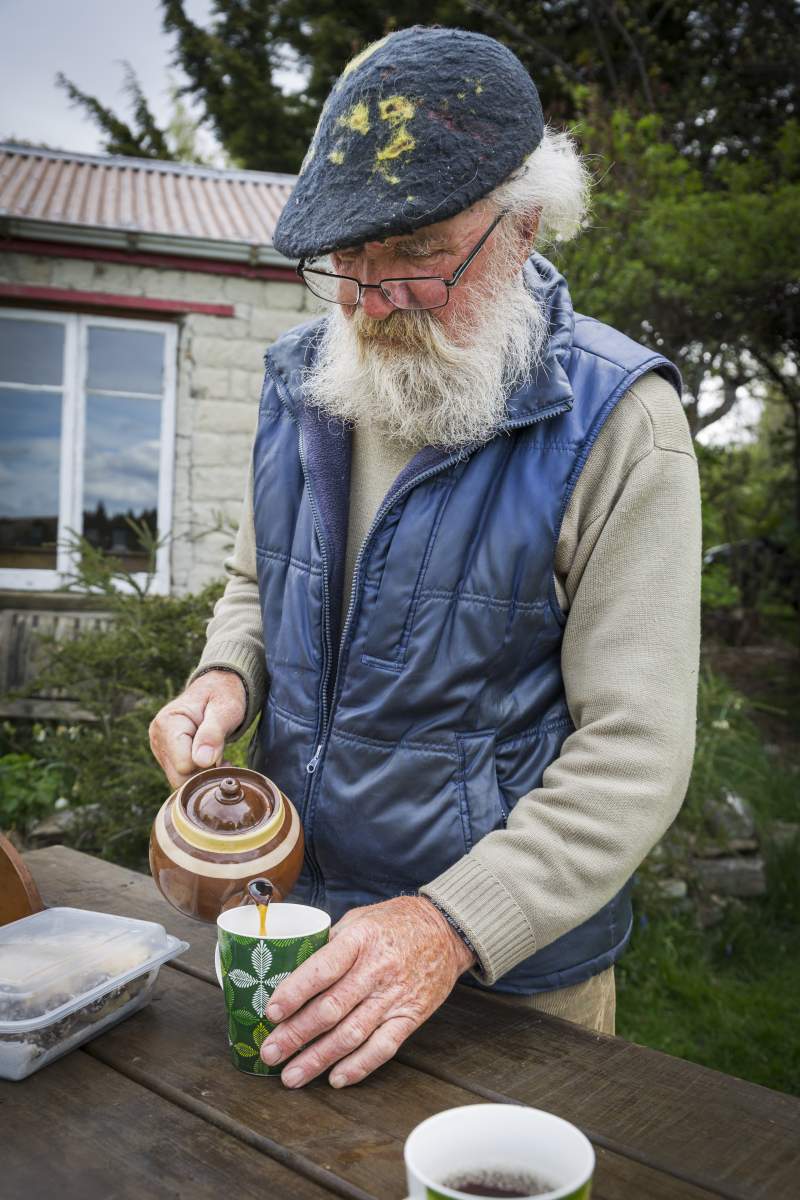 Afternoon tea with Bob in Central Otago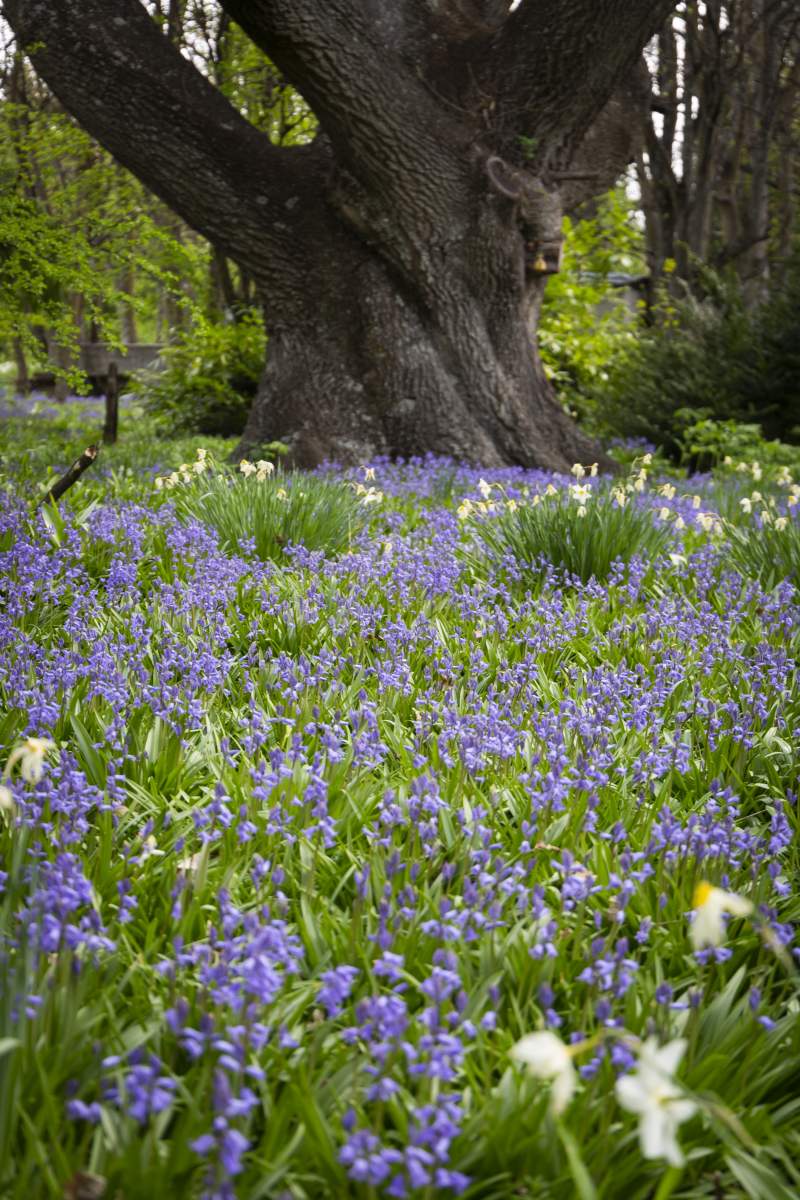 Bluebells carpet the woodland floor in spring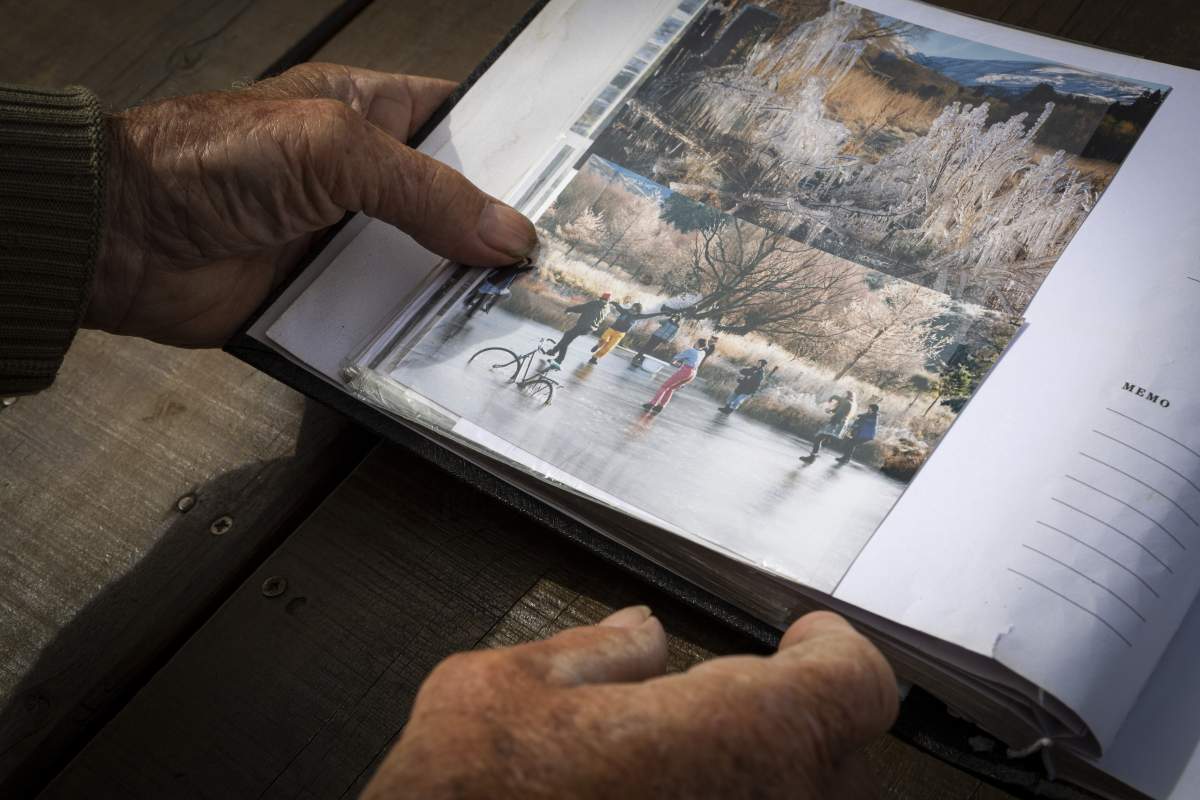 "Winters can be harsh in Central", says Bob...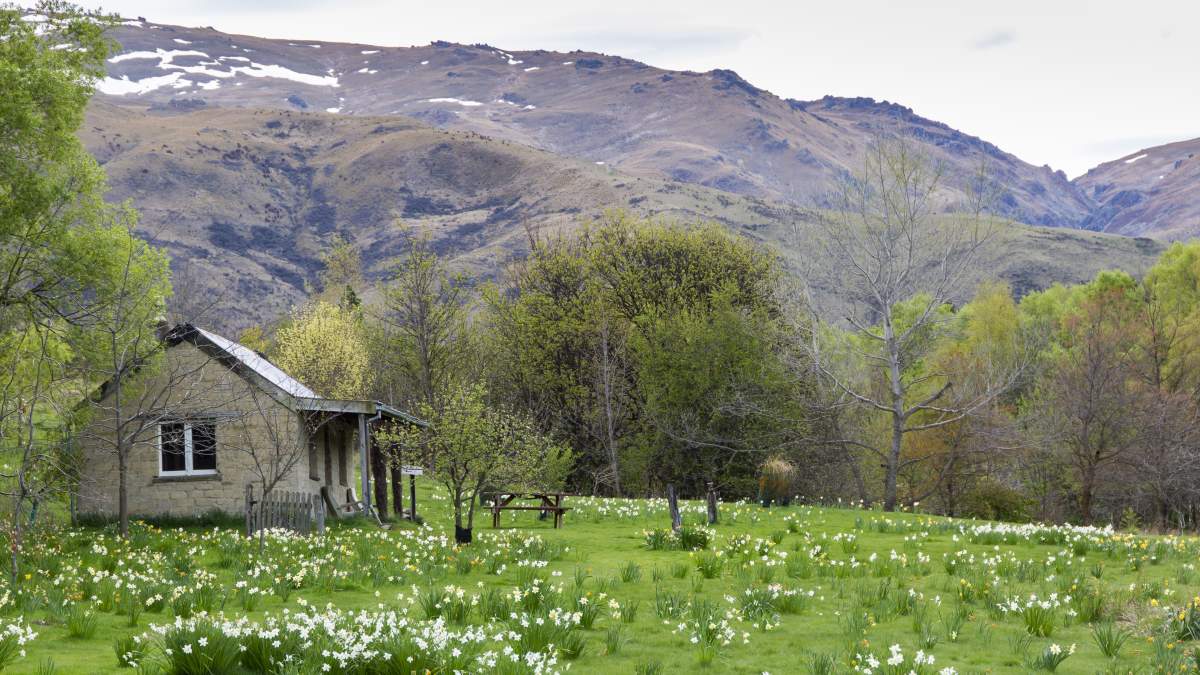 ..."but spring is your reward for weathering the cold".
Chatting with the Macdonalds back in Lauder over a coffee and a Lauder Log (aka supersized cheese roll) at the Stationside Café with owners Darryl and Helen, they tell us about how the dramatic location has inspired filmmakers for numerous Hollywood blockbusters from the original Lord of the Rings trilogy to Prime TV's new Rings of Power series and the Oscar-winning Power of the Dog. In fact, the café recently provided catering for the cast and crew of the new Lord of the Rings show.
Supersized cheese rolls – a southern specialty and staple food for many Rail Trail cyclists
As the Hollywood A-listers have discovered, "out here, being in the middle of nowhere isn't a bad thing", says Darryl. His artwork on the café wall reflects his sentiments:
Good coffee and kai await riders at the Stationside Café…
As we chat and sip on our coffees, a steady stream of cyclists pedal by with their heads down and completely oblivious to the things which the locals have shared and which these riders have missed.
"That's one of the challenges of being a hidden gem", laments Esme, "People just need to slow down for a moment and actually look".
"The slower you go, the more you'll see… there's more to discover here than can be seen at first glance"!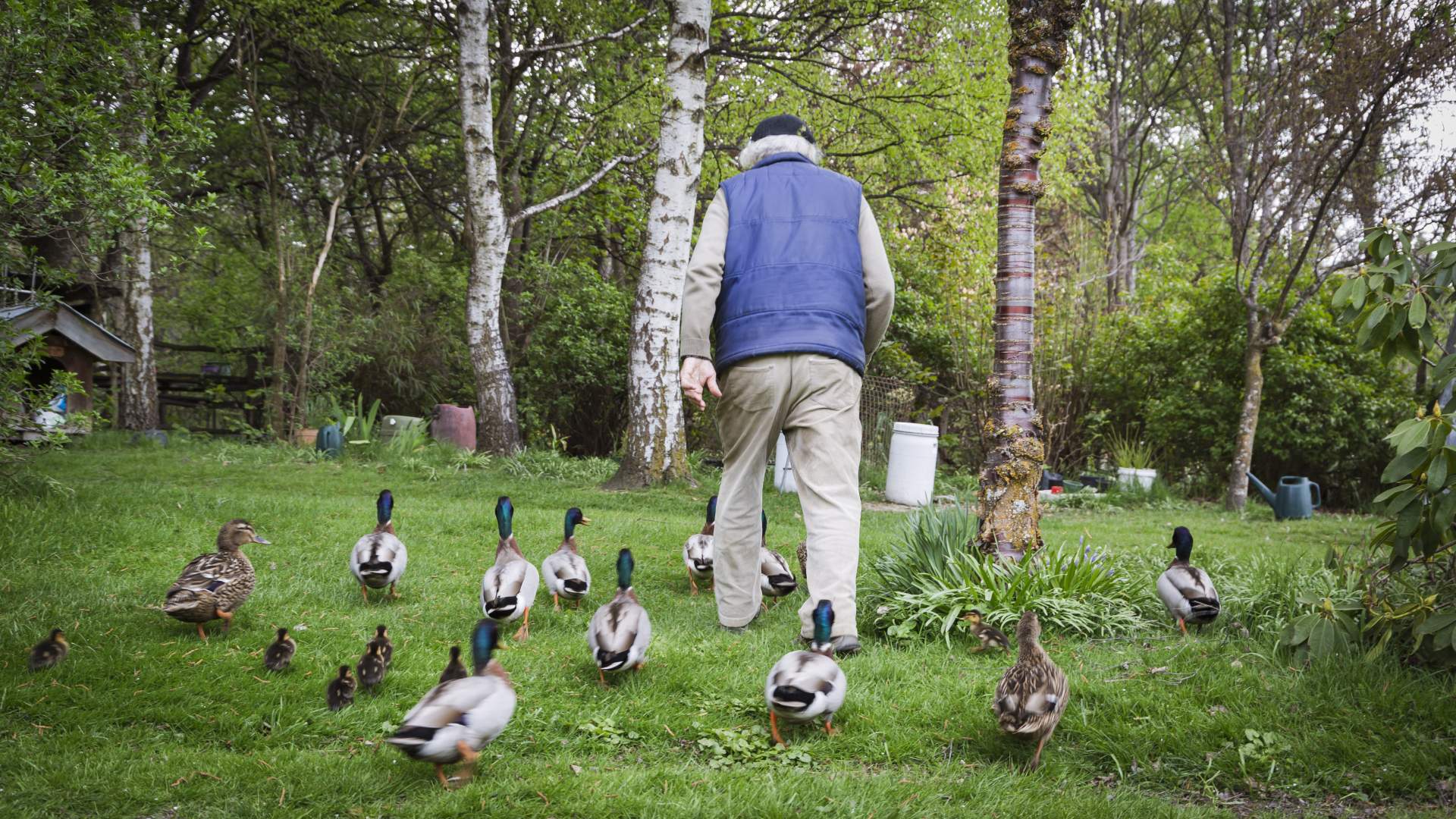 Bob L De Berry is a man with all his ducks in a row…
Words and pictures by Geoff Marks