 A Guide to the Correct Helmet Fit

"Every time I'm out riding, I see all manner of incorrectly fitted helmets including the Kiwi classic – the handlebar helmet!" says Chris 'Foggie' Foggin, Trail Hub's resident coach.
"Having a helmet across your handlebars is just like having the life jacket in a boat but not wearing it – like you see in the TV ads" he bemoans.
So here are a few fundamental tips from Foggie about how to correctly fit your helmet.
There are many shapes and sizes of helmets, just the same as there are shapes and sizes of heads.
A well fitted helmet can save you from a nasty concussion or brain injury and you should have a strict policy of no helmet no ride, whatever the riding circumstances.
After all, as the quote goes, "It's better to wear a bike helmet than to relearn the alphabet".
You don't need to pay hundreds of dollars for a quality helmet, however you should check that it conforms to a NZ, AUS, EU or US standard. Buying something without a recognised quality standard just because its cheap is not recommended. Your local bike shop can help you choose the best helmet for your budget and style of riding.
There's no actual shelf life on helmets, however you need to regularly check for damage and consider its history, such as exposure to sunlight as UV light can reduce the life of a helmet. It's generally good practice to replace your helmet every few years and particularly after a big crash, regardless of whether you can see obvious damage.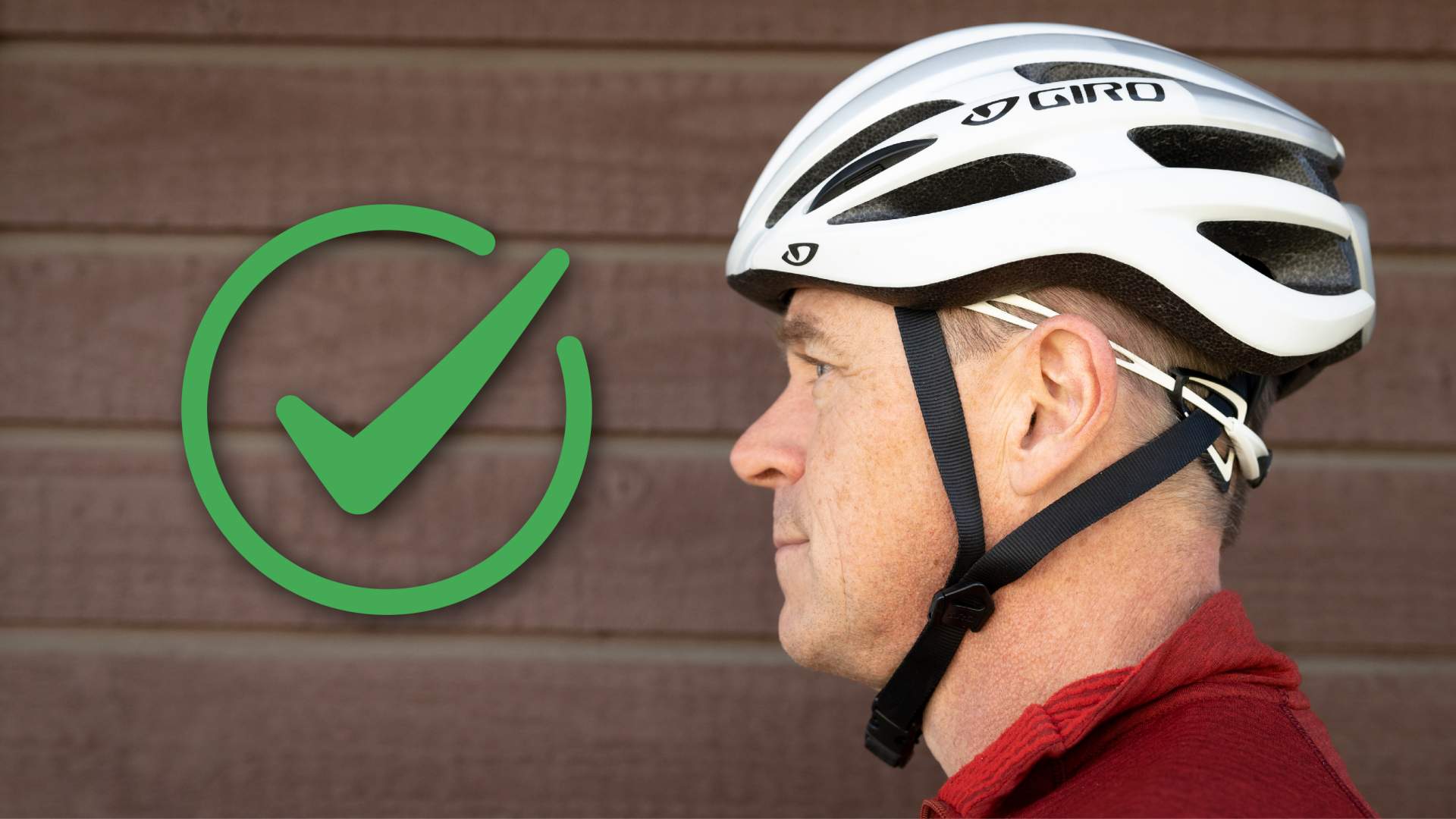 A correctly fitted helmet. 1-2cm above the eyebrows, strap adjusters just below the earlobes and secure, but not too tight under the chin.
A good helmet should have a nice smooth outer shell – this is to allow the helmet to slide and not grip the surface in the event of a fall.
No cracks, splits or damage to the outer & inner shells.
The straps should be adjustable.
A rear adjuster (usually a wheel or slide mechanism) will allow a better fit.
A well fitted helmet should look something like the picture above with the green tick. About a finger or two width (1-2cms) above the eyebrows, the strap adjusters just below the earlobes, and secure but not too tight under the chin. If you shake your head the helmet should stay in place. Fit should be firm, but not tight.
Shortening the straps that sit in front of your ears can bring the helmet forwards to a better position.
If you have long hair, lower your ponytail to allow the helmet to sit forward on your head.
If your budget allows, consider a helmet with MIPS. A MIPS or Multi-directional Impact Protection System is a low-friction layer located between the polystyrene and inner helmet liner that reduces rotational impact forces. This helps protect your brain from concussion and trauma.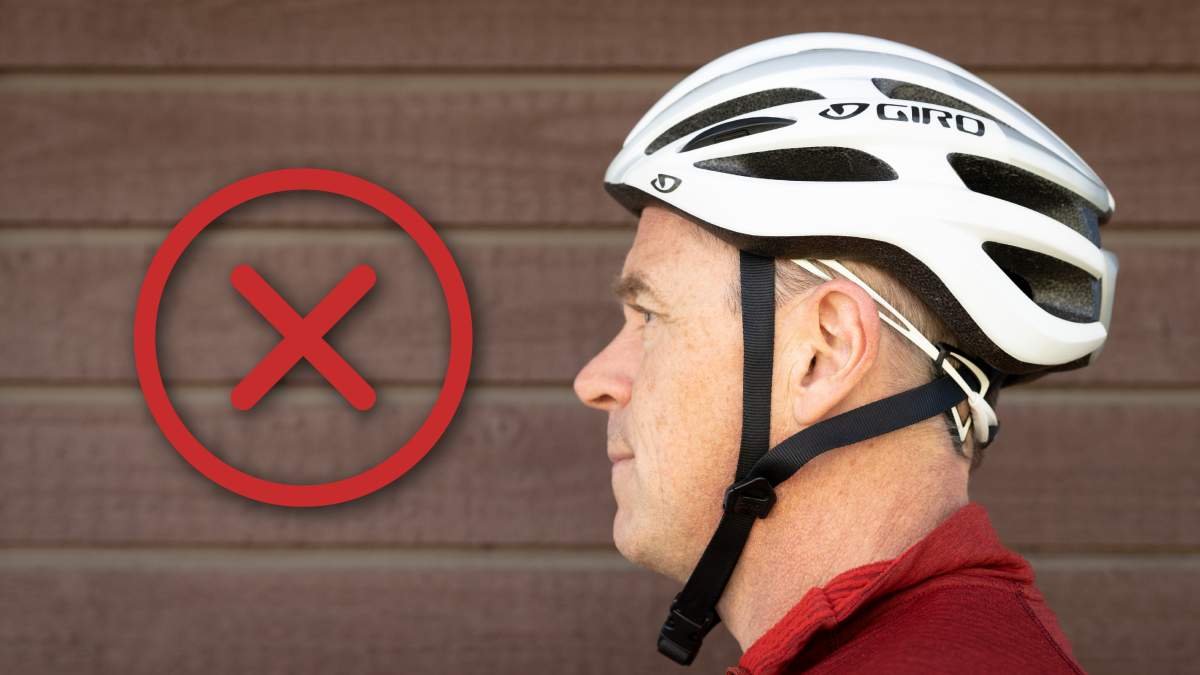 In this example the helmet is sitting too far back, reducing protection to the forehead.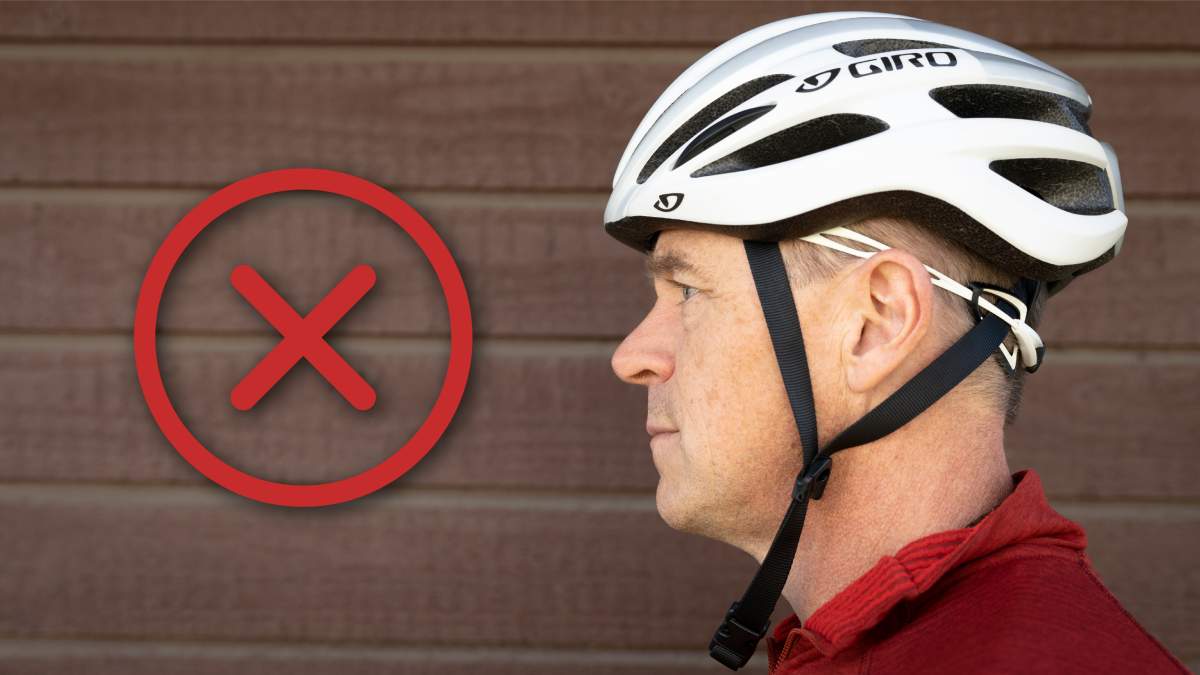 The strap beneath the chin is too loose and the helmet could slip off in the event of a fall.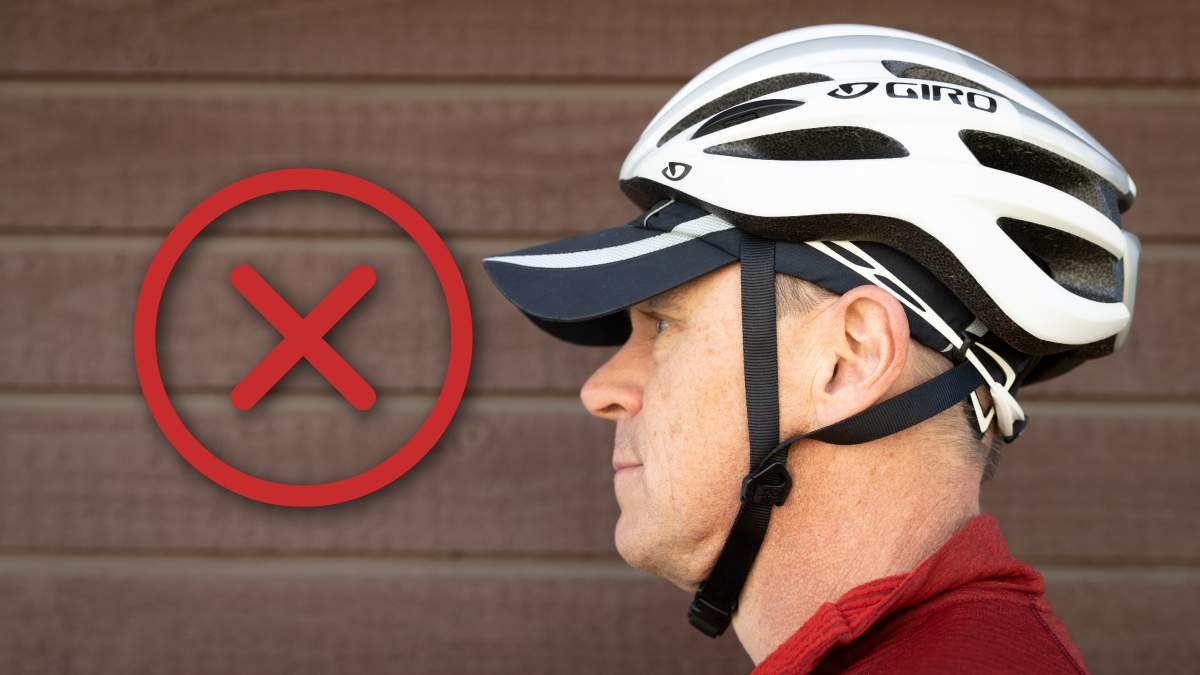 Do not wear stiff peaked caps under your helmet. The peak is likely to push the helmet backwards in a fall, reducing the protection for your melon!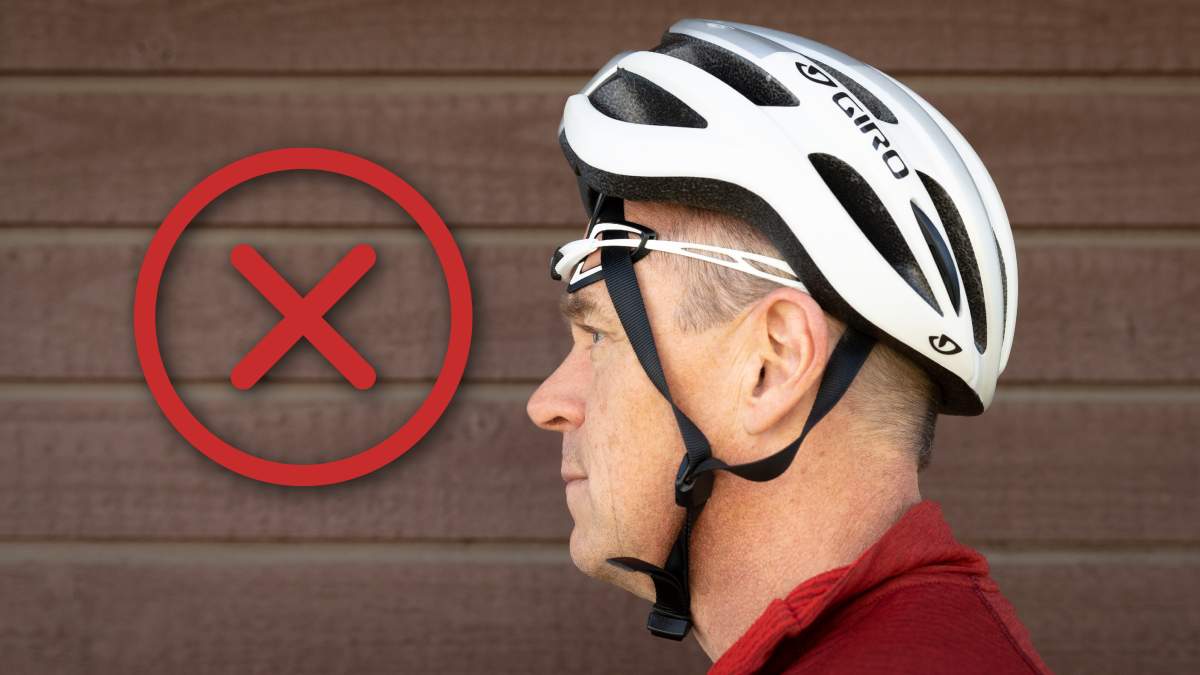 It might seem obvious, but make sure you wear the helmet the right way round. We regularly see riders on the trails wearing a helmet backwards!
Do not wear hard peaked caps or beanies under your helmet.
These can negate the usefulness of the helmet in the event of a fall. Instead, you could wear a thin skullcap under the helmet in cold conditions – they are designed for that purpose.
The reason for this is that most falls from a bike are forwards or sideways. If you were wearing a stiff peaked cap and fall forwards face first, the stiff peak is likely to push the helmet backwards therefore then not being able to effectively work to protect your skull.
Peaks fitted to helmets by the manufacturer, are designed to break in the event of a fall or crash, therefore allowing the main body of the helmet to do its job.
Beanies tend to be made of thick material which means the helmet doesn't fit around the head as it should, often meaning the helmet is sitting far too high on the head.
An ill fitted helmet will not do the job it's supposed to do, so take time to get the adjustment right. There are plenty of YouTube guides to fitting your helmet, or pop into your local bike shop for advice.
Have fun and enjoy the ride!
For more great cycling insights, you can follow Foggie and Co. on the Recreational Cycling NZ Facebook page, which is a forum to engage with recreational cyclists across New Zealand. The group shares stories, training tips, road safety advice, places to ride, showcases new trail development, advice on buying bikes & gear, promotes ride groups and generally shares a love of cycling.