 Mastering Shared Path Etiquette

A Guide to Safe and Courteous Trail and Path Sharing
- by Chris Foggin
The recent opening of Te Ara Moana (The Ocean Path) in Dunedin means that you can now walk, run, cycle, skate or walk the dog for 32km from Portobello to Port Chalmers via Te Aka Ōtākou (The Otago Vine) on a shared path, making for one the best harbourside trails you'll find pretty much anywhere.
But the opening of the Te Ara Moana section of the shared harbour pathway has generated some debate regarding what a 'shared' path means, and the modes of transport which can use such a path. So, our resident coach and cycling guru, Foggie, has some advice to help us all better share fantastic new resources like Dunedin's new harbour path as well as the Otago walking and biking trails.
What is a shared path?

Waka Kotahi | NZ Transport Agency, describes a shared path as a path that is intended to be used by both pedestrians, cyclists, mobility devices and wheeled recreational devices.
A shared path may become a 'multi-use path' if it includes additional users, for example horse riders.
There are three ways that the different users of a shared path can be accommodated for different modes of transport:
No formal separation or segregation of modes – users are left to 'sort themselves out'. Most of the Otago's Great Rides trails fall into this category. The trails may include suggested behavioural messages like 'ring bell when passing' or indicate where dismounting your bike and walking is the best way to avoid a hazard or obstacle.
Directional separation – generally by non-physical methods, e.g. a painted centreline, arrows, and behavioural messages such as 'keep left'.
Segregation of modes – by non-physical methods, like a painted centreline and pedestrian / cycle symbols, which allow for occasional 'digressions' where people use the other path. (Note that stricter separation could be a cycle only path adjacent to a footpath).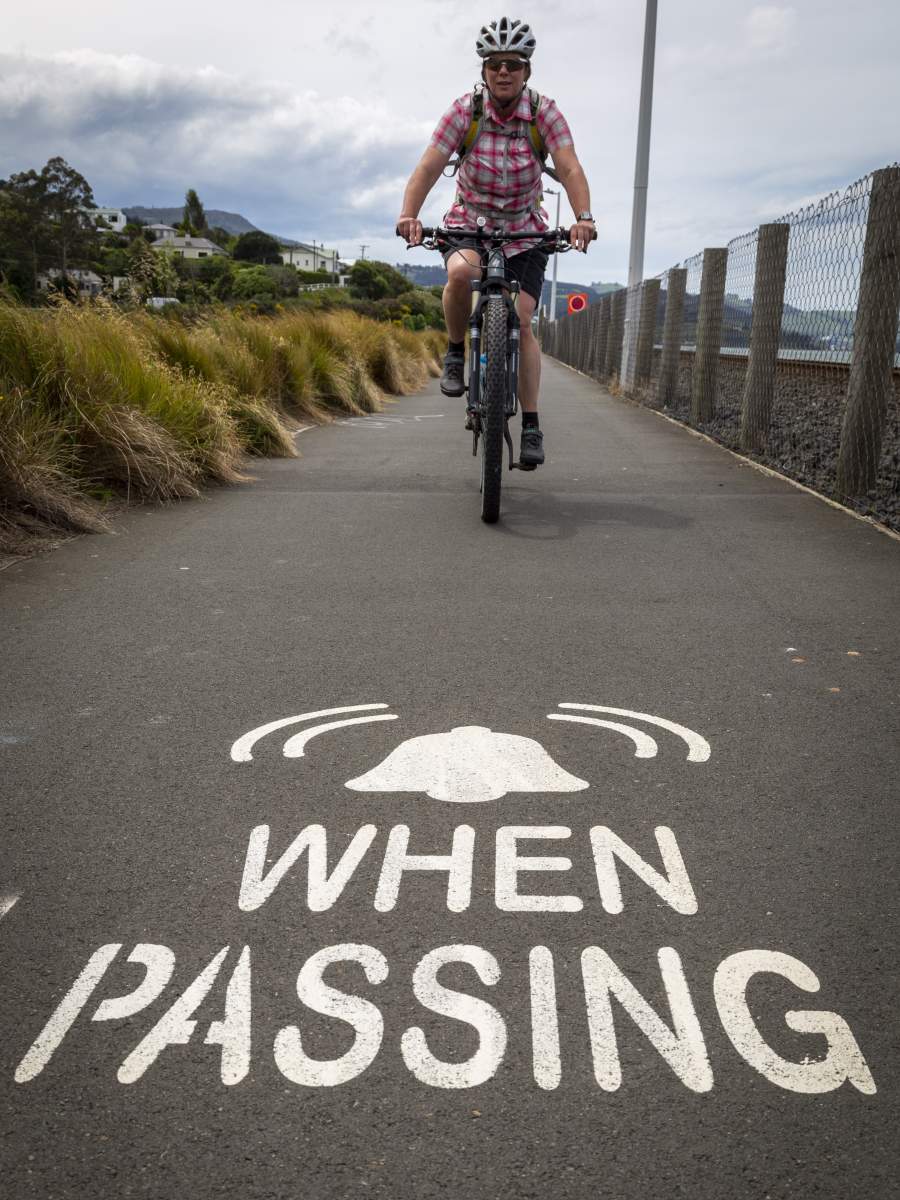 Parts of the shared path around Dunedin Harbour have obvious signage to help keep users safe...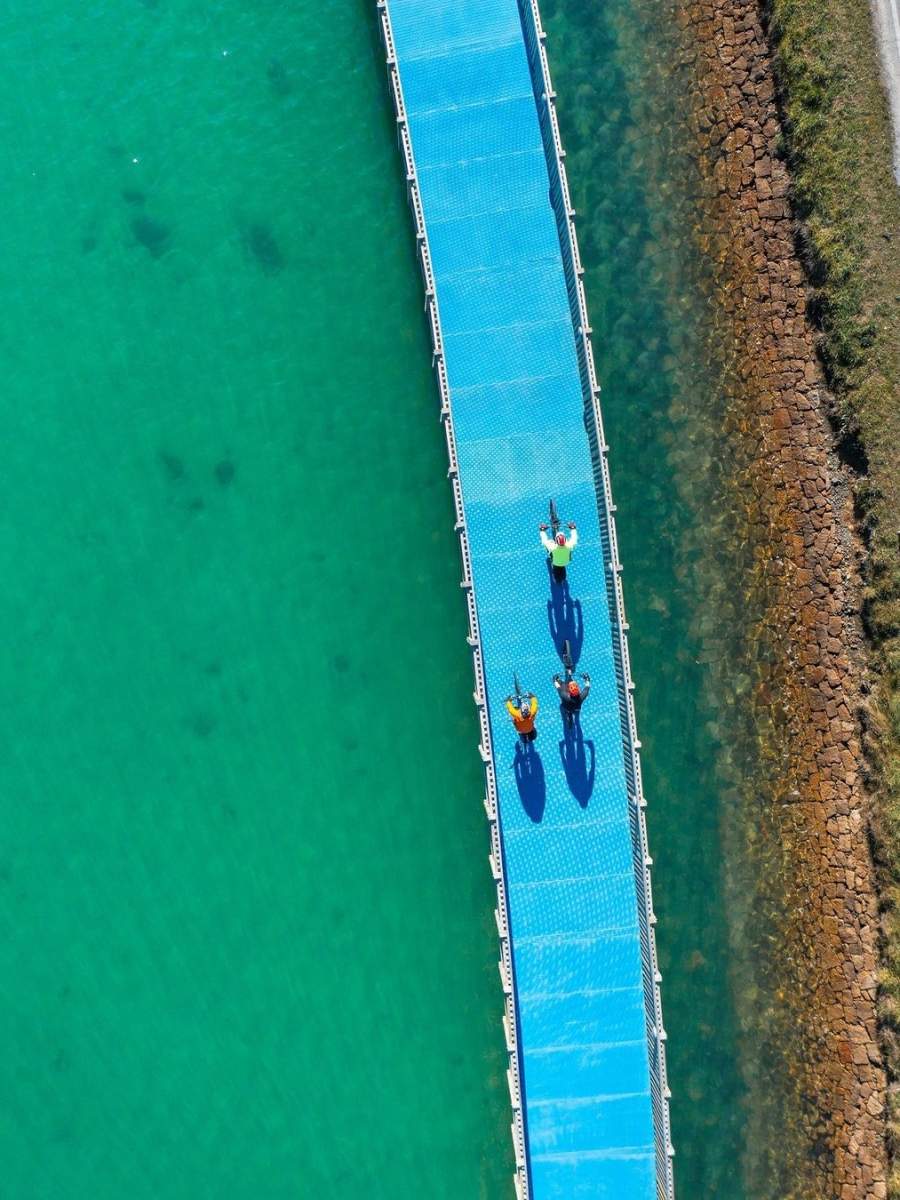 ...but on other parts of the path, etiquette is left to the common sense of the users.
It's important to acknowledge that no one group of users has more right to use a shared path than another. That said, use your common sense when it comes to sharing the trail. For example, a person on foot or child might be considered more vulnerable to an approaching biker, just like a cyclist would be considered more vulnerable on a road shared with vehicles.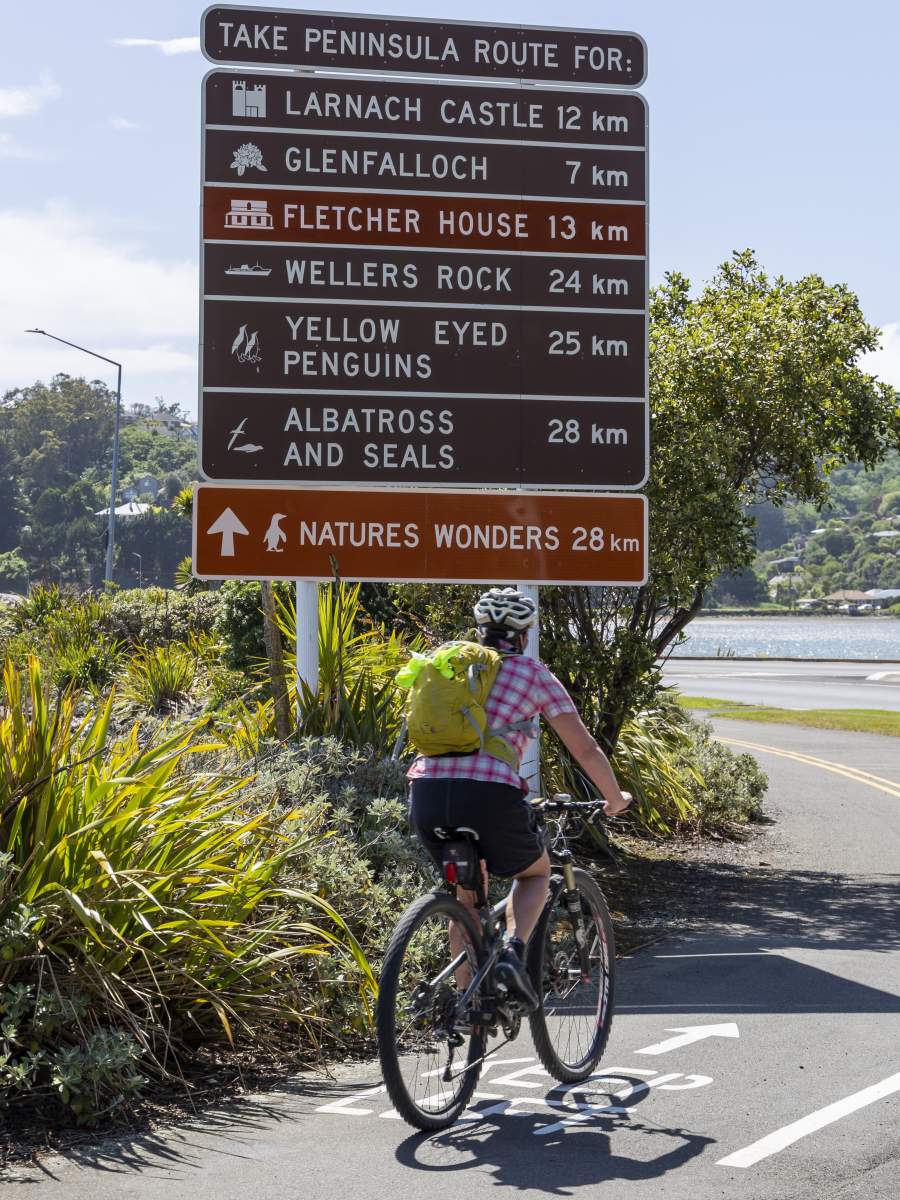 Directional separation (keep left) along Dunedin Harbour.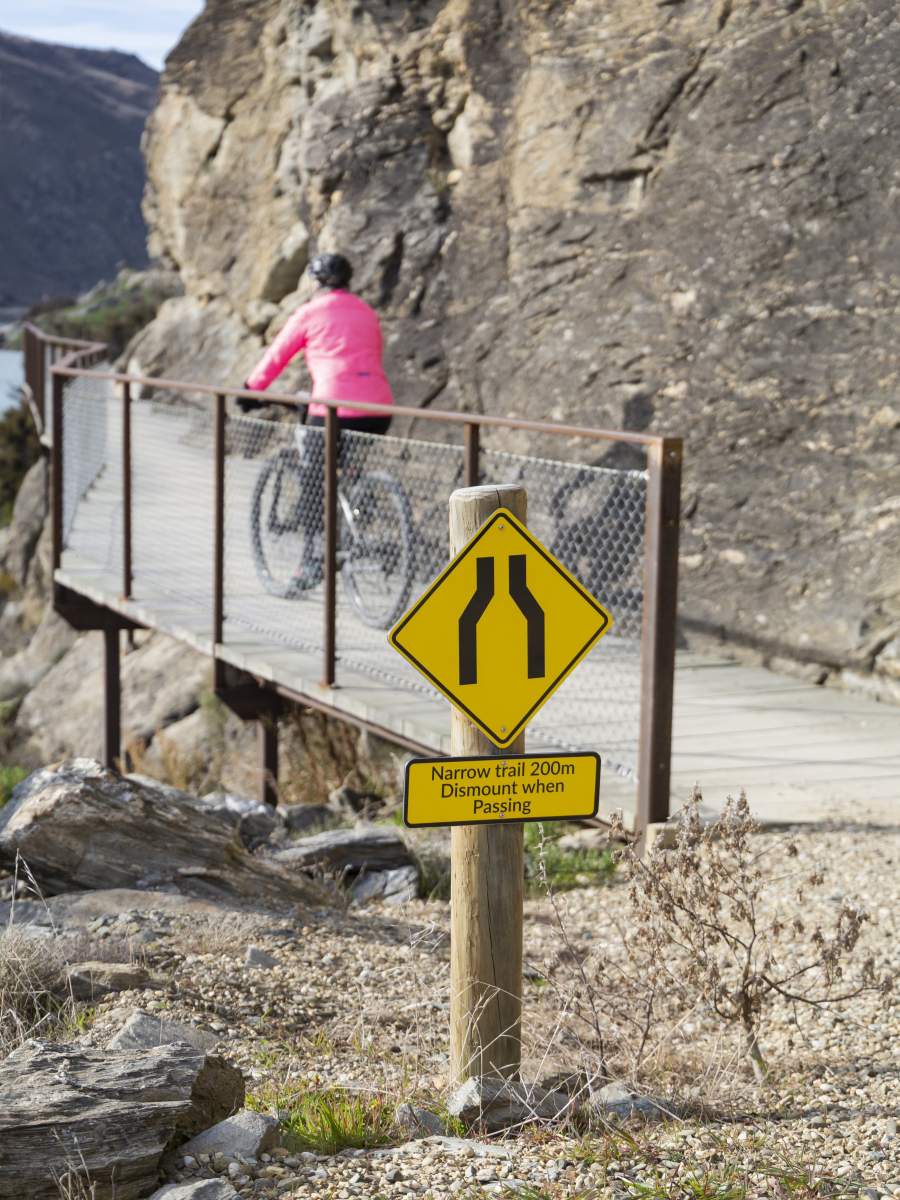 Safety messaging on the Lake Dunstan Trail informing cyclists to dismount for the narrow boardwalk.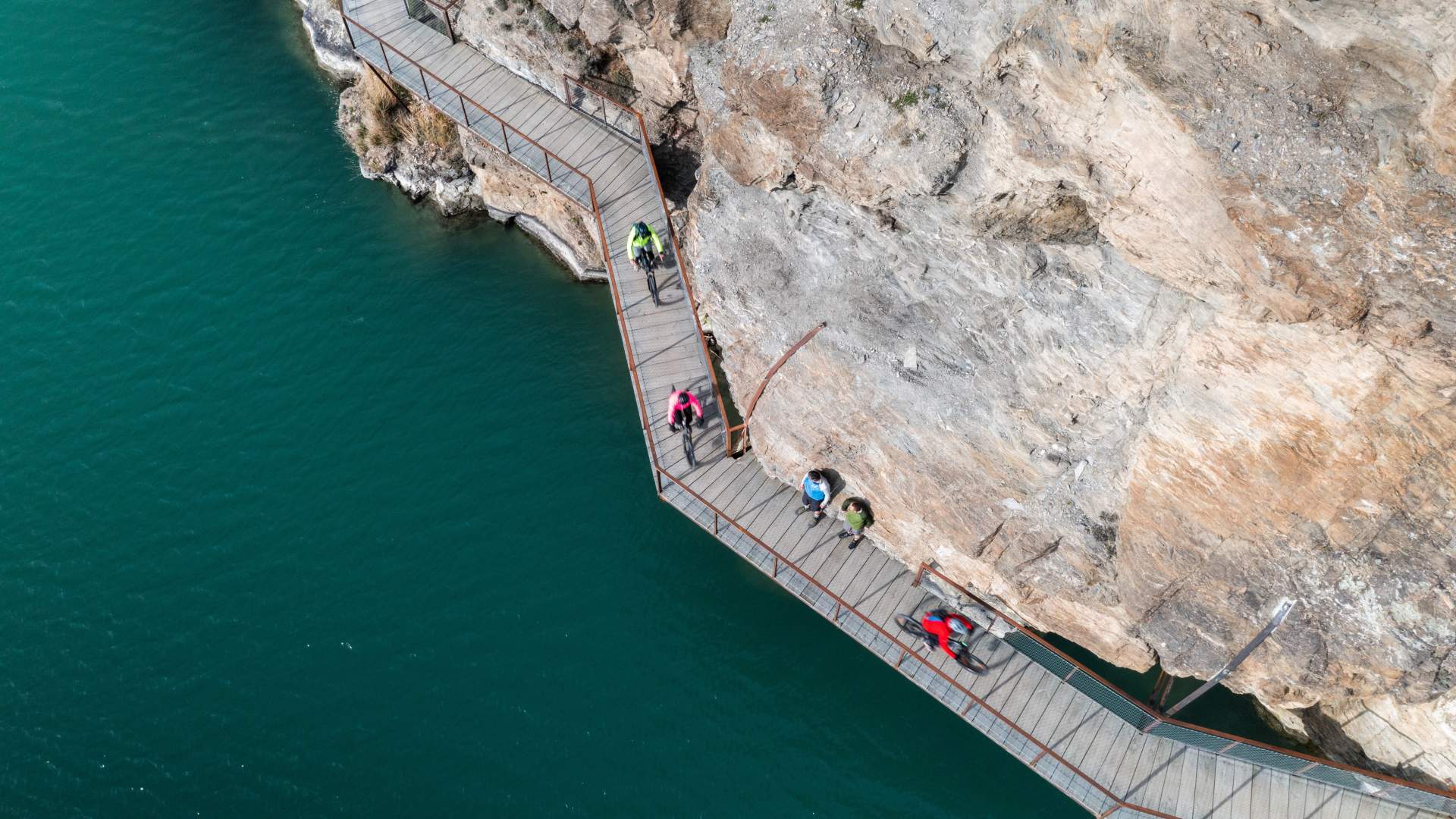 That sign was there for a reason! Parts of the Lake Dunstan Trail are a tight squeeze if you meet other oncoming trail users.
Guidelines for safer use of shared pathways

Respect gets respect. A little courtesy goes along way on shared pathways.
Ride like you drive – keep left and stay alert.
It's not the Tour de France. Slow down, use a bell or call out to let other trail users know of your approach, and if necessary, "pass on the grass".
Watch out for dogs, children or the elderly, and always be ready to stop suddenly.
Pedestrians usually have the right of way, but walkers also need to be considerate to all trail users.
Stay in single file if you're in a group, especially when cycling or jogging, ride or run in single file to allow others to pass safely. For cyclists, it's good form to alert other trail users of the presence of any riders behind you in your group. You could call out "2 or 3 behind" to alert the oncoming person to the size of your group and the potential hazard.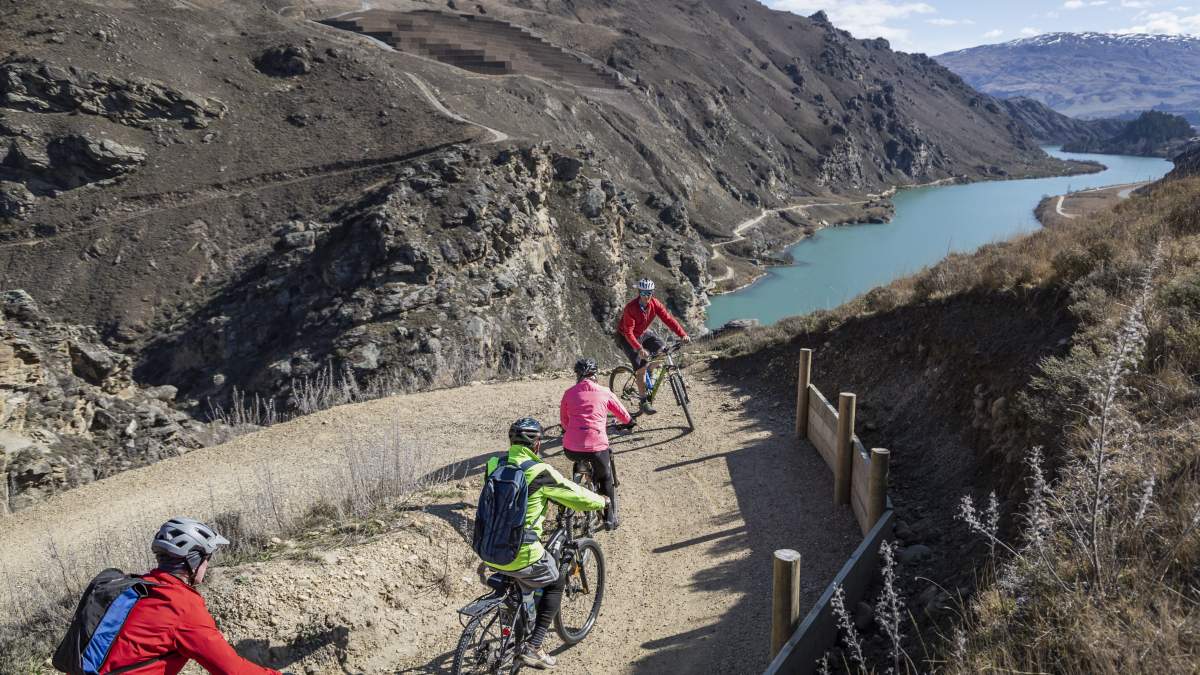 Ride like you drive and keep left especially when you meet oncoming riders. In some instances, it may be safer to pull over and stop.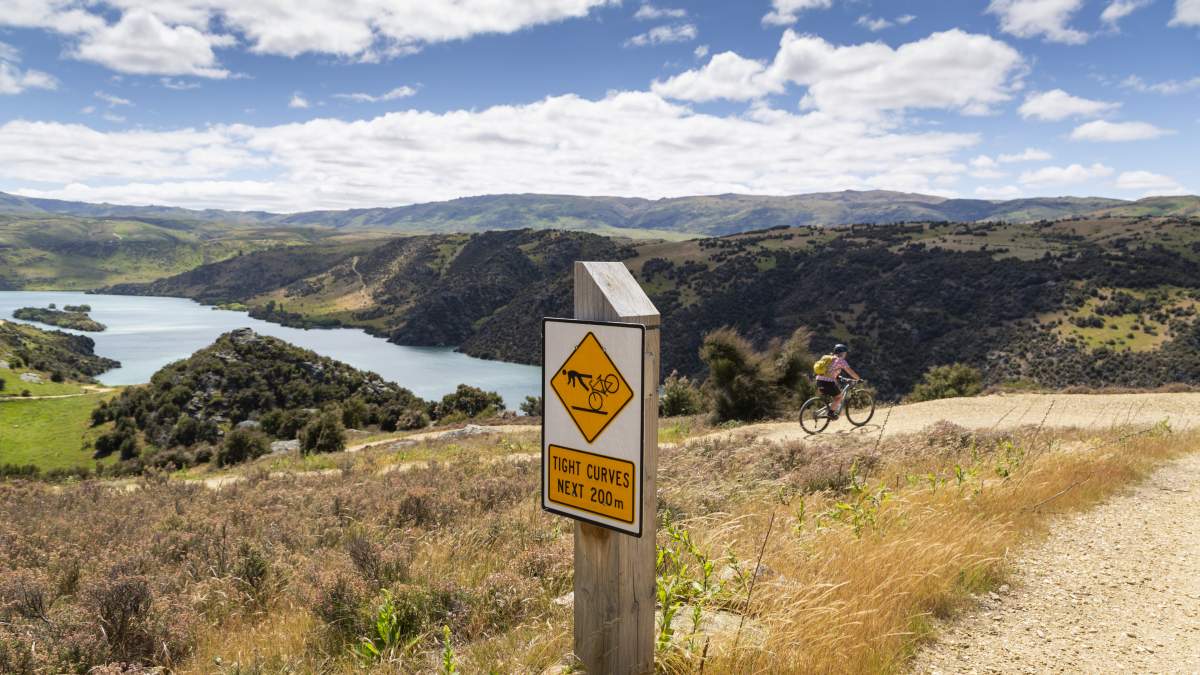 Potential hazards and obstacles are well signed on the trails, like upcoming switchback bends on the Roxburgh Gorge Trail.
Cyclists, remember to call out with a friendly "passing right" or "passing left" if you are overtaking slower riders, walkers or other trail users. Alternatively use a bell if you have one and ring it with some advance warning of your approach – not once you're right behind someone as this invariably causes a fright! Whichever you use, always give a friendly acknowledgement after the fact.
You should call out to your cycling group behind you, something like "bike up" or "walkers up" alerting them of a potential hazard.
If you have an e-bike, check that it is permitted on the shared path as there are rules and regulations regarding motor sizes. E-bikes with larger motors (over 300W) are considered mopeds and often not permitted on shared pathways or trails. Read more here.
Be a tidy Kiwi! Dispose of litter responsible.
If you have a dog with you, please keep it on a lead and under control at all times. Clean up after your dog and dispose of it properly.
Sometimes people wearing headphones/earbuds don't hear you, and whilst this can be frustrating just slow down as necessary and call out with a louder voice, and then hopefully you can pass them safely.
Running or Cycling with Headphones
In general, it's recommended that cyclists do not use headphones or earbuds as they block out external sounds such as approaching traffic, other trail users and potential hazards. However, there are some new, safer technology solutions for those that love to listen to music or podcasts whilst they ride. Open-ear headphones like Shokz use bone conduction technology to transmit sound to your ears without obstructing them and the sounds around you.
Remember that local regulations and guidelines may vary, so familiarise yourself with any specific rules or recommendations for shared paths in your area. Ultimately, shared path etiquette is about promoting a culture of respect, safety, and consideration among all users.
Respect and good trail etiquette takes very little effort but goes a long way in helping prevent unnecessary conflict or accidents. Oh, and a friendly nod, smile, or "thank you" can go a long way in creating a positive atmosphere.
For more great cycling insights, you can follow Chris 'Foggie' Foggin and Co. on the Recreational Riders Facebook page, which is a forum to engage with recreational cyclists across New Zealand. The group shares stories, training tips, road safety advice, places to ride, showcases new trail development, advice on buying bikes & gear, promotes ride groups and generally shares a love of cycling.