 The Best Pies in Otago

In Pies We Crust!...
Forget the New Zealand General Election, here's the only poll you need to know about this spring - the highly anticipated Central Otago Facebook poll to reveal the best pies to be found along the cycle trails of Otago!
Whilst the meat pie might not be high on a sport nutritionist's list as a performance enhancing super food for cyclists, let's face it, there's nothing better than a good pie at the end of a long ride…or even a short ride, for that matter!
In recent Facebook poll run by Central Otago NZ, there was an outpouring of affection for the region's pies, along with some blatant partisan bias! But for the riders and walkers of the Otago Trails, the good news is that all the best bakeries recommended in the poll are located along – or very close to – the cycle trails and so very handy for a pre, mid or post ride snack!
The poll identified three preferred purveyors of pies which the Facebook judges thought were baked to pie-fection, with several other highly commended bakers across Otago. Here's the bakedown...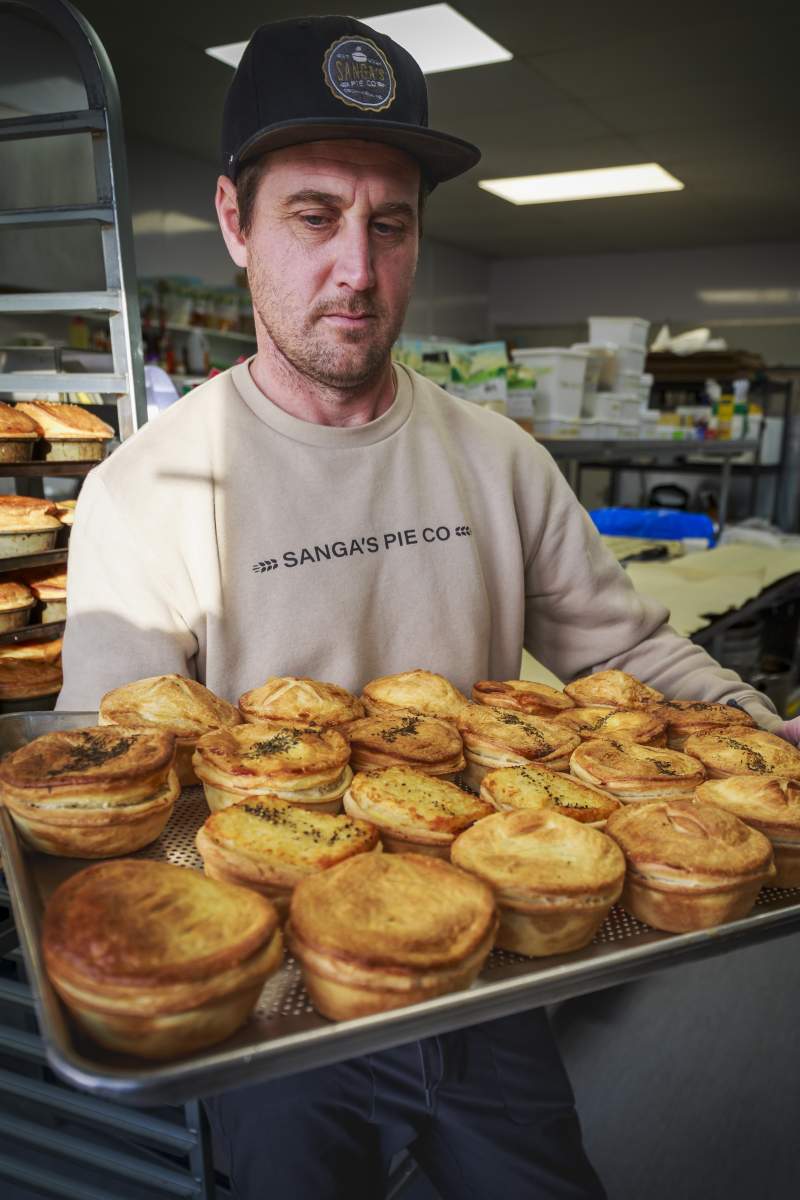 Possibly Otago's only "pie-lot", Chris Sangster of Sanga's Pies.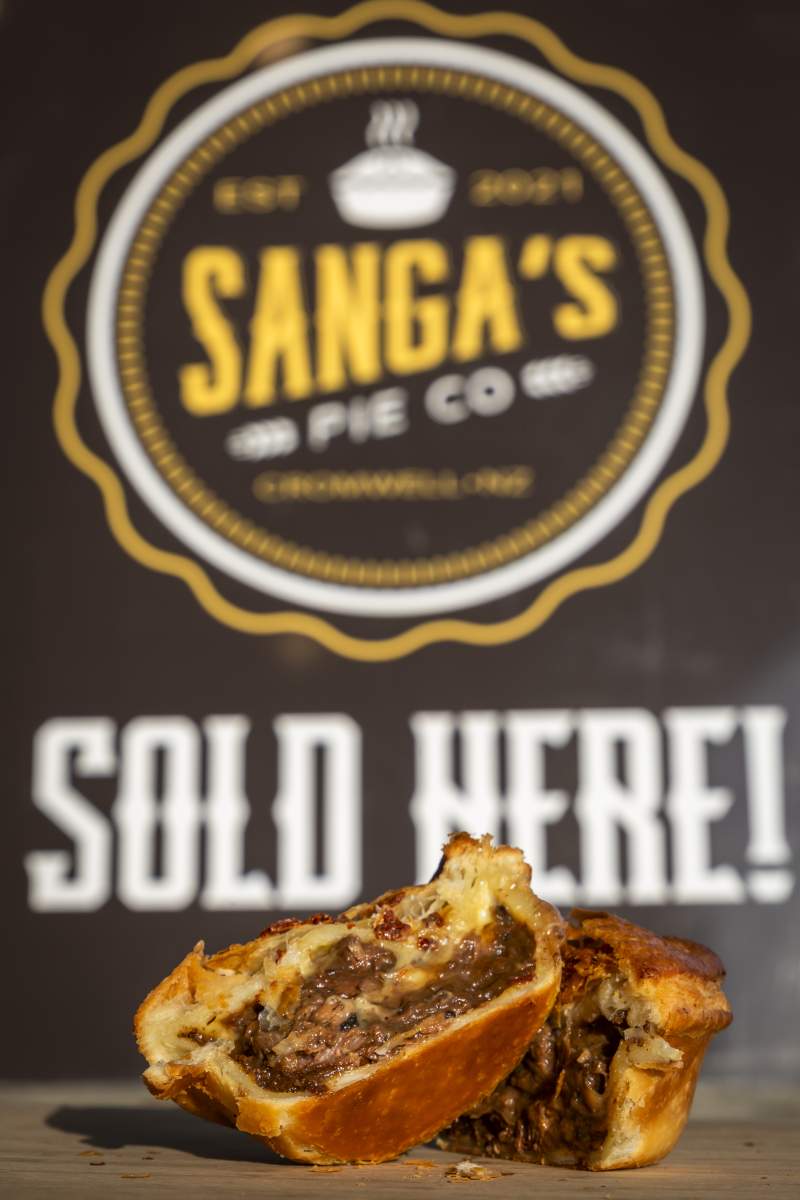 Holy smoke, Batman! Sanga's Holey Smoke steak and cheese pie was a fan favourite.
1. Sanga's Pie Co., Cromwell.

Founded in 2021 by the Sangster brothers Rob and Chris, Sanga's is the new kid on the block when it comes to Otago's gourmet pie scene. These builders turned bakers have quickly become the people's champions in the pie steaks.
Sanga's are fastidious when it comes to ingredients for their pies, with veggies and herbs grown onsite at the boy's organic plot. They even brew their own beer for the "Underbelly" pulled pork pie (Chris insists that almost all of the beer is used for baking)…
Chris also has a love of flying and regularly seeks out remote backcountry airstrips to land his plane. Needless to say, there's always a Sanga's Pie packed for lunch. In many ways, Chris Sangster is New Zealand's first ever pie-lot….
You'll find Sanga's at 4 Chardonnay Street in Cromwell (a short and worthy detour from the Lake Dunstan Trail) but the boys have stockists throughout the region including at Coffee Afloat in Queenstown on the Frankton Track. Sanga's Holey Smoke Steak & Cheese and Cluckenberry Thyme were the most recommended by the Facebook foodies.
2. Jimmy's Pies, Roxburgh.
Described by numerous keyboard critics as the "original and best", this stalwart of the Teviot Valley has been serving its pasty encrusted delicacies for more than 50 years.
Don't let the humble, understated façade of the bakery fool you, this joint serves up seriously good pies! Ideally located in Roxburgh at one end of the Roxburgh Gorge Trail and Clutha Gold Trail, Jimmy's is the pie-fect refreshment stop for cyclist on these two Great Rides.
*Pie as we might, it was hard to sperate Sanga's from Jimmy's and to identify one clear favourite. So, some sage advice from one reader seems appropriate at this juncture, "Jimmy's for a snack, and Sanga's for a meal". No arguments here.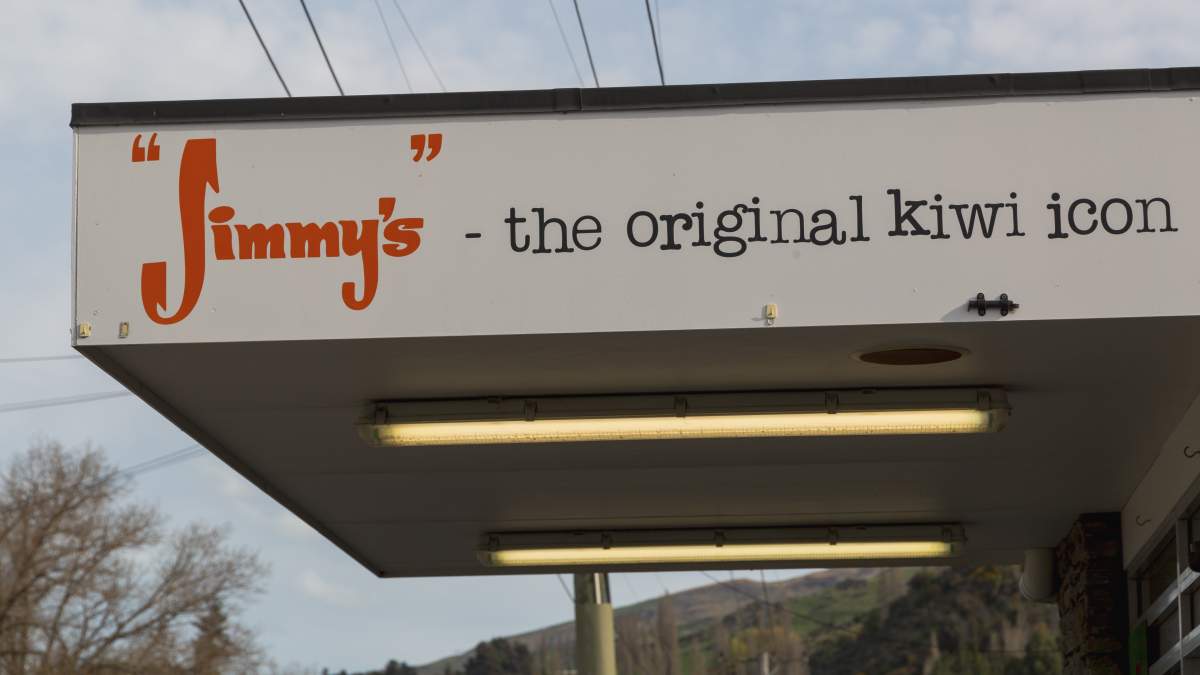 Don't let the humble exterior fool you - Jimmy's in Roxburgh makes a seriously good pie!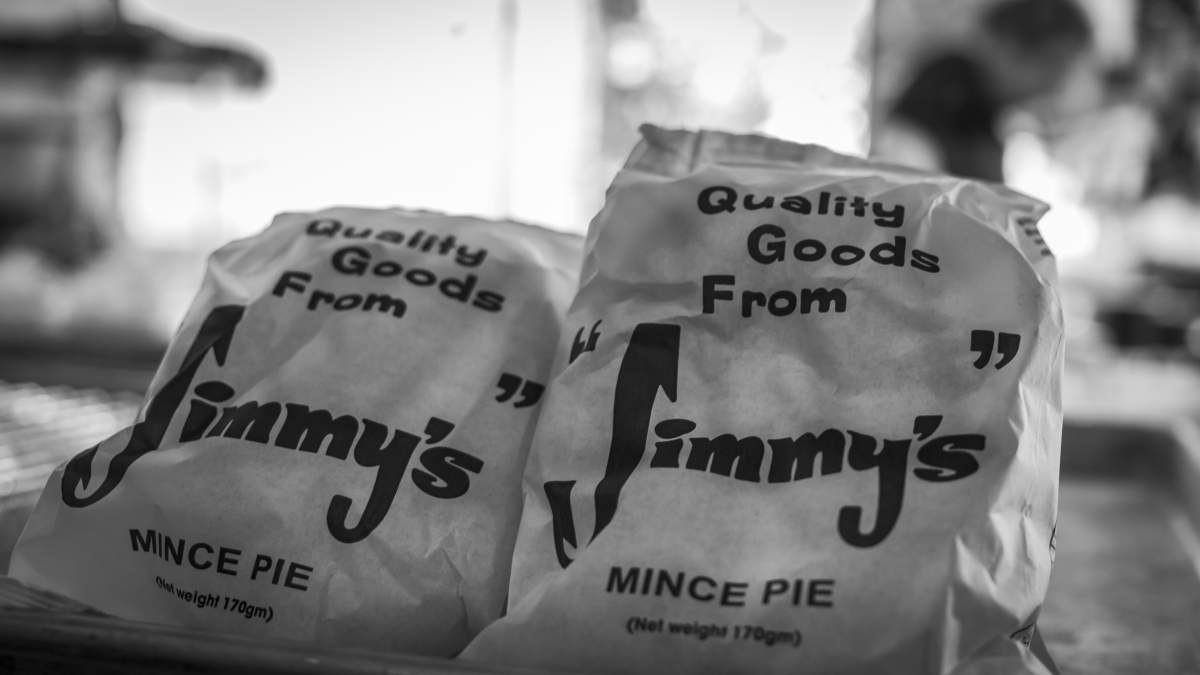 A genuine Kiwi icon... Jimmy's classic mince pie.
3. Waipiata Pie Co.
Located right on the Otago Central Rail Trail, the Waipiata Country Hotel and Waipiata Pie Co was commended as serving up some of the best and biggest pies in Otago. The now world-famous-in-Otago lamb shank pie was described by one Facebook fan as, "450grams of pie heaven"!
As the head Wai-pie-ata Pieman (and owner of the Waipiata Country Hotel), Mark Button explained, "It started in 2016 with a couple of leftover lamb shanks, which we thought would go well in pastry - because everything's good in pastry! We didn't advertise them; we didn't have to! The locals devoured them at the pub and the Rail Trail riders spread the word pretty quickly". The rest, as they say, is history...
Today the Waipiata Pie Co makes about 2500+ pies a week and demand just keeps growing with the team now shipping crusted pieces of Central Otago goodness all over NZ.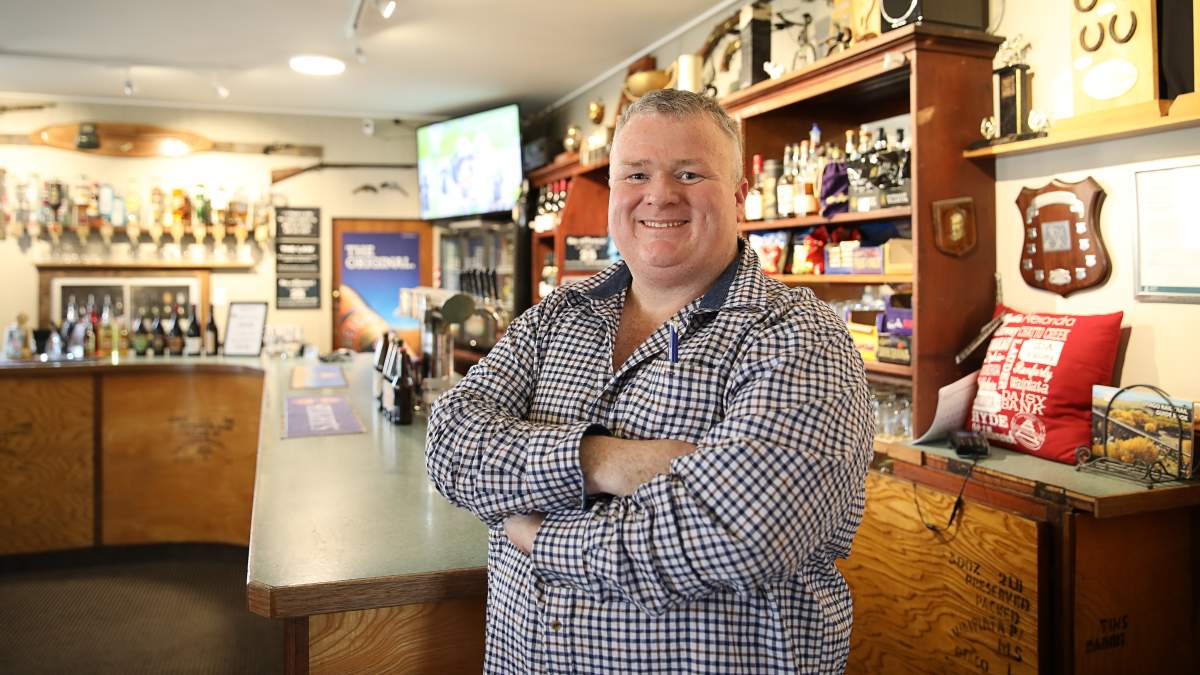 Head Pieman, Mark Button at the Wai-pie-ata Country Hotel.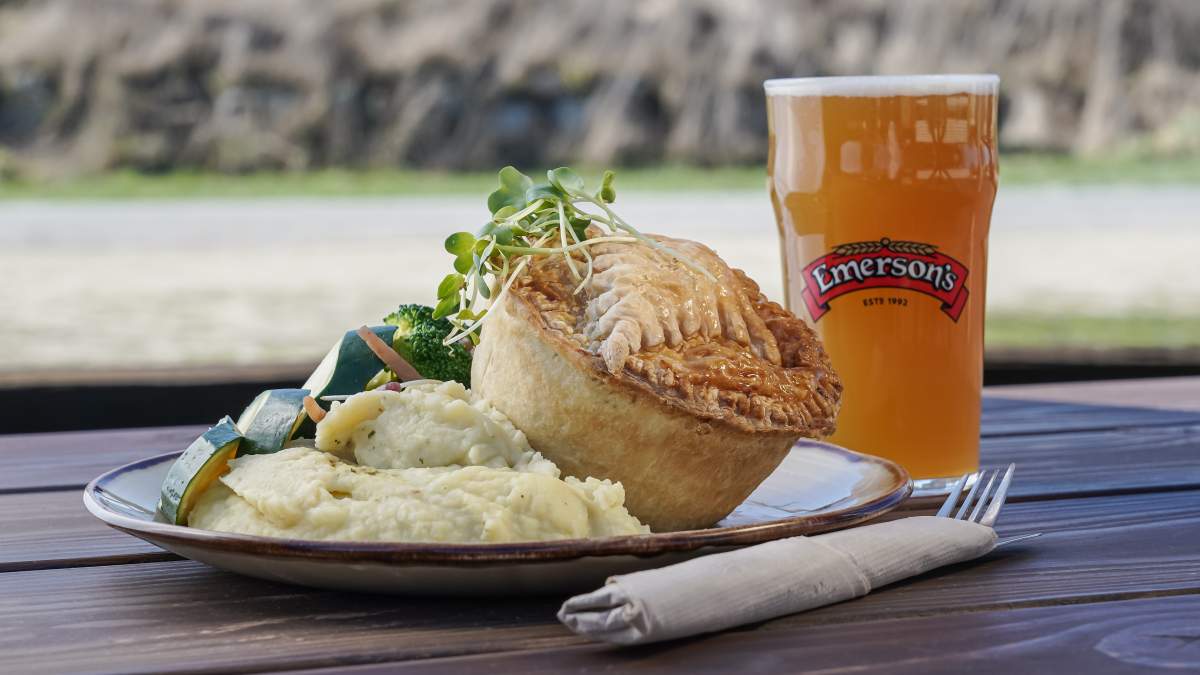 A serious feed. Make sure to arrive at the Waipiata Country Hotel hungry!
BEST OF THE REST

RANFURLY
There must be something in the water, because two Ranfurly bakeries were recognised for their services to pie-kind. Whilst it's only a small country town, Ranfurly is a key hub along the Otago Central Rail Trail and a popular stopover on the Central Otago Touring Route – one of NZ's best scenic drives.
Floral & Feast's steak & cheese was a top contender, but if you want to get your hands on one, the local advice is "get to the bakery early"! A special mention to the owners Rae & Jo who recently received an award for 'Most Loved Food Truck or Takeaway' in the NZ Love Your Local Awards.
By all accounts, Fantail Kitchen & Larder serves up a sensational mince & cheese pie and has a pulled pork pie highly worthy of a stop in Ranfurly. We did some research to see if the colloquial name for the drive between Dunedin and Alexandra on SH85 across the Maniototo Plains had anything to do with pulled pork pies, but apparently the "Pig Route" is actually named after a local creek and spelt Pigroot…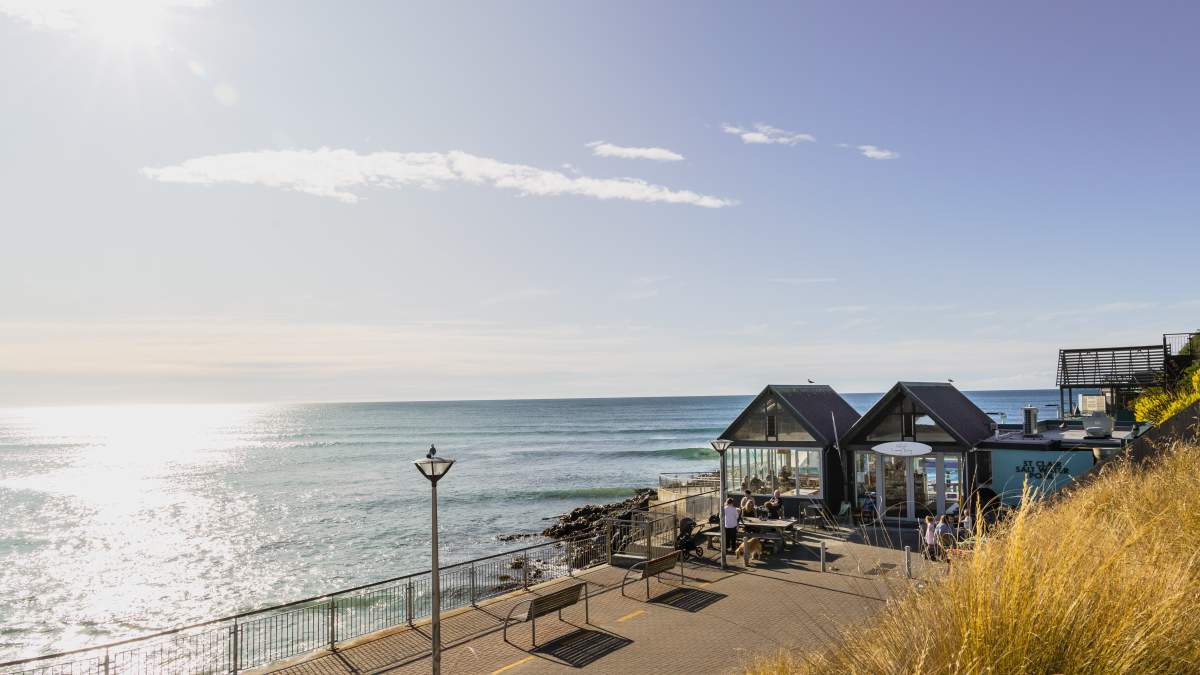 Winner, winner chicken dinner! Long Dog Cafe, St Clair Beach, Dunedin.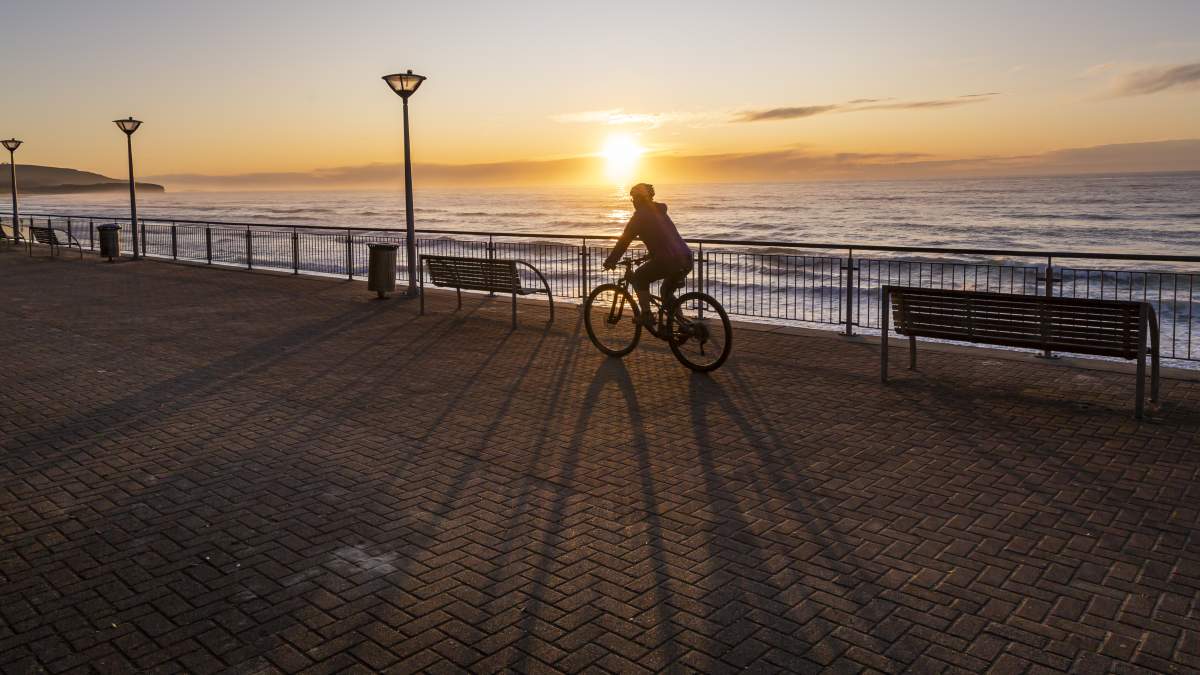 Earning a coffee and pie with a sunrise ride along St Clair Beach.
DUNEDIN
OK, whilst there isn't technically a Great Ride running through central Dunedin (yet!), there is an excellent new Harbour Cycleway that has just been opened and a very good network of inner-city cycle lanes. So, it's entirely appropriate to acknowledge the "best chicken pie I have ever eaten" (as quoted by one voter), which was at Long Dog Café next to the St Clair Saltwater Pool. A morning ride along St Clair Esplanade for a coffee and a pie at Long Dog is genuinely a #DunnersStunner.
QUEENSTOWN
Look at any New Zealand travel guide and it will declare that waiting in line for a Fergburger is an essential Queenstown experience.
Whilst there's no denying that Ferg's do make a sensational burger, if you don't have the time or patience to queue (to be fair, their service is pretty speedy), or have no wish for a selfie with a Cockadoodle Oink for your Instagram feed, then a pie could be just the ticket!
Opposite Fergburger at 37 Shotover St is The Bakery Queenstown which was highly commended in the polling for its venison pie which was deerly loved by many of the Facebook following. If you do have time – but not to queue – then sitting down on the lakefront at Póg Mahone's for a Steak and Guinness Pie is worth the craic.
The Frankton Track, part of the Queenstown Trails network, begins / ends in Queenstown Gardens providing easy bike access to the centre of town.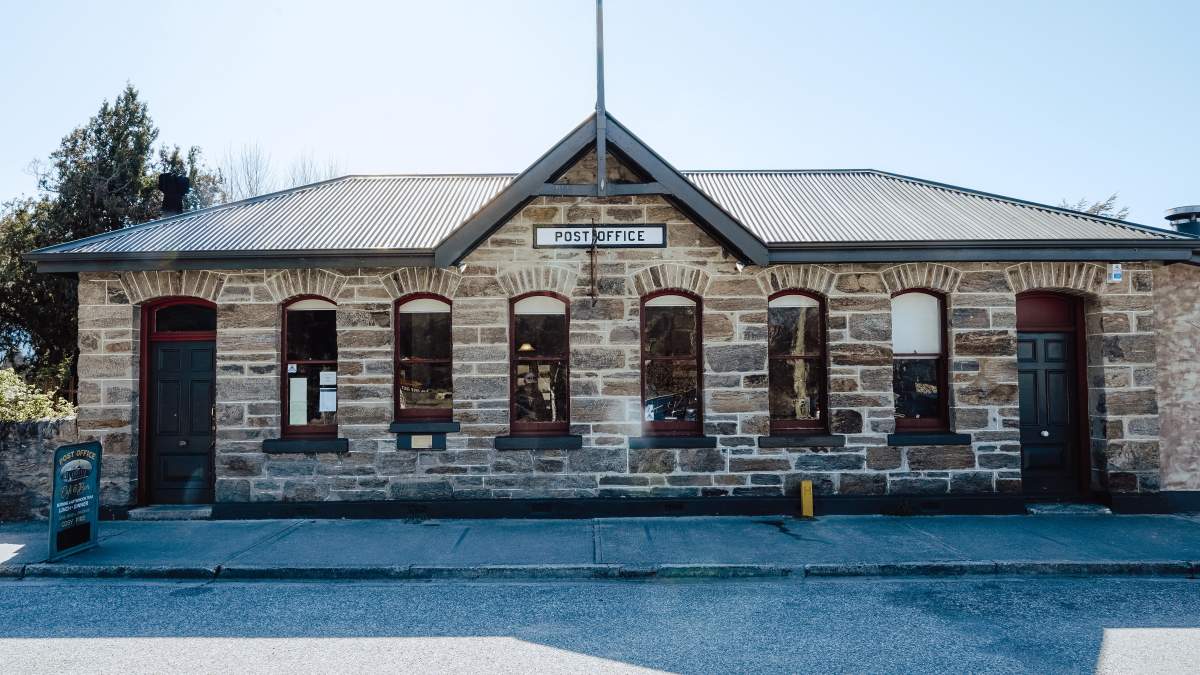 The historic Post Office Cafe in Clyde at the end of the Lake Dunstan Trail.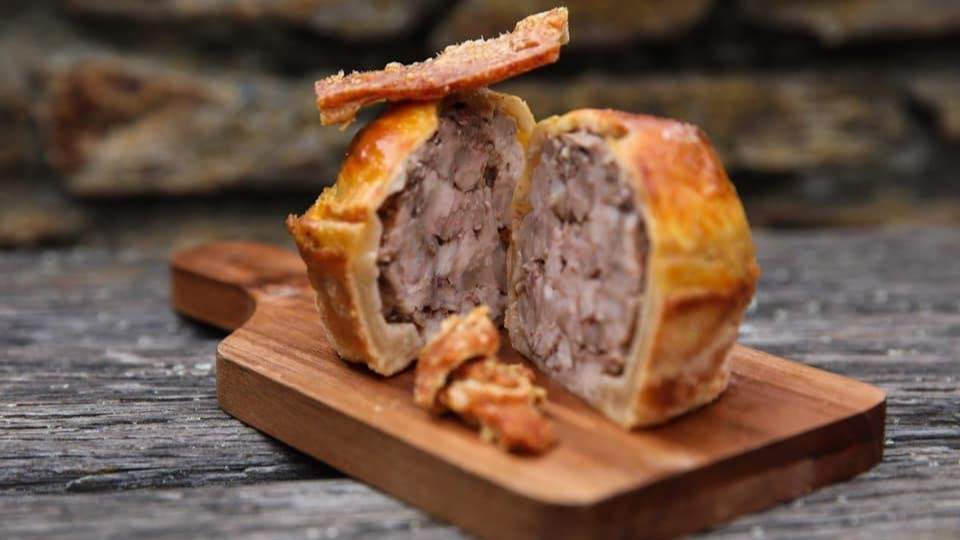 If you want to get your snout into a pork pie from The Fridge in Cromwell, get there early!
CROMWELL AND CLYDE
Now, where would you expect to keep a good pie fresh? Well, in the "Fridge" of course! And at The Fridge Butchery and Deli in Cromwell you'll find possibly the best pork pies in the world. Its famous pork pies are available most days, but they do sell out fast, in which case the lamb shank and mint pies or chicken and leek pies are highly regarded by the local pastry connoisseurs as a decent plan B.
The Fridge also has its own line of goodies – spice rubs for your meat, olive tapenade, chilli sambal, pinot noir onion marmalade and more… Although if you're cycling the Lake Dunstan Trail from Cromwell, it might pay to come back and load up with goodies rather than carry them on your ride as it's a hilly trail and you might not appreciate the extra weight in your backpack!
The homemade pies at the historic Post Office Café and Bar in Clyde are a fitting reward at the conclusion of the challenging 55km long Lake Dunstan Trail. There's an old cycling adage about "calories in = calories out" and there's no doubt that once you've ridden the Lake Dunstan Trail you'll need to replace a few calories…. Or alternatively indulge in some carbo-loading before starting the Otago Central Rail Trail which also begins in Clyde. Either way, the pies at the Post Office Café are a worthy inclusion on the honours board of the best pies of Otago.
A Pie Fest at Eat.Taste.Central 2023

Friday 20 October to Sunday 12 November 2023
Eat.Taste.Central is an annual Spring event where you can take your palate to somewhere it's never been before! Local cafés, restaurants and cellar doors collectively produce a 'Central Otago Regional Menu' celebrating a World of Flavour.
As luck would have it, pies are on the menu! For more ins-pie-ration, scroll through the short videos below from each of the regional bakers as they describe the succulent local ingredients which go into their pies all wrapped into a delicious pastry crust. There's also a useful guide here to help you find participating E.T.C. venues along the cycle trails this spring.
Eat Taste Central 2023 - The Pies