 12 Essential Tips for Safe & Enjoyable E-bike Riding

"It's just like riding a bike...isn't it"?
The E-bike revolution has been incredibly positive for the cycling industry on many levels; economic benefits for bike retailers and cycle tourism, the physical and mental health benefits for many who have taken up cycling again, or are encouraged for the first time, and of course a carbon-free transport alternative to the car.
- by Chris Foggin
Even the New Zealand Police are embracing E-bikes and I've just finished developing and delivering an E-bike training course for the New Zealand Police for their E-bike Patrol Trial. They're beginning to see benefits from patrolling on E-bikes around our towns and cities.
'E' technology is ever improving and increasing the opportunities for people to go further, and we are seeing thousands of adults coming back to riding having been off the bike for years and many starting out later in life.
After all, it's just like riding a bike...isn't it?
Well, no, it's not really….
The fact is that E-bikes do a great job but they're heavier, usually faster, have a different frame geometry and so do not handle quite the same as conventional bikes.
It's crucial to understand that E-bikes will not make you a better rider, they simply assist you along the way.
I frequently see folk struggling to handle an E-bike and exposing themselves – or other trail users - to the risk of injury. However, by taking the time to understand the nuances of riding an E-bike and learning some basic handling skills such risks can be minimised and improve your enjoyment of electrified bike riding.
Whether renting an E-bike on holiday, planning to buy a new E-bike or if you're an existing E-bike owner, here are some tips and tricks to help you stay safe out on the trail.…because it is not just like riding a bike!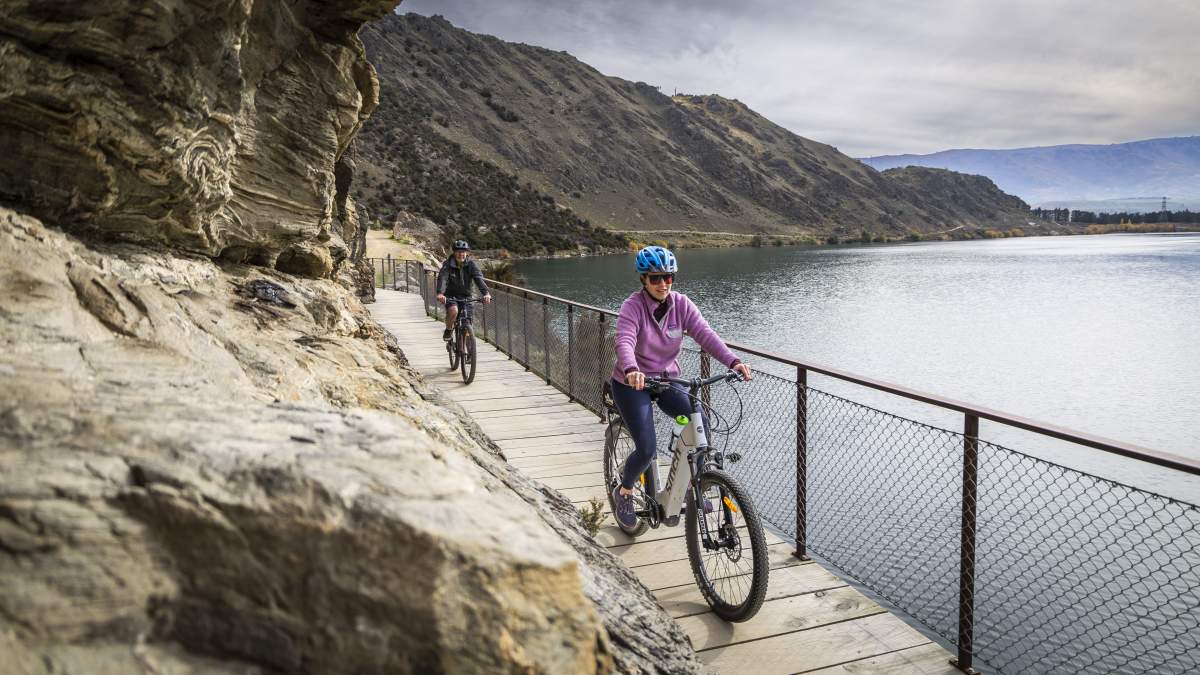 E-bikes come in various styles with different geometry suited to different terrain and riding styles.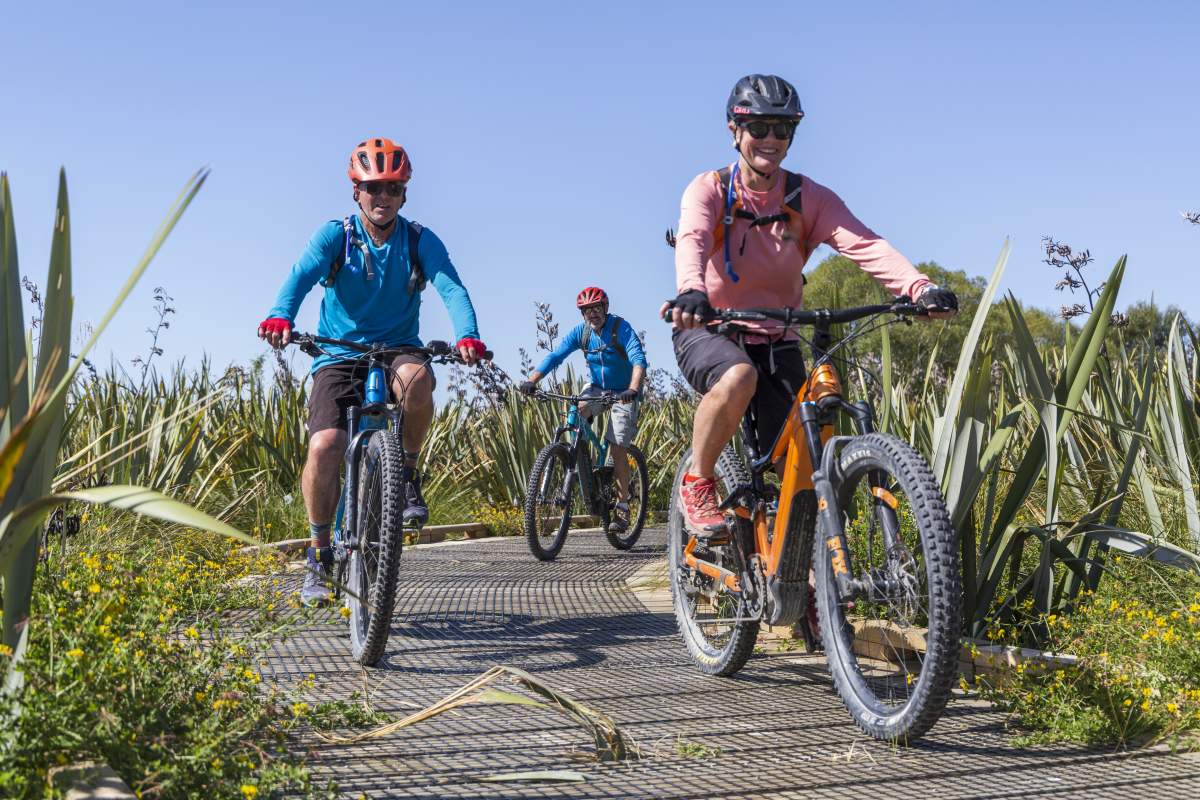 Styles range from step-through frames (L) to full suspension mountain bikes (R).
12 Tips for Safe E-Bike Riding

Choose an E-bike that is suitable for the terrain and your style of riding. For example, an urban commuter E-bike with slick narrow tyres may not be suitable for gravel trails or more technical terrain.
E-bikes are heavier than regular bikes and require more muscle to handle. Take care when lifting, mounting, or dismounting the bike as this is often when injuries occur, particularly for older and younger riders.
Learn how to operate your E-bike and have it properly fitted for comfort and safety. Familiarise yourself with the controls and features of the bike, including the motor and battery.
Take a test ride in a safe area to get comfortable with the bike's operation. If you haven't ridden a bike for a while, pick an easy grade 1 trail to help build your skills and confidence before tackling more technical trails.
Tip: the Otago Central Rail Trail, Clutha Gold Trail or Arrow Bridges Trail in Queenstown are ideal for beginners and learning to handle an E-bike.
Use the pedal-assist mode and adjust the level of assistance to match your riding needs, terrain and fitness level.
Remember: riding in "turbo" will drain the battery more quickly than in "eco" modes.
Monitor the battery level and plan your ride accordingly to avoid running the battery too low. Keep in mind that environmental factors will change your battery use on any given day e.g., wind, trail surface (gravel vs. tarmac), trail surface hardness (wet gravel vs. dry) and gradient. If your battery does run flat, don't panic! E-bikes can be ridden without the motor, they're just heavy and hard work to pedal and push uphill.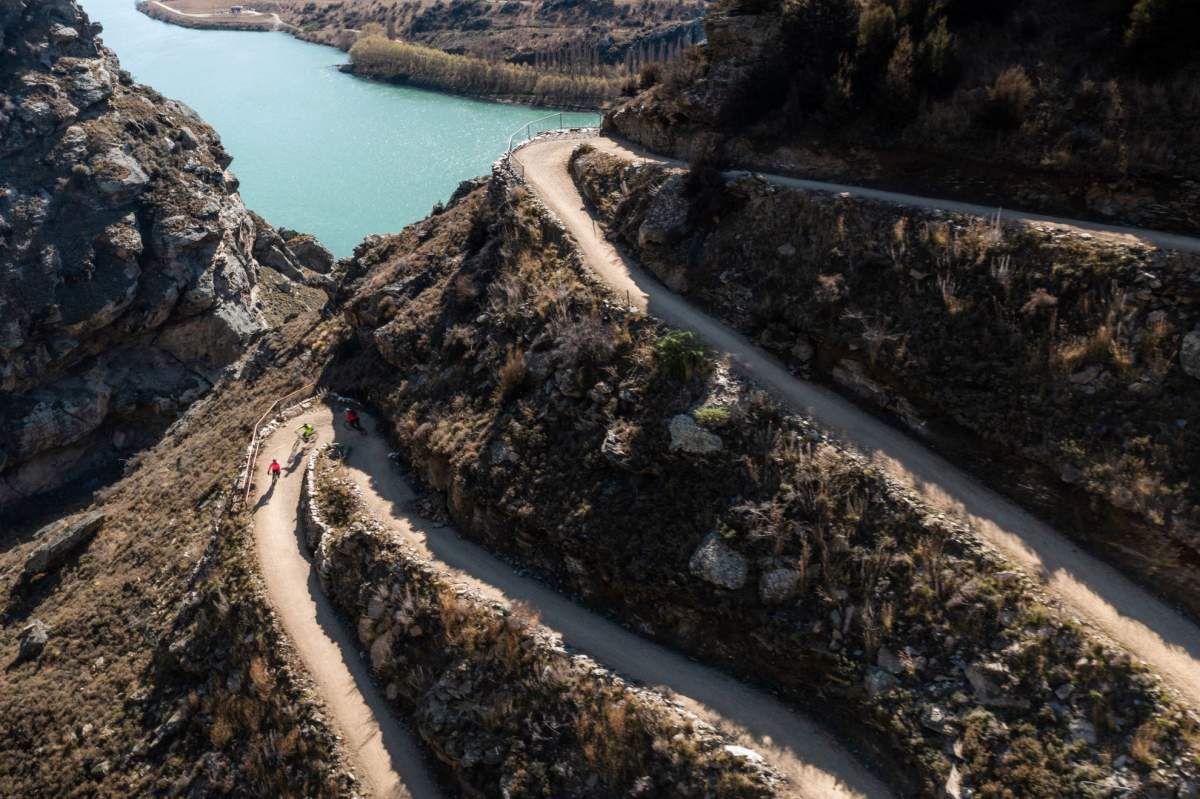 Mastering steep ascents, descents and sharp, switchback corners takes practice on an E-bike (Photo: Cairnmuir Ladder, Lake Dunstan Trail)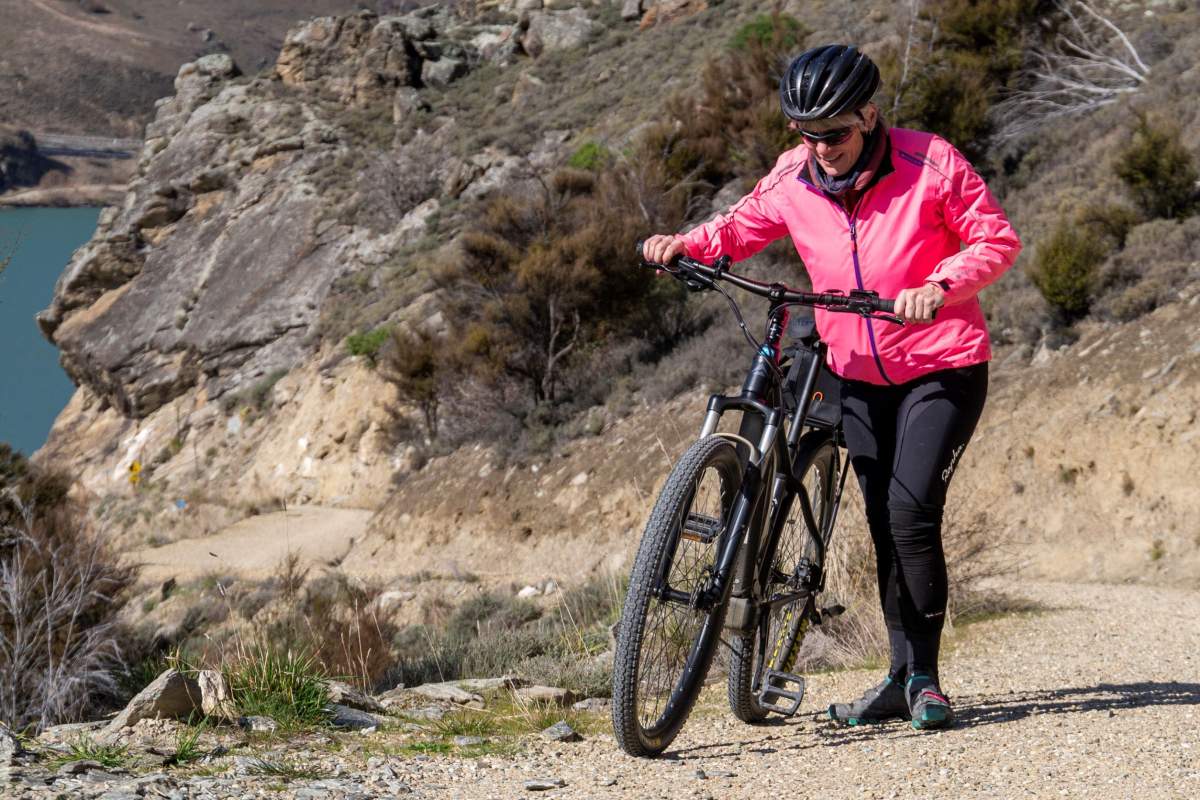 Economical use of your battery on longer rides is essential to avoid pushing your E-bike uphill with a flat battery!
Use the gears to adjust your pedaling effort and speed just like on a standard bike – do not only rely on using the various pedal assist settings. When starting off at an intersection or uphill, use a low gear. You'll need to start pedaling before the assistance kicks in, so be prepared for the surge in power and acceleration.
Brake carefully and gradually, as E-bikes are heavier than regular bikes and stopping distances may be longer than with a traditional bike. So, anticipate obstacles and keep a safe following distance between other riders.
Stay balanced and maintain a proper riding posture for control and stability.
As you may be going faster with the assistance of a motor, you'll need to learn how to handle corners differently compared to a standard bike and avoid accelerating too fast in to and out of corners. Ring your bell or call out when approaching a sharp corner to warn others of your approach.
Tip: Refer to the Trail Hub article Picking Good Lines for more tips on better cornering techniques.
Avoid overloading the E-bike with too much weight or cargo, especially for multi-day trips or bike-packing. Be aware that wearing a backpack can sometimes throw you off balance.
Always wear a helmet, follow the rules of the road, and take time to learn about cycle etiquette to respect other trail users. The Otago trails are all shared trails are for both cyclists and walkers so slow down, take it easy and enjoy the ride!
Take time to learn how to ride your E-bike safely and understand how trails are graded so you can pick a ride that's right for your fitness, skill and ability.
To help you choose the right ride, all sections of Ngā Haerenga Great Rides of New Zealand are graded. Click below for more information.
There is a learning curve to riding a bike. You start out slowly and learn the rules of the road or trail whilst you progress. As you ride more, you also learn how to handle different situations and how to safely avoid hazards like loose surfaces or potholes and, of course, your fitness improves.
Yet this is one of the major challenges with the E-bike revolution.
By putting inexperienced riders onto a motor-powered E-bike, we're bypassing that learning curve. Riding experience and skills are essential, but often ignored because, "it's just like riding a bike...isn't it?"
Let's face it, you can't drive a car without learning skills and passing a test. So, before you hit the trail, take some time to practice riding your E-bike, research your route and choose the right trail for your ability.
The local bike shops and trail operators throughout the Otago region will be more than happy to help you out with advice and recommendations.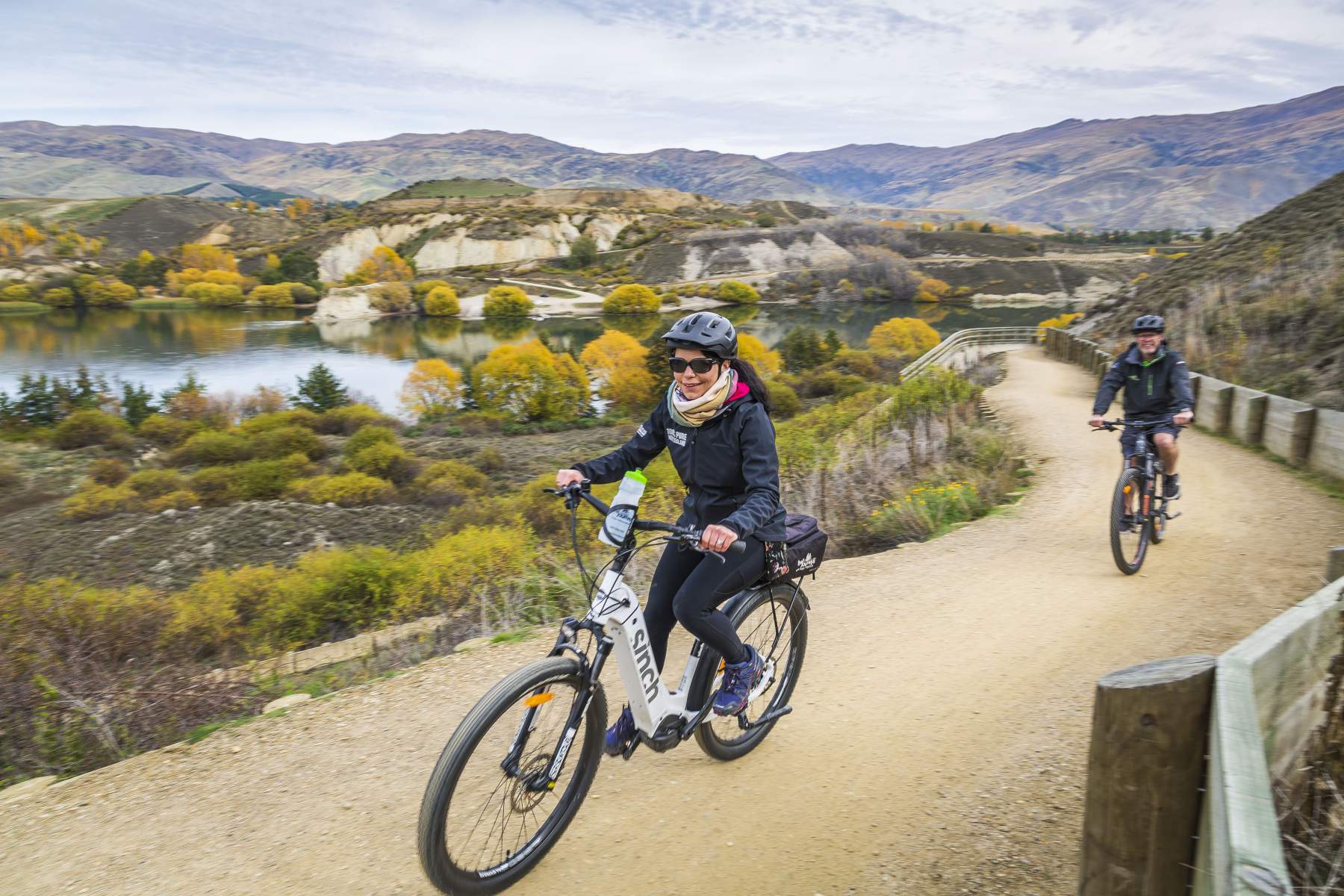 Whatever your preferred style of E-bike, it will definitely encourage you to get out and ride more! (Photo: Lake Dunstan Trail, Bannockburn Inlet).
Based in Clyde, Chris "Foggie" Foggin is a bike tour guide, ambassador, educator, advocate, and burgeoning social media influencer. Whether it's a road bike, gravel bike, e-bike, or mountain bike, if it has two wheels and pedals, then Foggie is into it!
For more great cycling insights, you can follow Foggie and Co. on the Recreational Riders Facebook page, which is a forum to engage with recreational cyclists across New Zealand. The group shares stories, training tips, road safety advice, places to ride, showcases new trail development, advice on buying bikes & gear, promotes ride groups and generally shares a love of cycling.